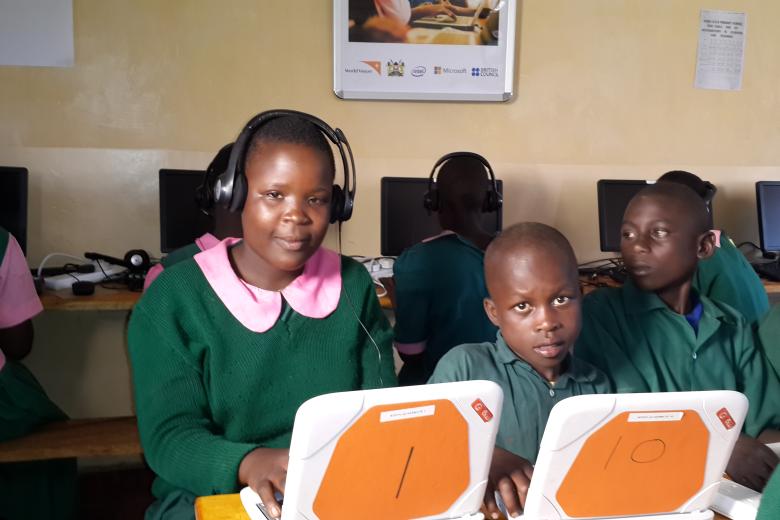 'WE ARE NO LONGER ANALOGUE, WE ARE DIGITAL'
Wednesday, July 29, 2015
Pauline Wanjala 13 years old, is a class seven pupil at St. Mukasa Mill Hill Mission, Chimoi Primary School in Matete Area Development Program (ADP) in Kakamega County. At her tender age, she is amongst the beneficiaries, learning basic skills on how to use a computer. The Spark a Child's Digital Future (SCDF), is a computer learning project, supported by World Vision Kenya, Intel, Microsoft and British Council currently being implemented in 18 primary schools in Matete ADP, Kakamega County.
The partnership seeks to promote the study of integration of Information, Computer and Technology (ICTs) in the primary education syllabus coverage. The computers have changed learning in Pauline's primary school, with regards to their first experience in the computer laboratory.
 "My first time in the computer hub was in 2014, I was very happy. It was very hard at first, but we adapted to it. We enjoy operating them now as the computers have made us very clever", says Pauline.
 The focus of the partnership is to promote equity of access through the introduction and use of ICT in primary schools. The technology deployed 20 classmate personal computers (PCs), ten clients and workstations, with one (server, projector, copier, scanner, photocopier, safaricom router pair of speakers) including two laptops, ten headphones, and wireless internet.
The servers have pre-loaded content from Kenya institute of curriculum development (KICD) which is relevant to the education curriculum. The project design and planning is focused on addressing innovation and skills development. The long term goal of the project is to see project school retention rates going up, improvement in student performance and high transition rates to secondary education.
 According to Pauline "the computers have improved my studies and I enjoy coming to school every day. What I like doing on the computer is writing letters to my friends in other parts of the world."
The capability of teachers to educate pupils on ICT integration has been enhanced through termly trainings by digital ambassadors. In 2014, a total of 400 teachers were trained by partners (Intel, British council and WV Kenya)that gave an opportunity for 8,606 children to access the digital hubs.