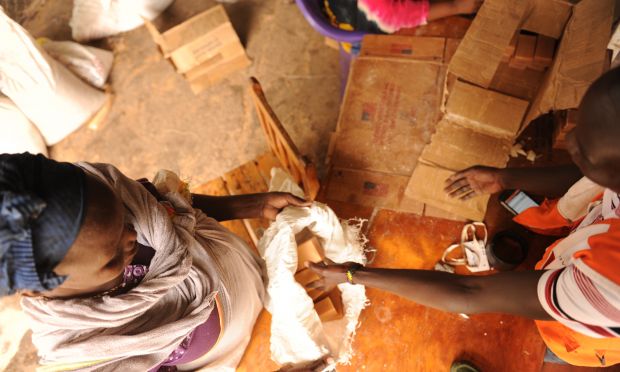 It was a normal working day for Hussein, one of the World Vision Kenya drivers who support humanitarian activities in far flung areas, rife with insecurity challenges.
On this particular evening, he was driving staff members working in a health project in Isiolo County, which is located in Northern Kenya. 
As they began the journey, at around half past four o'clock, the atmosphere in the car was relaxed. People were jovial. They were happily talking about their day's activities among other things.
Then all of a sudden, gunshots rang out in the air and threw everyone into panic! Yet, no one knew where the shots were coming from. 
To keep off danger, many people bent their heads and lay low. But Hussein had no choice. He had to find ways of manoeuvring the car through the bumpy road amidst the numerous bullets that were hitting the vehicle. 
"At that time, I wasn't even thinking about where we were going. My sole focus was on saving lives in whichever way possible. I remember praying and asking God to give me the courage to go on."
"Colleagues in the car also motivated me with encouraging words that kept me going. That helped a lot."
At some point, one of the many bullets caused a puncture but that did not dampen Hussein's spirits. He drove on and on, for about five kilometres with a flat tyre until they eventually got help. 
Aside from one person who got a leg injury, all other people - including Hussein - escaped unharmed. The injured staff was later treated at the nearby Garbatulla Hospital. 
"The next day, twenty five cartridges were found at the scene of the attack. So we were indeed lucky to be alive. And we thank God for that," said Hussein.
The team later learnt that the attack had been caused by inter-communal conflicts that occur sporadically in the area. The two periodically fight over scarce water resources and pastures in Northern Kenya.
Due to his courageous efforts that saved staff from the claws of death, Hussein was awarded the 2017 HERO Award by World Vision Kenya. 
World Humanitarian Day
As countries commemorate the World Humanitarian Day, the United Nations (UN) is urging the world to recognise efforts and sacrifices made by such individuals, who put their lives at risk daily – in some of the world's most insecure places – so as to offer humanitarian aid and assistance to affected communities. 
The UN estimates indicate that in 2017 alone, 139 aid workers were killed, 102 were wounded and 72 were kidnapped in the line of duty. This marks the fifth consecutive year in which more than 100 humanitarians lost their lives on the job. It is the highest recorded annual death toll since 2013, when 156 humanitarians were killed.
"As a child focused organisation, we rely on the work of these people to reach out to children and communities affected by various disasters such as conflicts, drought and floods," said François Batalingaya, the National Director of World Vision Kenya.
"It is therefore important that the safety of all humanitarian workers is guaranteed at all times. Without them,innocent victims of conflicts will continue to suffer and die needlessly."
This call is in line with the 2018 World Humanitarian Day theme: Civilians Are Not A Target It seeks to shine a light on the millions of people globally whose lives are being destroyed war. 
The theme is also central to an ongoing global movement dubbed #NotATarget that is demanding that world leaders take action to protect all civilians caught in conflict. People can join the movement by signing a commitment petition here. 
Conflicts affect children the most
François stated that amongst all civilians, children are usually the most affected during times of war. 
They can be recruited by armed groups and used to fight, even as they get displaced and separated from their families or loved ones. 
With no one to protect them, they become vulnerable to abuse and injustices such as sexual violence which continues to be employed as a war tactic, predominantly against children and women.
In addition, conflicts lead to food shortages which cause malnutrition in children. They may also be unable to learn or access healthcare services once schools and hospitals stop functioning or are destroyed as a result of insecurity challenges.  
Jacqueline Rioba, Associate Director for disaster management at World Vision Kenya noted that irrespective of these challenges, children can easily be forgotten when disasters strike since they may not come out openly to talk about their problems as adults usually do.
"Some can't express what they are feeling as they may not even understand what is happening around them." 
Consequently, affected children suffer in silence. And if help fails to reach them in good time, the traumatic experiences can have a toll on their lives.
"Children want to live in an environment where there's peace. This allows them to enjoy life, develop well and reach their full potential.  We should therefore strive to provide that world for them," said Jacqueline.
To ensure that the needs of children are well catered for during times of conflicts and other disasters, World Vision Kenya has established a child focused response strategy.
Among other things, it seeks to sensitise community leaders, faith based organisations and local institutions on how to respond to needs of children during conflicts through counselling or offering psychosocial support services.
"These leaders can also help in profiling children based on their various needs. This will enable humanitarian workers to act fast when they reach the ground as they will already know what they are dealing with."
As part of the strategy, which will be rolled out next year, world vision will also strengthen the capacity of child protection institutions such as Area Advisory Councils (AACs) so they can effectively protect children in times of conflict.
António Guterres, the UN Secretary-General said that the most effective way to protect children and other civilians is to prevent the outbreak, escalation, continuation and recurrence of armed conflict.
"In this regard, dialogue and inclusive peace processes that address grievances of warring parties should be encouraged."
He added that where conflict cannot be prevented or resolved, nations must strengthen the protection of civilians. 
This can be done by ensuring that countries and armed groups adhere to legal obligations governing conflicts which include protecting civilians from harm, sparing schools and hospitals, and ensuring the safe and unimpeded passage of aid workers and supplies.
Written by: World Vision Kenya Communications Officer Zipporah Kageha Karani. Focal point person in charge of Livelihood and Resilience, Disaster Management and Nutrition. Interested in content gathering to support fundraising and marketing and writing stories that capture the indispensable quality of timely truth telling with love.