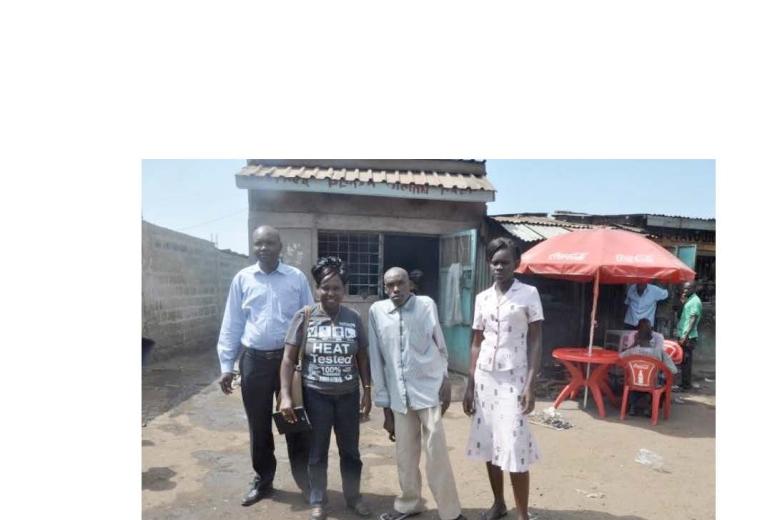 Disabled But Enabled
Wednesday, July 29, 2015
I am Edwin Aija Oindo 28 years old, living with disability.I am a shoe repairer (cobbler). Previously, I had set up my buiness in Kibuye market, Kisumu County. I used to make about Kshs 200 ($2) per day an amount that was hardly enough to buy me food and meet other family basic needs. So I had to sometimes beg from well-wishers to support my daily expenses.
Last year, I attended a meeting where youths under the Umbrella of Yes Youth Can, the Youths had been mobilized to join Kisumu Youth Bunge Sacco.The Sacco industry is part of the cooperative sector in Kenya, which has impacted on lives of many disadvantaged Kenyans over the years. Savings are mobilised locally and returned to members in the form of loans. The ideal model invests 80 per-cent of mobilised savings to members in the form of loans. The money stays and works within the members
I took a keen interest and after several inquiries joined the Sacco. My conscience was  to start a hotel business. I had over time observed how hotel owners cashed in on customers at the market and so I saved to actualize my dream.
Within a month, I had Kshs. 2000 in savings and Kisumu County Youth Bunge Sacco advanced to me a loan Kshs. 6000 which I used to rent a space within the market and also purchased a few items for the business. I also employed one youth to assist my wife to run the business while I went on with my shoe repair job. Two weeks into the business, the hotel would bring in an average of one thousand eight hundred shillings a day.
The SACCO officials have a lot of trust in me because I repaid the loan faithfully within the stipulated period. My hotel business picked up well, but my major challenge was getting ice-cold drinks for my customers. This place is very hot and customers only order for ice-cold sodas or water.
My staff had to buy drinks for my customers from business owners with fridges. 
They spent a lot of time running around to look for cold sodas, sometimes being turned down besides losing on profitmargins. One of my customers, a youth bunge member enlightened me on the Coca Cola5by 20 loan product for young women and vulnerable youth.
I immediately applied and luckily received a loan package of three crates of 300ml sodas, two crates of 500ml sodas and a cooler. Honestly, that changed my fortunes to date. My daily sales rose to about Kshs. 6,000, sometimes going higher especially on Sundays, a market day in Kibuye.
I have since quit the shoe repair job and dedicated my time in this premise. Apart from my wife, I have employed two youths on fulltime basis and two others coming occasionally especially on market days when the workload is more. My life has been transformed as I sit here exchanging ideas with my customers and reading newspapers with a keen an eye on the business.
My wife is currently on maternity leave, but I am not worried about emergencies that may arise since I have money to pay for medical services and provide for her needs. My peers now respect me and listen to my advice .I am no longer the pauper and disabled shoe repairer I was before my breakthrough.
 Robert Rapando
Yes Youth Can(YYC)
Project Officer-Youth Mobilisation