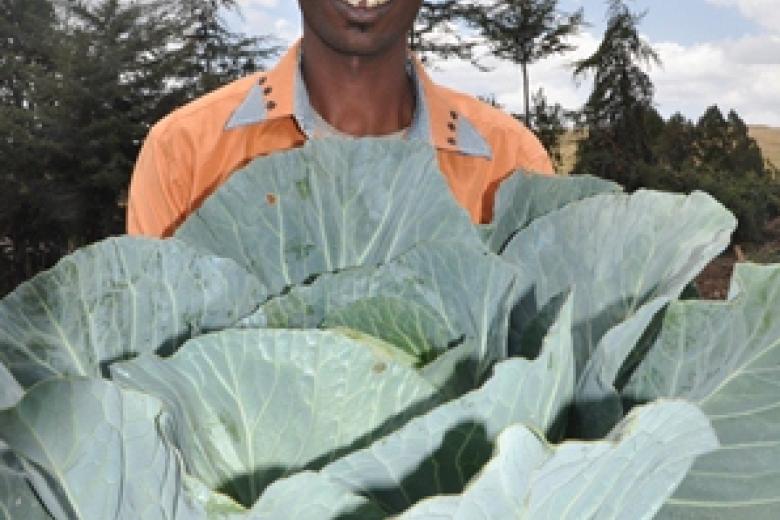 Pastoral communities embrace farming in new $2.9 million project
Tuesday, March 4, 2014
March 4, 2014…World Vision and other partners have launched a livelihood improvement initiative aimed at empowering 21,700 people directly and 63, 000 others indirectly in Samburu County.
The Samburu Pastoralists Livelihood Improvement Project (SAPLIP) was launched on February 27, 2014 at Maralal Mixed Secondary School with Samburu Governor Moses Lenolkulal being the guest of honour.
The three-year project targets communities in Samburu Central Sub-County by reaching them in groups. One such group is Loting Lopanari Youth Group, which has 25 members (13 women and 12 men). The group's chairman Solomon Lenokulal, 30, has transformed three-quarters of an acre into a lush green farm growing vegetables such as kale and cabbage. 
 At Loting village, Lenokulal has already made KSh700 from the sale of his vegetables. Last year (2013) he harvested 24 bags of maize. "World Vision provided us with farm equipment such as jembes and forks.  It also provided groups and individuals with seeds. We have been trained on good farming practices that included proper spacing," said Lenokulal, a father of three.
He works at the farm with his wife, Magelelina, 22.  "I have seen the advantage of farming instead of entirely depending on rearing of cattle. I will sell each of the cabbages at an average of Sh100 and the quarter acre will be fetch about KshSh20, 000 ($232) from this produce," he said, adding that he plans to increase his acreage under farming to two.
World Vision Kenya National Director Dickens Thunde who graced the occasion said SAPLIP is about empowering communities to make them have choices on farming.
"They (communities) need to make choices on what they eat. It is about creating abundance of food," Thunde said. He urged the partners in the project to continue working together. Among them are the European Union, several Government of Kenya agencies, SNV Netherlands Development Organization and Food and Agriculture Organization (FAO).  
The EU has funded the project with $2.6 million, while World Vision has provided ten per cent ($0.3 million) of the $2.9 million total cost.
The project is aimed at improving pastoral and agro-pastoral livelihood and enhancing food security in the semi-arid Samburu County.
There are a number of initiatives aimed at improving production of poultry and goats; natural resources management promotion- through rainwater harvesting technologies such as water pans, water retention ditches, for use by livestock and crops.
The project also promotes planting of multi-purpose trees especially fruit and fodder trees; enhanced farming practice through promotion of a wide range of drought-tolerant crops.
A number of groups have been introduced into greenhouse farming with drip irrigation for the production of high value crops such tomatoes.
By Dennis Mosota