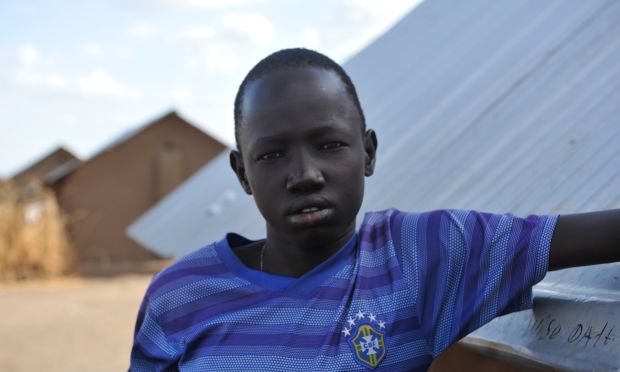 Missing person
Gat Luak rubs his head, chafes his fingers against each other. His voice becomes soft. His eyes seem to drift to a distant memory.
The man he admires most is gone. He hasn't seen him in three years. The last time he heard his father's voice was a year ago.
"Nothing hurts me more because of my fathers absence in my life," says 15-year-old Gat Luak, a South Sudanese refugee living in Kakuma Refugee Camp in northern Kenya.
Fleeing Conflict
In 2014, Gat Luak's father forced his four boys to leave South Sudan. The renewed fighting spurred fear of attacks.
"In the morning you would wake up and find out they have killed a person and yet we did not know when and how it happened," Gat Luak says.
Gat Luak and his three brothers walked from their village just outside of Juba to the Kenyan border. Their eldest brother was in-charge of the group and responsible for each one of them.
"It was safe when we left Juba. My father gave us 400 South Sudanese pound (60 USD) for the journey. I traveled with two younger brothers, aged 9 and 7, and my 17 years older brother, called Wak," Gat Luak remembers.
It took a one day to reach the border.
Carrying a bag of clothes and a mattress, Gat Luak says he arrived at the refugee camp relieved.
"Here in Kenya it is good, there is no person who can attack you. I am safe in Kakuma."
Or so he thought.
Kakuma's reality hits
When the brothers were given their new mud brick house, they set up a home. But their perceived security was quickly interrupted.
Inter-tribal conflict that was causing the war in South Sudan, boiled up inside the refugee camp. Hostility between ethnic groups emerged and led to conflict.
The boys' belongings were stolen inside their house in the wee hours of the night, the victims of an attack by two conflicting communities.
The attackers – a group of boys from within the camp took Gat Luak's favourite package from home - a mattress.
"They took all we had and left us without anything. They told us that you should give us the mattress or we are going to kill you. I told my elder brother let us give it to them. It is you alone and your life that we need to save," Gat Luak says.
After the attack, they remained calm and silent. They did not know the attackers. There was no where to take their complaints.
Gat Luak explains, "When police officers solve the problem, nobody tends to react to the situation, but how the attack took place you will never forget, it remains in your mind."
Gat Luak and thousands of other children took part in counseling to address inter-tribal conflict through a peace campaign in 2016. It helped reduce tension.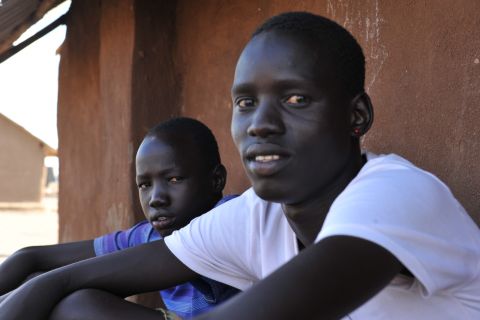 In school
Gat Luak likes living in Kakuma because it allows him to dream about the future.
"It is good place because of free school uniforms, food and education. No one tells you to buy your own uniform," he says.
A Grade 8 student, Gat Luak believes education is key to reach his future goals.
"I like going to school to plan for my future life. I will not be the same as an uneducated person. I will support my family through education. Without it, life will be very hard," Gat Luak says.
Nodding his head with a smiling gesture, he says "I will also help others when I become an educated person in society."
He aspires to be a Member of Parliament in South Sudan, maybe when war ends. He admits he is young and not sure about the right career path to take right now.
"When I reach secondary I will read books that will guide me on my future career aspirations that I will pursue."
At the moment studying is a bit of a hurdle. "We read during day time, in the evening hours we have no lights to read, so we sleep," Luak says.
His favourite subject is social studies and mathematics. Luak says, "When you read the books and understand, it is very simple for you to know more about the content and get knowledge from the books.
His target in the Grade 8 Kenya Certificate of Secondary Examination is to get 300 and above marks and join Vision Secondary School located in the camp.
Luak is a amateur actor too. He joined drama club in 2016, when in Grade 7. He says acting has helped him learn the English and Swahili languages.
"I used to speak Arabic language, but I am barely fluent in it right now. In school we are taught in English and Swahili languages," Luak says.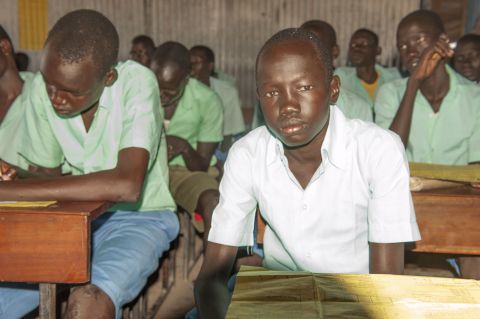 Desire for an education at the refugee camp
World Vision Kenya is helping Gat Luak achieve his goals. The organization built the school he attends. Latrines were constructed for students and desks were provided.
As well, the organisation provides Gat Luak and 140,000 other refugees at Kakuma Refugee Camp with food aid.
Kakuma Refugee Camp was established in 1992. It was meant to accommodate 16,000 children and youth fleeing violent conflict in Sudan. Today it is now one of the largest single-site, and multiethnic, refugee camps in the world. The camp population has increased to 160,000, with refugees from 20 other nations seeking protection in Kakuma.