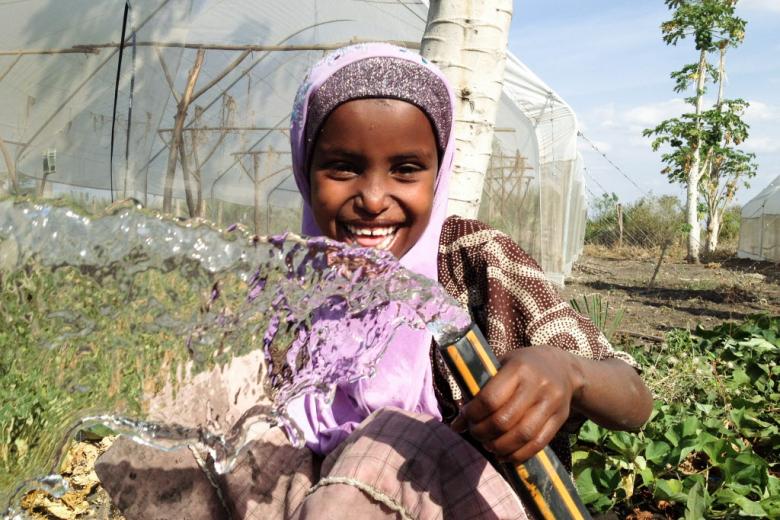 Securing the future of Turkana
Thursday, January 10, 2013
Having witnessed ghastly scenes of malnourished and hungry children and mothers in Turkana in 2011, a year later I returned and witnessed a total transformation. World Vision is busy working on recovery and resilience building programmes that are rapidly changing the picture of Turkana.
A view from the field
The Chinese proverb, "A journey of a thousand miles begins with a single step," reminds me that it is possible to make a lasting and life changing impact. This change is slowly being realised in Turkana drip by drip. 
In 2011, I encountered first-hand ghastly scenes of hungry, malnourished children and mothers at health care and food distribution centres in Turkana. 
But when I recently visited the drought-prone region, I witnessed such a dramatic change. This is, in part, due to slight rains that the region recorded which enabled regeneration of pasture and filled the once dry water sources. 
However, a huge chunk of transformation has occurred due to concerted efforts from the government and development agencies. 
In 2011, most parts of northern Kenya were hit by a severe drought. Organisations, including World Vision, were on the ground urgently responding to the emergency needs of the affected people.
During the response World Vision came up with a concept called 'Secure the Future' which is principally focused on resilience building and recovery programmes.
It is based on this framework that the organisation has been assisting the Turkana community that has long suffered from cyclical droughts. 
I visited Elelea irrigation project. World Vision recently supported the rehabilitation of the main intake diversion structure that abstracts water from a local river to the farms. Before the rehabilitation, the scheme had nearly ground to a halt. 
The scheme currently has 400 acres of land under irrigation benefitting 1,200 families. Plans are underway to grow the list of beneficiaries to 2,000.
I met one happy beneficiary, Margaret Ngasike a mother of eight children. "It is such a huge relief that the scheme is now working," she said.
The parched ground, every lift of the hoe; every bead of sweat, calloused hands signified the elusive search for food. 
"I used to own livestock a long time ago, then one day the raiders struck and all the livestock was gone just in a twinkle of an eye," Margaret began. 
"They nearly killed my husband when he tried to protect the livestock from the raiders." A deathly silence then followed. 



Margaret's chilling story resonates with nearly all the residents of Turkana.
With livestock gone and farmers unable to cope with cyclical droughts and severe hunger, planting crops is the next best thing for residents. 
Some even swear that they will never again go back to being pastoralists fearing attacks from brutal cattle raiders from the neighbouring community. 
Margaret's piece of land is not big one would think, it is simply an eighth of an acre. She plants sorghum, usually alternating with maize, green grams and vegetables after every harvest. 
"I harvest 10 to 15 (90 kg) bags of maize, enough to sustain my family and this has fed my family for over 10 years now," Margaret says.
Then she does some wishful thinking, "If one day I get a chance to expand my farm, I would wish to produce lots of food and supply the whole region."
In Lokubae irrigation scheme, lush green fields of tall maize stunned me. I spotted 13-year-old Jane Ajore, shy to talk but very easy with the camera. 
Jane roasted the maize as her little sister, seven-year-old Natowom, waited patiently beside her. When it was ready, the maize was served-fresh and hot. Little Natowom was the first to be served. 
It was such a delight to see the children eating the maize adjacent to their farms and chatting away while others played. 
An interview with Oyangole, a beneficiary of the Lokubae irrigation scheme, further prompted me to appreciate the potential of Turkana.
Oyangole said, "When people hear of Turkana they think it is a region with desperate, hungry and emaciated people who sit around waiting for relief aid. Still others perceive Turkana as a dry place where no crops can grow. 
"But today I want the world to know that Turkana is endowed with resources and that the people of Turkana are hardworking and grow crops," she said.
As she placed the microphone down to take up her seat, thunderclaps filled the humid atmosphere. 
She had definitely driven the message home. This message also goes to my family and friends. It is time you begin to change your thinking of Turkana and know that food can be grown in Turkana. 


A beneficiary said to me, one day Turkana will become the country's breadbasket. I, without a shadow of doubt, believe that this is possible.
There is still greater need in Turkana and other parts prone to droughts where irrigation projects have not been realised.
About two decades ago, World Vision supported Lokubae and Morulem irrigation schemes in Turkana. These two schemes have completely changed the picture of the region from scorched land to lush green fields flourishing with crops. 
Even though World Vision handed over the management of the schemes to the community, to date, the residents speak fondly of World Vision the pioneers of the schemes. 
Now with Elelea and many others to come, I echo the words of World Vision Kenya Country Director in his recent chapel briefing, colleagues, there is no turning back in, 'Secure the future of Turkana.' 
Leaving Turkana knowing that Jane, Margaret and scores of other families in the Turkana region finally have easy access to food is such a comforting feeling.