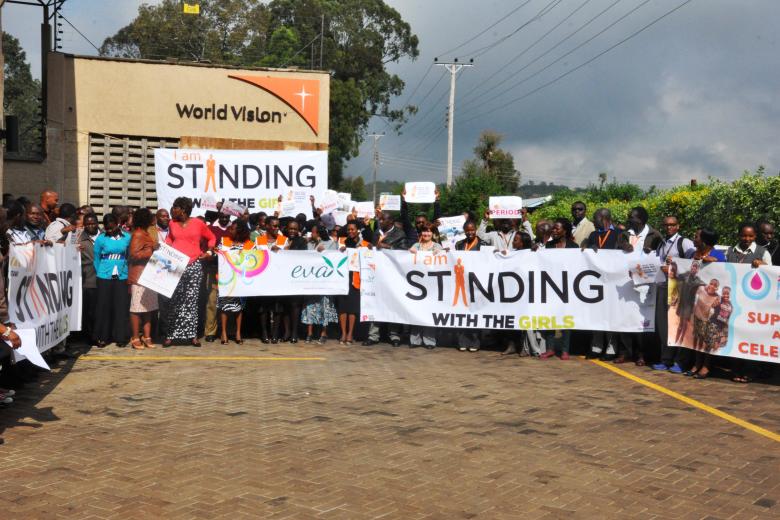 Standing With the Girls Campaign
Wednesday, May 27, 2015
FUNDRAISING CYCLING INTITIATIVE:
STANDING WITH THE GIRLS Campaign to provide dignity kits for girls in Kenya
Nairobi May 27, 2015- A team of 8 cyclists were today flagged off at World Vision National office in Nairobi Kenya, to embark on a two day journey of 260 kilometres from Nairobi to Marigat in Baringo county. The campaign "Standing With the Girls" is a fundraising and advocacy initiative of World Vision staff members from the East African Region and Kenya office with support from World Vision Korea Health Ministry and World Vision Germany. The cycling team of staff members is raising funds to buy sanitary kits and create awareness to support the girl child during their menstrual period.
"We appreciate and support the staff for pursuing such a noble cause and we give them moral support as they cycle and contribute generously to the campaign",said Teresia Njoki World Vision Kenya Acting National Director.
The fundraising cycling initiative is being held ahead of the World Menstrual Hygiene Day, that serves as a neutral platform to bring together individuals, business organizations, and the media to break the silence around menstrual hygiene management. The government was called upon to put in place a Menstrual Hygiene Management school policy with the necessary financial resources to ensure that the provision of sanitary ware actually takes place.
"Our appeal to the Government is to keep its promise to provide free sanitary pads to girls in schools alongside a healthy school environment."
The "Standing With The Girls Campaign" initiative has so far raised Ksh1,269000 ($13,500) funds that has purchased 2,500 sanitary kits for the girls. Distribution of the kits will start in Marigat, Baringo County and later extend to schools in Angurai (Busia County), Magunga (Homabay County) and Kegonga-Ntimaru (Migori County), which are some of the areas where WV operates. The initiative  seeks to improve school attendance and performance for the girl child.
" Our goal is to keep at least 10,000 vulnerable girls supported with a 2- year dignity kit by December 2015"remarked Teresia.
In many poor rural and urban areas in Kenya 4 out of 5 girls live on less than a dollar a day. They do not have the luxury of owning a single pair of undergarment or a sanitary pad.
"In some rural areas girls use old rags, leaves, cow dung or even dig a hole on the ground to sit for the whole period as a means to manage their menstrual flow," said Teresia.
Usage of sanitary towels in Kenya is still low and is a particularly salient issue because it has more pronounced effect on the quality and enjoyment of education by girls with no access to menstrual hygiene materials, latrines and places to change, safe water and sanitation.
 It is estimated that over 850,000 girls in Kenya miss six weeks of school every year during their menses. Missing subjects like mathematics, English and Kiswahili which are taught daily, negatively impacts on the quality of learning for girl child overall academic performance, their retention and transition to higher learning in the education system.
WV Kenya has been involved in various efforts to keep girls in school including the distribution of both disposable and re-usable sanitary towels. In 2014 alone 856 girls in Olenton, Osiligi , Marich Pass, Marigat and Kegonga-Ntimaru Area Development programs (ADPs) benefited with re-usable sanitary towels. Distribution of alternative and affordable sanitary towels allows girls to attend school without worrying about menses and demystifyes cultural taboos about sexuality and menstruation.
-ENDS-