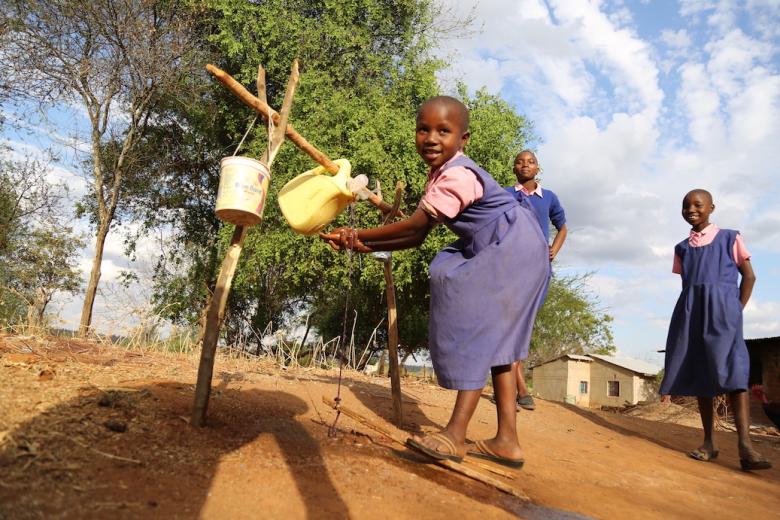 Tippy Taps Enhance Hand Washing in Rural Kenya
Sunday, October 14, 2018
In March 2018, Mercy - 14 years old -  made a basic water supply system known as a tippy tap. It is strategically located in front of a latrine at her parents' home.
A tippy tap is a simple innovative device operated by foot. It is designed to dispense flowing water in small amounts for washing hands.
The technology has gained popularity in rural areas worldwide, especially in areas where water is scarce.
In Kenya, it is helping rural communities practise good hygiene (hand washing with water and soap) hence forestalling illnesses such as diarrhoea and pneumonia that are leading causes of death in the country.  
 Mercy explains that she made the tippy tap using a five litre plastic jerry can. "I then made a small hole through its upper body which allows water to flow."
The plastic container hangs on a horizontal beam that is supported by V-shaped tree stems.
One end of a strong rope is tied to the mouth of the container, while the other end is tied around a piece of wood lying on the ground to create a pedal.
 When one steps on the wooden pedal, the plastic container tilts and clean water flows through the small hole.
 Now Mercy and her family can wash their hands with flowing water and soap by operating their home made tap with one foot!
 She states that should her family run out of soap, they can still use ash. "We always have ash collected from residue of burnt firewood from the kitchen. And I was taught that it can substitute soap."
 For ease of access and convenience, tins containing the ash and powder soap are placed next to the tippy tap, on its left and right side.
"It took me a very short time to make the tippy tap; less than a day, " says Mercy who learnt about the technology from a health club in her school.
Her teacher, Mr. Mutinda, who is the Assistant Patron of the Health Club said that he first heard about the tippy tap at a health and hygiene training forum organised by World Vision  and Public Health staff earlier this year.
"Initially, we had one ordinary water tap with clean running water in the entire school. Now we have four tippy taps that serve the entire school - 11 teachers and 200 pupil,"  said Mutinda.
 They are periodically filled with clean water and placed strategically outside the school kitchen and latrines.
 The Global Hand Washing Partnership, which World Vision is a member of, indicates that without hand washing facilities in schools, children are more susceptible to illness, and less able to learn and grow.
 Research indicates that worldwide, children lose 443 million school days each year because of water-related illnesses. More than half of these days (272 million) are as a result of diarrhea alone.
 Yet according to the World Health Organisation (WHO), the disease can be greatly reduced - by close to 50 percent - through hand washing with soap.
 Mercy is one of  the 7,598 children that World Vision in Kenya supported to gain access to Handwashing facilities in school, between October 2017 and March 2018.
 She is among the millions of people worldwide that are contributing towards the  realisation of Sustainable Development Goal  (SDG) '6' which aims at ensuring availability and sustainable management of water and sanitation for all.
 "Other children in the neighbourhood come here to look at the tippy tap and see how it works. I know of three children who have now made theirs at home", says Mercy.
 She has also taught her family, including her two sisters Lillian (11 years old) and Regina (5 years old) to wash their hands with soap and water.
Worldwide, in 2017, World Vision helped provide access to clean water for 3.2million people and improve hygiene through training for 3.9 million people.
Written by Susan Otieno, Communications Officer, World Vision Kenya