World Vision Kenya's Staff Wins the Prestigious CNNMultichoice African Journalist Award
Wednesday, July 25, 2012
By May Ondeng, World Vision Kenya Communications
Charles Kariuki, a cameraman and editor at World Vision Kenya won the prestigious CNN MultiChoice African Journalist 2012 Award for Best Television News Bulletin.  The award, which he won jointly with Nimrod Taabu, Chief Anchor of Nation Television (NTV), was presented at a glamorous ceremony in Lusaka, Zambia on July 21st.
The winning story -Pokot water challenges featured the arduous search for water in East Pokot, Kenya.  The feature provides a captivating narrative of women, men and children walking  as far as 30 kilometres just to quench their thirst at what appears to be a contaminated unprotected disease infested pond shared by both man and beasts.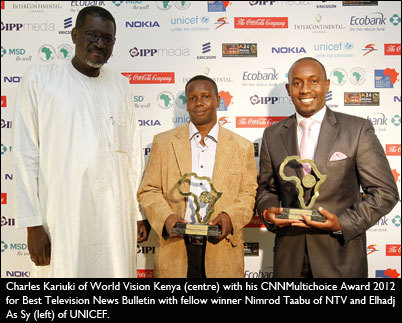 The CNN MultiChoice Journalist of the Year Award is the most prestigious award for journalist in Africa.  The award was founded in 1995 by CNN to reinforce the importance of the role of journalists in Africa's development and to recognize and reward this talent.  Charles and Nimrod's story was one among over 1,800 shortlisted entries from 24 African countries.  This is Charles's second time to receive a CNN MultiChoice Award having scooped the prize in 2010 for a moving story about factors that prevent the enhanced well- being of children.
"It is a miracle to be chosen as a winner among so many contestants," says Charles. "It has given me an opportunity to share with the world some of the challenges that children and families in parts of our country experience and that hold them back from reaching their full potential."
World Vision has been working in Kolowa, East Pokot for several years responding to the on-going drought, poor access to water and education and frequent conflict and cattle raids. The pond featured in the awards is one of few sources of water World Vision found when they began working in Kolowa.  Since then, World Vision has responded to this crisis by constructing 3 additional large water pans that are currently serving about 10,000 beneficiaries in Kolowa, East Pokot. There are plans to construct several more. All the water ponds built by World Vision have are protected and have an added simple filtration system to improve the quality of water for the children and families of East Pokot.
Poor access to safe drinking water; lack of proper sanitation facilities and poor hygiene practices remain a major obstacle in achieving better health and poverty reduction in Kenya.  For this reason, World Vision in Kenya has positioned Water Sanitation and Hygiene (WASH) as a priority intervention area in its strategic plan.  This year alone, World Vision invested over USD17 Million on WASH interventions to improve access to water and promote proper sanitation and hygiene.  These interventions have benefited close to one million vulnerable people living in arid and semi-arid regions such as East Pokot where in some cases, less than ten per cent of the population have access to safe drinking water.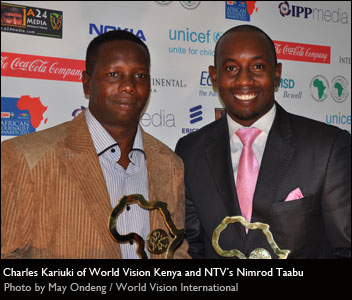 The need for improved access to water and proper hygiene practices is enormous.  In addition to constructing water ponds, World Vision in partnership with communities has sunk and equiped boreholes, installed simple water treatment systems, protected wells and springs and promoted appropriate rainwater harvesting technologies. World Vision empowers local communities with expertise to undertake WASH projects on their own. It also advocates for the construction and use of latrines in every household, school and other public places to improve overall hygiene in communities.
World Vision's objective is to improve the health and wellbeing of children, their families and communities by empowering them to embrace a culture of safe sanitation and hygiene while managing clean water supplies.  World Vision's desire is to increase access to portable water in its areas of operation from an average of 24 per cent currently to about 70 per cent and that of sanitation from 29 per cent to 89 per cent by 2015. Achievement of this objective will positively contribute to the UN Millennium Development Goals (MDG) to halve the proportion of the population without access to safe drinking water.
"This winning story would not have been possible without partnership with World Vision." says Nimrod of NTV. "World Vision has the stories, they work among the poor in remote places in Kenya and we have the platform to reach millions of viewers in East Africa and  the world through our Television station and our online presence. Together we have the opportunity to speak for many who cannot speak for themselves. "
Nation Television is part of the Nation Media Group, the largest independent media house in East and Central Africa.