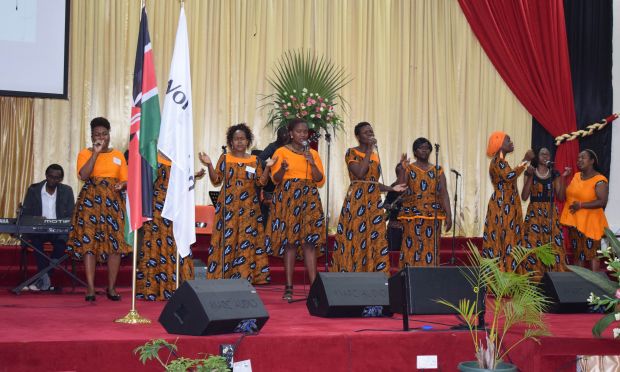 By Sarah Ooko, Senior Communications & Media Officer, World Vision Kenya
World Vision in East Africa has renewed its commitment and dedication to improve the wellbeing of children in the region. As it begins a new financial year (FY2019) this month, the organisation pledged to continue channelling its efforts and resources towards initiatives that impact children's lives positively.
"We shall never give up. We will continue to hold the hands of children in all areas, even in countries prone to conflict, so they can lead happy lives," said Stephen Omollo, Vice President of World Vision in East Africa.
He was speaking during World Vision's Day of Prayer ceremony held at a CITAM Karen church in Nairobi on October, 1, 2019. This is an event celebrated globally by all World Vision staff in countries where the organisation is present.
"It's an important day set aside for prayer and reflection. We thank God for opening doors that have enabled us to change the lives of children. We also trust him to continue giving us strength and grace to do our work even in the most difficult circumstances," said Daniel Muvengi, the Director of Faith and Development at World Vision in East Africa.
Stephen noted that millions of children in the region are affected by many challenges that rob them of their happiness.
They include conflicts, diseases, child labour, early marriages, Female Genital Mutilation (FGM) and sexual abuse or exploitation.
"We want to make sure that we work alongside other partners such as governments, families, religious bodies and civil society organisations so we can effectively address these challenges and keep children happy," said Francois Batalingaya, the National Director for World Vision Kenya who also spoke at the event.
The theme for the FY2019 Day of Prayer was 'Above all…Love.' In line with it, various speakers at the event put emphasis on the significance of love in fostering societal peace as well as eradicating all forms of injustices meted out to children.
"We must ask God to make us decent human beings and enable us to love one another just as Jesus Christ loved us," said Stephen.
He stated that the world is engulfed with a lot of conflict and trauma. "But love can make all these problems come to an end. Because if you have genuine love, then you would not want to harm children or another person in any way.
Stephen urged staff to pray for children, communities and humanitarian organisations working in fragile contexts where conflicts are rife.
"Let's pray for peace to prevail so that children and everyone else can live in a safe world."
In East Africa, World Vision serves communities through national offices found in the following nine countries: Kenya, Uganda, Tanzania, Rwanda, Burundi, Somalia, Ethiopia, Sudan and South Sudan. A majority of these countries continue to grapple with adverse effects of conflicts and wars.
See Facebook Live Videos for World Vision East Africa Day of Prayer