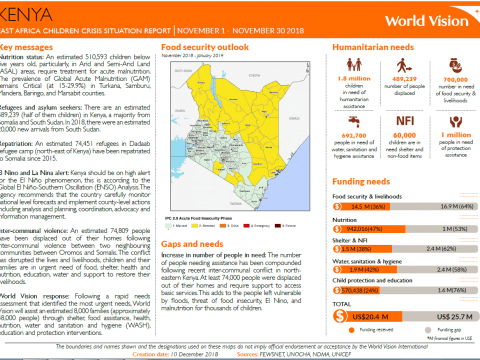 Kenya - November 2018 Situation Report
Thursday, January 3, 2019
Nutrition status: An estimated 510,593 children below five years old, particularly, in Arid and Semi-Arid Land (ASAL) areas, require treatment for acute malnutrition. The prevalence of Global Acute Malnutrition (GAM) remains Critical (at 15-29.9%) in Turkana, Samburu, Mandera, Baringo, and Marsabit counties.
Refugees and asylum seekers: There are an estimated 489,239 (half of them children) in Kenya, a majority from Somalia and South Sudan. In 2018, there were an estimated 20,000 new arrivals from South Sudan.
Repatriation: An estimated 74,451 refugees in Dadaab refugee camp (north-east of Kenya) have been repatriated to Somalia since 2015.
El Nino and La Nina alert: Kenya should be on high alert for the El Niño phenomenon, this is according to the Global El Niño-Southern Oscillation (ENSO) Analysis. The agency recommends that the country carefully monitor national level forecasts and implement county-level actions including analysis and planning, coordination, advocacy and information management.
Inter-communal violence: An estimated 74,809 people have been displaced out of their homes following inter-communal violence between two neighbouring communities between Oromos and Somalis. The conflict has disrupted the lives and livelihoods, children and their families are in urgent need of food, shelter, health and nutrition, education, water and support to restore their livelihoods.
World Vision response: Following a rapid needs assessment that identified the most urgent needs, World Vision will assist an estimated 8,000 families (approximately 48,000 people) through shelter, food assistance, health, nutrition, water and sanitation and hygiene (WASH), education and protection interventions.