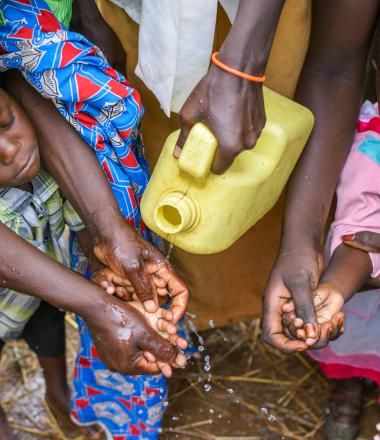 Nutrition and Water, Sanitation and Hygiene
Nutrition and Water, Sanitation and Hygiene
Proper sanitation and hygiene and safe drinking water can reduce undernutrition and stunting in children by preventing diarrhoeal and parasitic diseases, and damage to intestinal development (environmental enteropathy). According to the World Health Organization, roughly 50% of all malnutrition is associated with repeated diarrhoea or intestinal worm infections as a direct result of inadequate water, sanitation and hygiene. This does not capture the subclinical infections from environmental enteropathy, which current research is revealing as a significant factor for poor growth and undernutrition. When children are undernourished, their resistance to infection is lowered and they are more susceptible and more likely to die from diarrhoeal disease and other infections. In fact, diarrhoea is the second-leading cause of death globally in children under five years. Where children regularly suffer from diarrhoea, they are also very likely to be malnourished as a result. For infants, particularly those under six months of age, diarrhoea can cause permanent damage to intestinal development, reducing a child's ability to absorb nutrients. 
Studies show handwashing with soap can reduce incidences of diarrhoea by 42 to 47%, and it is simple, effective and cost-efficient. Reductions in diarrhoeal disease through water, sanitation and hygiene interventions can prevent at least 860,000 child deaths a year caused by undernutrition (WHO, 2008). Improvements in sanitation, especially in eliminating open defecation, are associated with a 4 to 37 percent reduction in stunting in rural settings and with a 20 to 46 percent reduction in urban settings. (Cochrane Review 2013). Parasitic infections caused by poor sanitation and hygiene can lead to anaemia and impact normal growth and cognitive development.

How does World Vision integrate Nutrition and WASH?
Many nutrition programmes, such as Positive Deviance Hearth, include messaging on water, sanitation and hygiene. In Positive Deviance Hearth, the WASH messages are contextualized for the specific community, making them appropriate for any family in the community to practice. For instance, a community in the mountainous areas of Peru found that caregivers use the warm water from boiling potatoes to wash their children's hands before mealtime, which overcomes the community's water scarcity issues as well as the unpleasantness of washing hands in a cool climate.  
World Vision's e-Learning course on Reducing Childhood Stunting and Reducing Anaemia also engages learners on the role of water, sanitation and hygiene with multisectoral approaches in tackling these global nutrition issues - see image at bottom of webpage from the course.
Many of World Vision's multi-sectoral programmes include WASH programming and messaging for behaviour change.  Only when underlying causes of undernutrition like the water, sanitation and hygiene environment are addressed can significant reductions in child malnutrition become a reality. 
World Vision's BabyWASH intiative aims to integrate water, sanitation and hygiene (WASH) into nutrition, maternal, newborn and child health (MNCH), and early childhood development (ECD), in order to have a more profound impact on child health outcomes in the first 1,000 days of life. Key interventions focus on hotspots in the first 1,000 days, including pregnancy, delivery, the first month of life, the onset of complementary feeding,and the onset of a child's mobility.  
Learn more about the variety of ways World Vision addresses sanitation, including the community-led approach to total sanitation.
World Toilet Day falls on November 19 each year - previous themes have included Sanitation and Nutrition,and Toilets and Jobs.