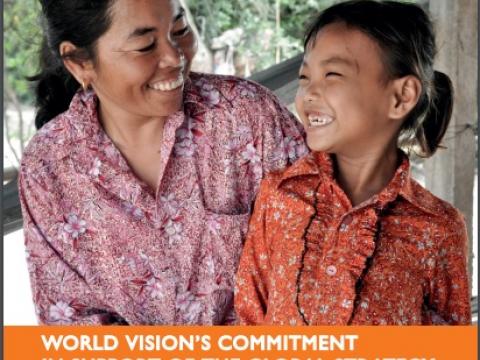 World Vision Commitment In Support Of The Global Strategy For Women Children and Adolescent Health
Sunday, September 18, 2016
Sustainable development starts and ends with healthy, nourished and well-educated children free from violence, malnutrition and lack of dignity. World Vision believes the Sustainable Development Goals – as the Millennium Development Goals did before them – offer an unprecedented opportunity to achieve this vision within a generation.
As a Christian organisation we are aware that faith in something must be accompanied by action, which is why we have made helping children, women and adolescents survive, thrive and transform an organisational priority. So much so that, by 2020, World Vision will have invested a total $5 billion in programming, emergency response, advocacy and research to protect the lives and health of the most vulnerable, especially in humanitarian and fragile contexts.
This report outlines World Vision's efforts to implement our seven commitments to the Every Woman Every Child movement as well as the results achieved to date. It also seeks to illustrate our determination to go above and beyond in ensuring all women, children and adolescents everywhere are able to live life in all its fullness.