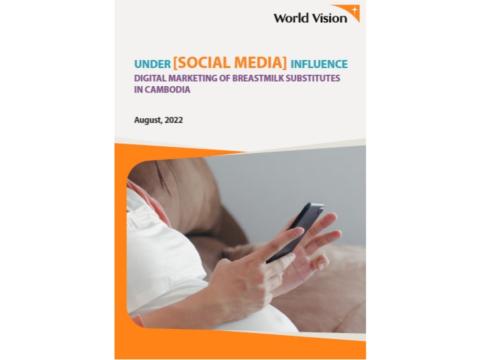 Under Social Media Influence: Digital Marketing of Breastmilk Substitutes in Cambodia
Tuesday, September 20, 2022
Breastfeeding is the most powerful and effective weapon to fight against illness and enhance health in early childhood. Despite impressive achievements in the 1990s and early 2000s, the percentage of children in Cambodia exclusively breastfed for the first 6 months of their lives decreased from 74 percent in 2010 to 51 percent in 2021 (CDHS 2010-2021). Relentless campaigning efforts by companies to promote breastmilk substitutes (BMS) have affected the way families think about the benefits of breastfeeding. Over the years the BMS companies have succeeded in presenting BMS as a symbol of modernity and economic status (ILO, 2018). Like many other countries, over the past two decades Cambodia progressively developed its response to the threat of marketing for BMS.
This study aimed to identify and present some of the most prevalent forms of misleading and inappropriate marketing practices on social media and internet for the promotion of BMS in Cambodia.
This information is expected to support:
The ongoing work to strengthen the legal framework related to the marketing of breastmilk substitutes, especially on the definition of the misleading and unethical practices that need to be restricted or prohibited on social media or internet.
The future implementation of this new legal framework by providing information on the different forms of digital marketing for BMS and recommendations on how to monitor them.
Learn other ways World Vision works to protect, promote and support breastfeeding. 
In 2014, World Vision, along with Save the Children, Helen Keller International (HKI), UNICEF and WHO, released a Joint Statement on Breast-Milk Substitutes in Cambodia. In 2015, HKI and World Vision produced a research report on Breast-milk Substitute Promotion and Labeling Violations, along with a two-page summary brief. 
World Vision has also advocated for compliance to the International Code of Marketing of Breast Milk Substitutes in the Philippines through their work on the Mother Baby Friendly Philippines project. An article was published Global Health: Science and Practice in January 2022 on the Mother-Baby Friendly Philippines project: Using Citizen Reporting to Improve Compliance to the International Code of Marketing of Breastmilk Substitutes.