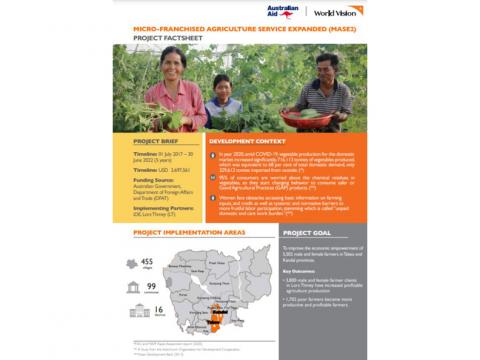 MASE2 Project Factsheet
Friday, May 7, 2021
The project helps to provide the farmers knowledge on modern agricultural techniques, quality inputs, up to date training and market linkages.
The MASE project was first implemented from 2015 – 2017 to improve farmers' livelihoods through the Farmer Business Advisor (FBA).
The project will directly reach 5,502 male and female farmers, including poor farmers, to build capacity (knowledge and skills) on horticulture technology, market linkage followed the Good Agricultural Practices (GAPs), and gender/disability inclusion.
The project will work in partnership with iDE/LT, government, private sectors and local community partners to provide quality services to target farmers.The project ensures that the target farmers will get the right knowledge and skills on vegetable production and market for increasing income and profits.