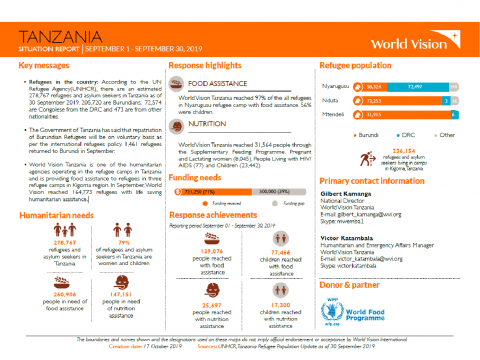 Tanzania - September 2019 Situation Report
Wednesday, October 23, 2019
Refugees in the country: According to the UN Refugee Agency(UNHCR), there are an estimated 278,767 refugees and asylum seekers in Tanzania as of 30 September 2019. 205,720 are Burundians, 72,574 are Congolese from the DRC and 473 are from other nationalities.
The Government of Tanzania has said that the repatriation of Burundian Refugees will be on a voluntary basis as per the international refugees policy. 1,461 refugees returned to Burundi in September.
World Vision Tanzania is one of the humanitarian agencies operating in the refugee camps in Tanzania and is providing food assistance to refugees in three refugee camps in Kigoma region. In September, World Vision reached 164,773 refugees with life-saving humanitarian assistance.