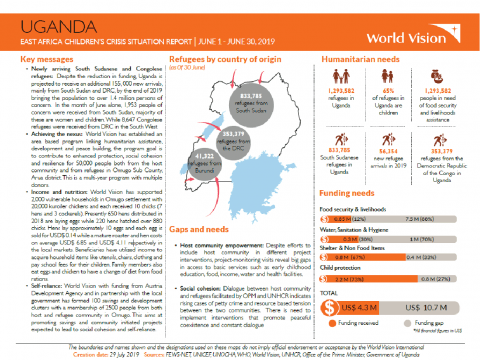 Uganda - June 2019 Situation Report
Tuesday, July 30, 2019
Newly arriving South Sudanese and Congolese refugees: Despite the reduction in funding, Uganda is projected to receive an additional 155, 000 new arrivals, mainly from South Sudan and DRC, by the end of 2019 bringing the population to over 1.4 million persons of concern. In the month of June alone, 1,953 people of concern were received from South Sudan, majority of these are women and children. While 8,647 Congolese refugees were received from DRC in the South West
Achieving the nexus: World Vision has established an area based program linking humanitarian assistance, development and peace building. The program goal is to contribute to enhanced protection, social cohesion and resilience for 50,000 people both from the host community and from refugees in Omugo Sub County, Arua district. This is a multi-year program with multiple donors.
Income and nutrition: World Vision has supported 2,000 vulnerable households in Omugo settlement with 20,000 kuroiler chickens and each received 10 chicks (7 hens and 3 cockerels). Presently 650 hens distributed in 2018 are laying eggs while 220 hens hatched over 880 chicks. Hens lay approximately 10 eggs and each egg is sold for USD$ 0.14 while a mature roaster and hen costs on average USD$ 6.85 and USD$ 4.11 respectively in the local markets. Beneficiaries have utilized income to acquire household items like utensils, chairs, clothing and pay school fees for their children. Family members also eat eggs and chicken to have a change of diet from food rations.
Self-reliance: World Vision with funding from Austria Development Agency and in partnership with the local government has formed 100 savings and development clusters with a membership of 2500 people from both host and refugee community in Omugo. This aims at promoting savings and community initiated projects expected to lead to social cohesion and self-reliance.