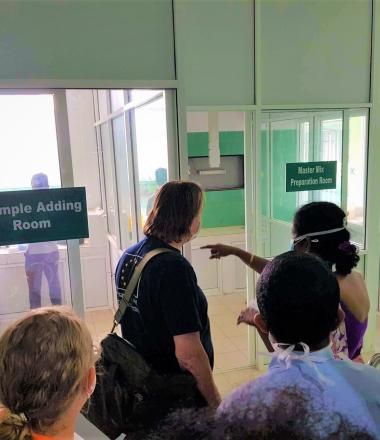 COVID-19 Response Project

Funded by European Union, this project focuses on enhancing COVID-19 prevention, care, and treatment capacity of the health system by providing essential equipment and improving access to vaccination for the most vulnerable groups, including the elderly and persons with a disability. 

The project distributes medical equipment such as oxygen regulators, ECG machines, multiparameter monitors, defibrillators, C-PAP and Bi-PAP machines, patient management supplies, and items for infection prevention and control to 29 Covid-19 treatment facilities in 8 districts.
 
The project also provides operational assistance to the Covid-19 vaccination campaigns, closely coordinating with the Regional District Health Services (RDHS) to reach the most vulnerable groups (people with disabilities and the elderly) through vaccination clinics and mobile vaccination campaigns in the rural areas.
Latest Press Release   CLICK HERE
A day in the life of a health worker
Kanakarathnam has been serving in the medical field for more than 14 years. Generally known as Kanagu, he is one among the frontline workers who had cumulative impact each day spent in the battle against Covid-19. READ MORE
No one left behind
"My husband and I had all three vaccines. But I was extremely worried about my boys who can't come out to get vaccinated. I was so much afraid thinking they are more vulnerable to the disease without proper vaccination". READ MORE
Taking health home
Although Suganthini was worried about carrying infection to her family; she has a younger son at home and elderly parents, she committed herself to attend to the most vulnerable the next day. 
A lab that brought change
"And we badly needed an infrastructure that can effectively diagnose the disease, track its progression in order to isolate patients for special care and thereby to prevent the spread of disease".  READ MORE
A strength for health workers
"We found it hard to build trust among the public as they refused to believe that we can treat them better in absence of essential medical supplies." READ MORE