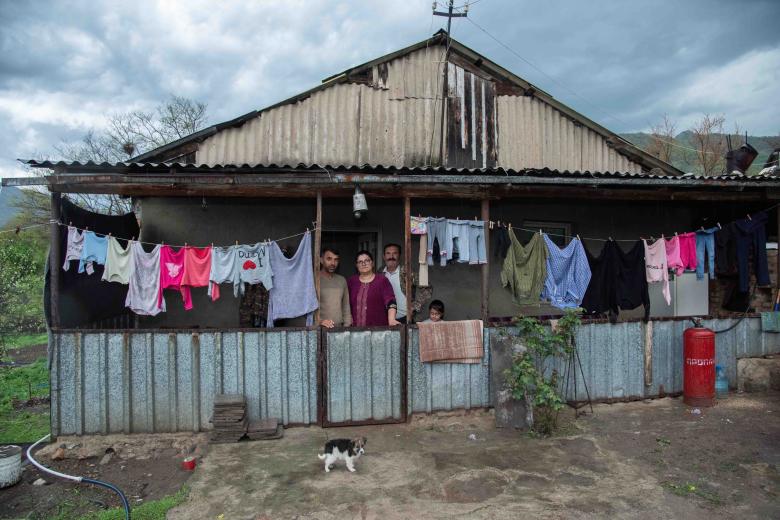 After losing everything, Armine's family tries to start a new life
Thursday, July 1, 2021
Armine's family was displaced as a result of the armed conflict which broke out on September 27, 2020, in Shahumyan Region, Nagorno Karabakh. They moved to one of the communities of Lori Marz of Armenia with their three minor children, having taken only documents, leaving the house, garden and the property. Armine's husband was serving in the army during the conflict and only months later was able to join his family. The family is renting a house with big backyard which is carefully sown and cultivated. The conditions are not good, of course, but the hardworking family does not complain, they just want to have a job.
"I used to work as a manager in a shop. My husband was a welder at the mine. We used to be employed, we used to have our house… now we have nothing, but thanks God, we are alive. When we arrived here, representatives of the World Vision visited us. It was somehow unexpected that they found us. From the very beginning the most important thing for us was the food and we received it, then World Vision provided us with hygiene items. They even gave us warm blankets, dinner pots, cups and other basic necessities," says Armine.
Then, with support from World Vision, the family was also direct to other organizations.
"World Vision supported my daughters too. There is a child-friendly space in World Vision's "Navak" daycare center, which my children, Marine and Ani, attend with great enthusiasm," mentions Armine.
14 years old Marine was in a hurry to tell about the center: "They treat us very well there, we sing, dance and play games. They teach us to respect, help and love each other."
"We are very grateful to World Vision's staff, even if they do not visit, they call, ask how we are doing, it is a great joy for us. But all we need is a peaceful sky right now…" says Armine, lost in thought.
Within the six-month grant program provided by the German Humanitarian Coalition, World Vision Armenia supports more than 10,000 people that have arrived to Armenia  from Nagorno-Karabakh. This is mostly an in-kind assistance. Within this grant, child-friendly spaces were also set up at World Vision's 12 daycare centers, which operate in six regions of Armenia. Here more than 600 displaced children play and develop in a safe environment and receive necessary professional services.