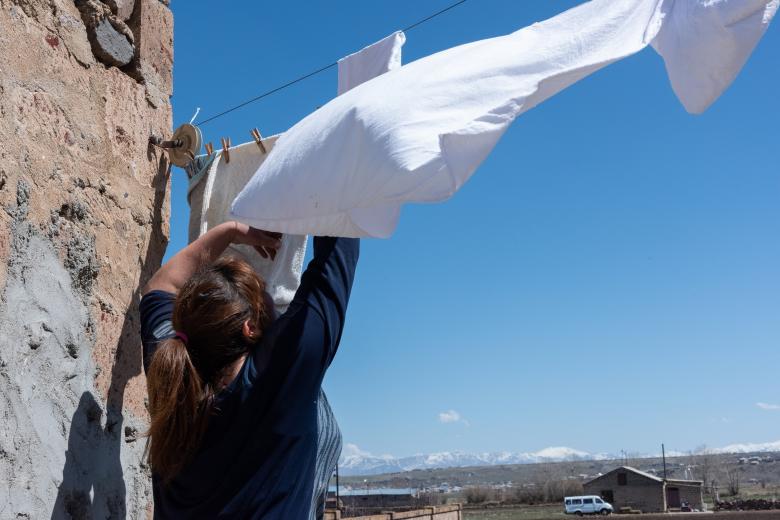 Anahit's family, being involved in the Poverty Reduction Program, is already able to take care of her needs
Wednesday, August 11, 2021
Next to the wagon house, in a stone house, lives a family of four, who lived in a wagon for seven years in extremely difficult conditions before the house was built. The white laundry hanging from the yard rope suggests that people living here are slowly improving their lives.
Anahit, together with her husband and two sons, lives in one of the communities of the Gegharkunik Marz, Armenia.
"At first we were living in the house of my husband's parents, but three years later we moved from that place. We build our house with difficulty, at first we took a loan to build a bedroom, then it was not enough for the rest of the work. We were getting the water from the well, had to heat it somehow but the electricity is quite expensive. World Vision staff reached out to us. When they gave us solar water heater, everything changed, we already have hot water, can properly take a shower or wash the dishes ..., "says Anahit with gratitude.
The domestic animals provided by World Vision also make the hardships easier. The family has received 13 sheep within the Poverty Reduction Program of World Vision Armenia. By selling the born lambs, the family was able to continue the construction of the house.
The program is a series of multi-sectoral interventions to help extremely poor families to combat poverty. The support includes social work with families, financial assistance to meet the most urgent needs, vocational training for family members, training in the field of parenting skills, provision of knowledge on healthy nutrition and hygiene of children, assistance in the solution of the employment issues.
"When new lambs are born, we will not sell them to increase the number of our animals. World Vision has also supported me to get a profession. I was sent to Gavar to study hairdressing. I studied for three months and now I serve my clients at home, I cut and dye hair, etc. I also liked the gardening courses, now we already know how to grow potatoes and have rich harvest. We also participated in financial courses, learned about how to save money. We were happy to be involved in World Vision's projects and we do our best to live up to their expectations," says Anahit.
Her eldest son, inspired by the success of the family, voluntarily attends a butcher's shop to learn and become a butcher. He is eager to help his family as he sees the positive changes in their family every day.
"World Vision helps families like ours a lot. During the training, I met many people, who lived in similar conditions. I saw that everyone wants to show even better results, having received such support. We are very grateful to them," says Anahit.
The effectiveness of the program is sustainable and evolving. 48% of the participating families have overcome extreme poverty, 90% have increased their annual income, 77% of their children have improved their health and 82% of the families have had a significant change in their quality of life.