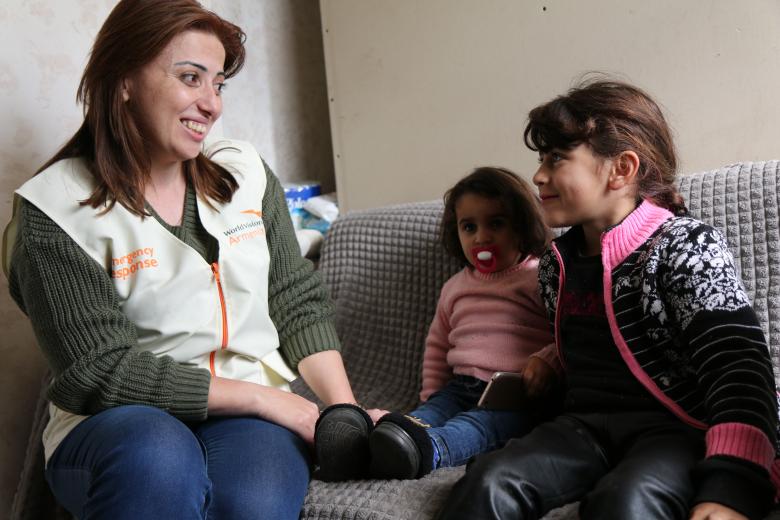 Unbreakable women: The forcibly displaced from Nagorno-Karabakh are settling across Armenia
Tuesday, October 17, 2023
Arpine (7) and Artak (9) run out of their yard excited to welcome their visitors. They reach the car halfway to the centre of their village and guide it back to their new home in the town of Sisian in   Southern Armenia. They have very few guests these days and their excitement is palpable.
"Mama, mama," the children yell and burst into the house. A frail woman appears at the door and the World Vision Emergency Response team follows them into the house. They brought basic food, hygiene supplies, diapers, and blankets. The children's mother, Zarvard (30), welcomes the team with a smile that doesn't include her eyes.
Her gaze is unsettled.
Together with their mom, and a two-year-old sister, Arpine and Artak fled Nagorno-Karabakh once the Lachin corridor (https://www.theguardian.com/world/2023/sep/10/nagorno-karabakh-routes-reopen-in-lachin-corridor-deal-say-azeri-and-armenian-sides), the only way out of the disputed territory, opened.
The children say they were playing when they heard explosions and ran home. The family had very little time to grab essentials and get on the road. Their journey was chaotic, as they were only a few of more than 100,000 people fleeing Nagorno-Karabakh in a matter of days.
Zarvard is visibly shaken by the sudden change in their lives. "Once we registered as the displaced, the Armenian government told us about the empty house here. This house belongs to a woman in the village, and she is letting us use it, for now," she says.
There is minimal furniture in the house and only a basic kitchen. The home itself shows signs of being abandoned for a long time: the floorboards are uneven and the paint is peeling off the walls. But the children see nothing wrong – they are finally safe.
For nine months, the Nagorno-Karabakh region was under a blockade and the family struggled to find enough to eat.
"We ate grapes and pomegranates," Artak says.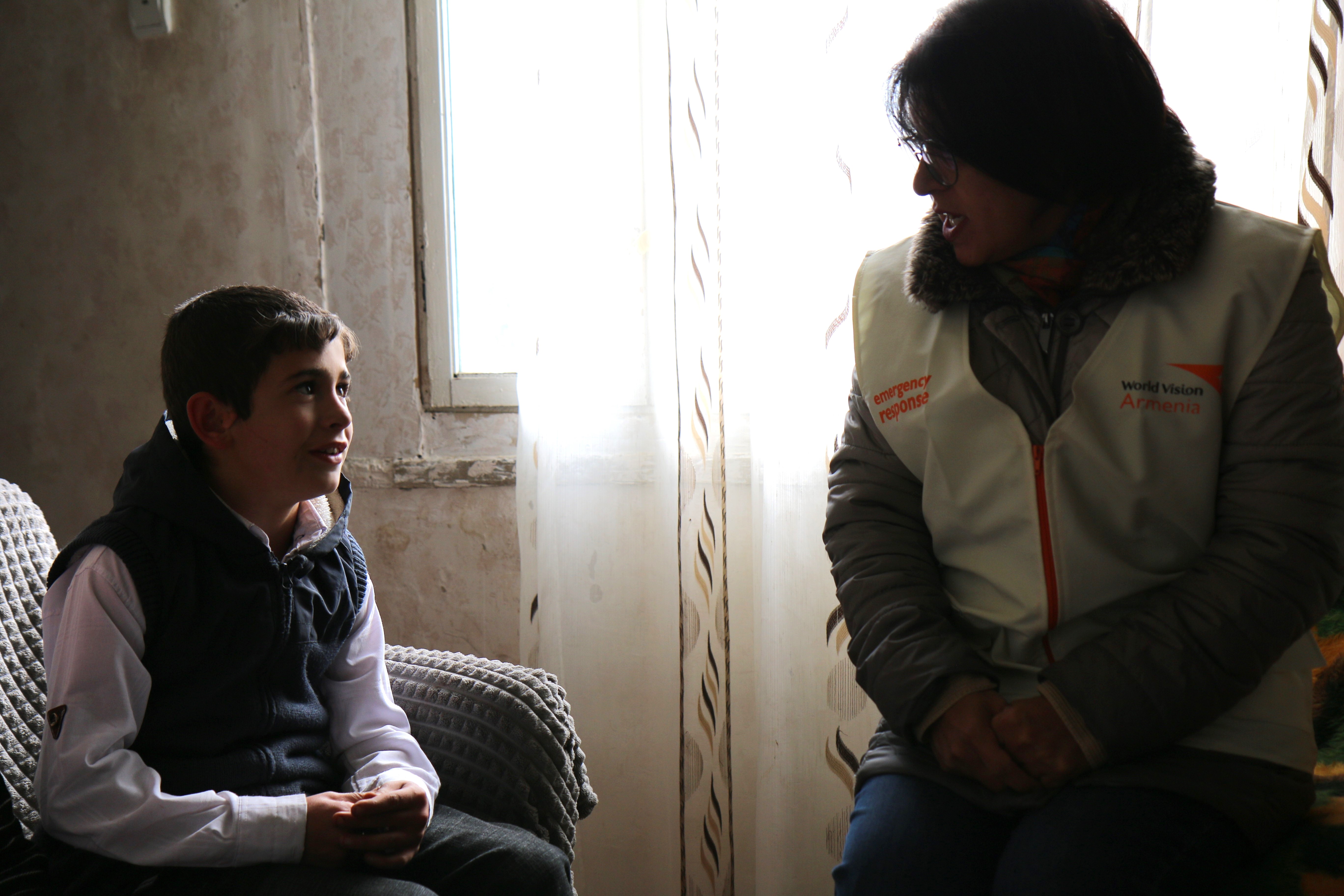 Their experience of a rushed escape is echoed in every family World Vision Emergency Response Team visit.
 "We only got some photos and clothes for our children," says Nina (25), the mother of a toddler and baby that was born during the blockade. Nina and her family also fled Nagorno-Karabakh and are now staying with an elderly relative in Sisian Community.
There are 500 displaced families now living in 36 villages across the Sisian enlarged community. Local citizens, their relatives, and the government are united in the effort to find them shelter.
"With an influx of more than 100,000 displaced people from Nagorno Karabakh, there is almost a 4 per cent increase in the population in Armenia. This is an enormous strain on Armenia and its citizens, a country that is already facing socioeconomic hardships worsened by the 2020 armed conflict. These people cannot continue to live on handouts. We must think about employment and integration," says Raffi Doudaklian, Country Programme Director of World Vision Armenia.
World Vision Armenia conducted a rapid assessment of the displaced families' needs and continues to deliver essential food and hygiene supplies. These will help in the short term, but as World Vision's teams visit each family, they use this time to discuss their long-term needs. Meri Sargsyan, a project manager for World Vision Armenia, is visiting the families who are currently settled near Sisian. She is ensuring World Vision's Sisian team is ready to provide comprehensive support. This team already has experience working with the displaced: they assessed and supported 1,700 ethnic Armenians who arrived in this region after the 2020-armed conflict in Nagorno-Karabakh.
"We are coordinating the efforts across sectors; we use this time to assess what is needed long-term. And we are learning that the families are going to need livelihoods, healthcare, and social services to ensure a safe environment for them and the 30,000 displaced children," Meri says.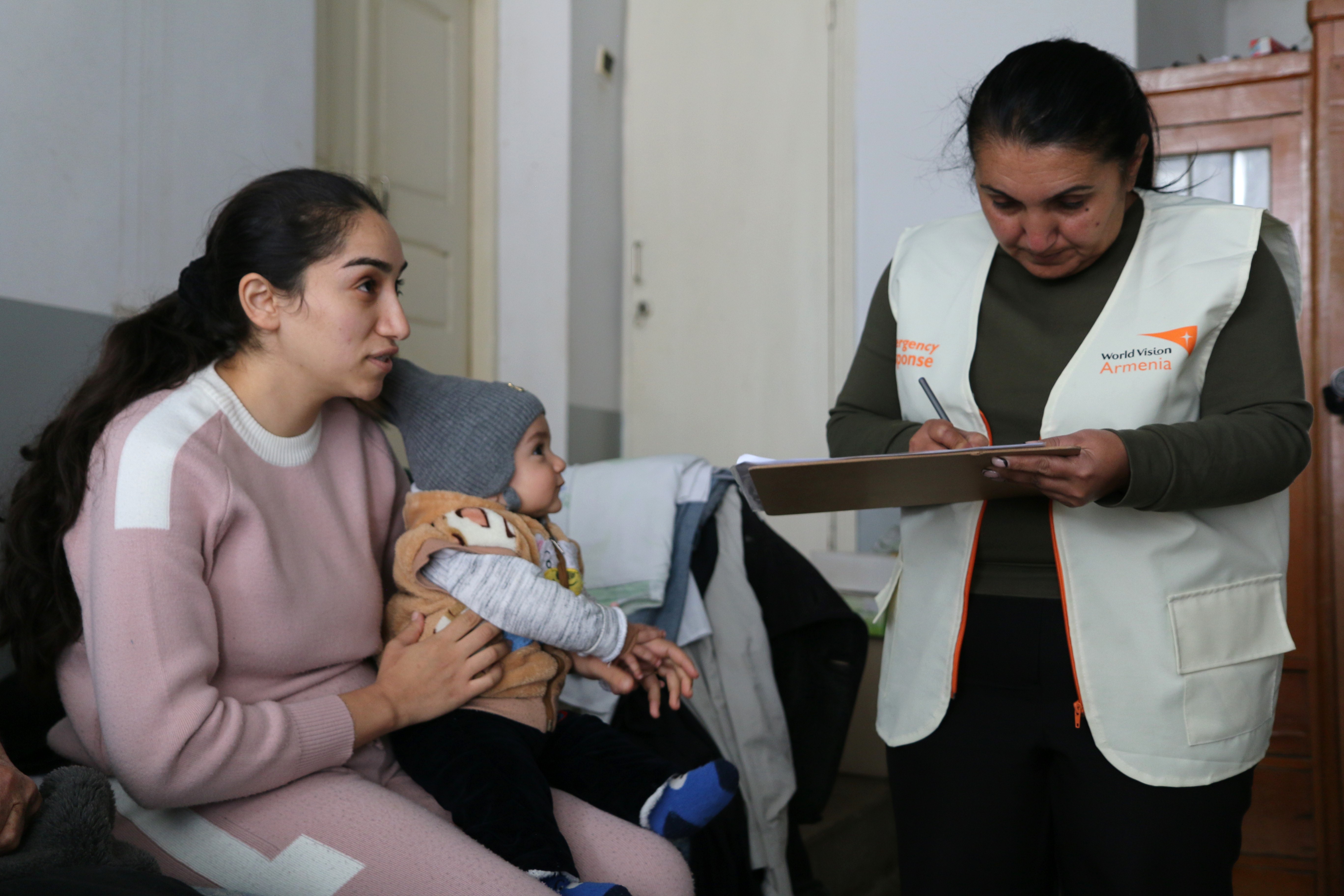 Arpine and Artak have just been enrolled in the local school and World Vision will provide additional support through the Child Friendly Space (CFS) created there. This CFS offers structured play, as well as activities designed to help traumatized children.
And Nina and Zardvard are already thinking about the future. She and her family are looking for a potential house for rent once she gets a job.
"I finished medical college, I am a nurse. Maybe I will be able to find work when the baby is a little older," says Nina.
Zardvard has already started working in the garden. She breaks the cold, firm October soil with a practiced hand and unexpected strength.
"I am going to plant everything - greens, onions, potatoes. If I had a greenhouse, we would be just fine," says Zarvard.
As we speak with her, the children run around the garden chasing each other. This display of carefree joy is only possible in the shadow of this unbreakable woman.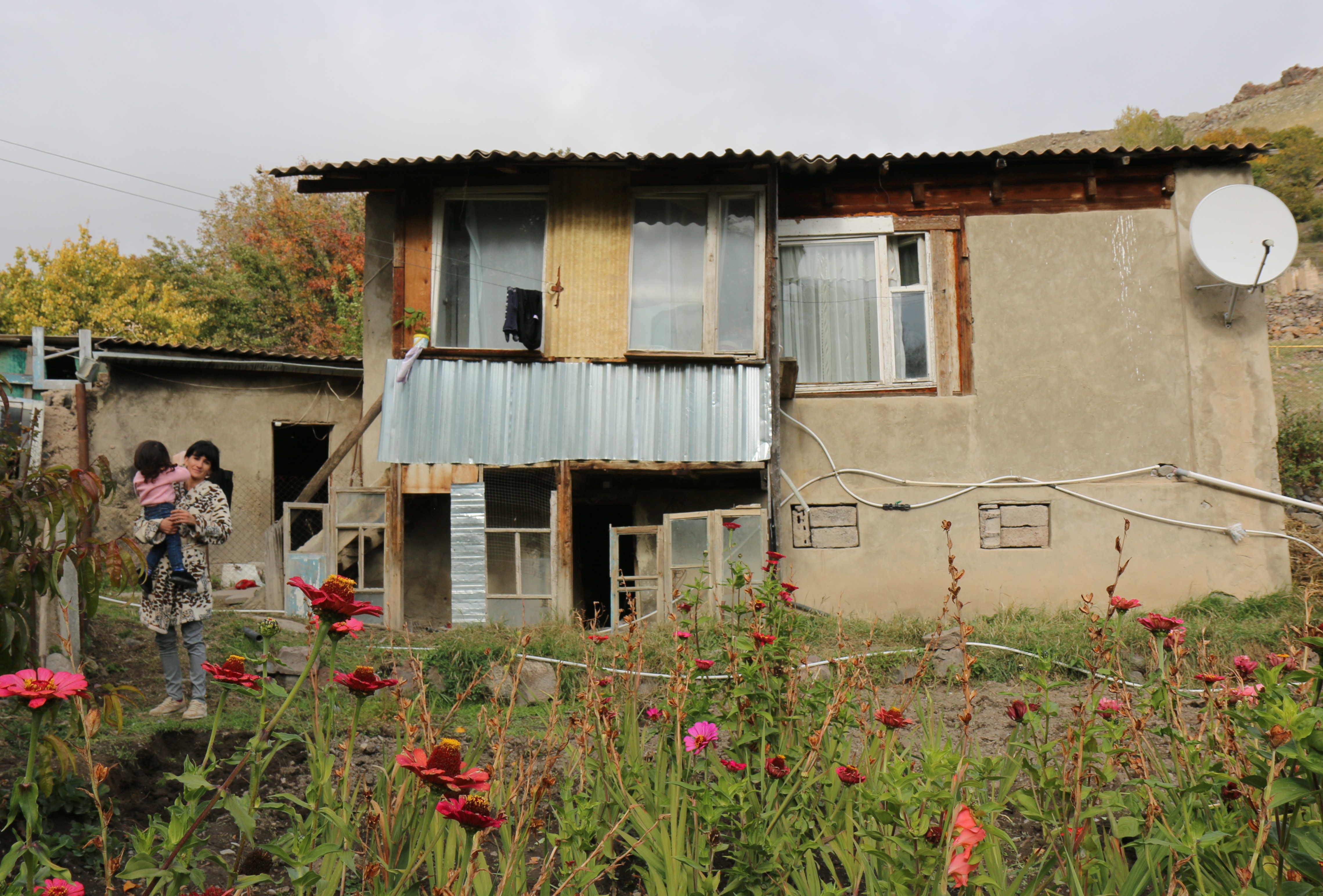 Almost one-third of the Armenian population lives in poverty and the country needs strategic thinking and international assistance to help 100,000 people try to rebuild their lives from nothing.