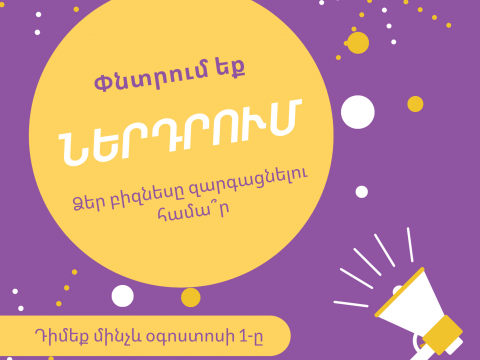 Within its' Impact Investment Activities World Vision Armenia announces a call for business proposals
Thursday, July 16, 2020
About World Vision Armenia
World Vision serves in more than 100 countries around the world to support the wellbeing of millions of children and their families. World Vision started its operations in Armenia right after the devastating earthquake in 1988 by delivering humanitarian aid. Later, along with the humanitarian support, World Vision started implementing development projects. In 2000, World Vision launched its first 'Child Sponsorship' programme in Gyumri marking the start of long-term community development interventions. Today, World Vision operates 15 offices in Armenia, and more than 110,000 children throughout the country directly benefit from the organisation's development projects.
Background of the announcement
World Vision Armenia is convinced that financial and social performance can be integrated. We are looking for businesses and entrepreneurs who take up this challenge.
As part of its income-generating activities World Vision Armenia plans to practice impact investment and make an investment in already established and running small/medium enterprises (SMEs). The income generated from the investment will be directed to the needs of the most vulnerable children through WVA channels.
With this call, WVA is looking forward to receiving applications from SMEs based in Armenia that seek investment to expand their businesses.
If you are an SME start-up based in Armenia and seek investment from incubator then you are welcome to apply. Please send the filled application t to worldvision_armenia@wvi.org . During the selection/negotiation phase of this call WVA will meet with the applicant SMEs and discuss the investment opportunity.
Interested small and medium businesses should submit the application form by August 1st, 2020.