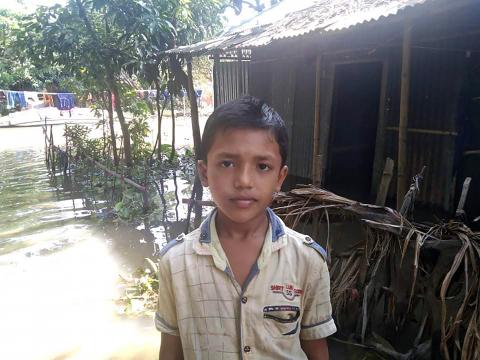 Johirul fears for the coming days
Monday, July 6, 2020
I am Johirul, 8 years old. I am now in grade two. I live in Gonipur village in Sunamganj district. My house is very close to the haor (swamp) and it looks so beautiful when we see the water and people catching fish in it. We have five members of our family. I have an elder brother, Aminul Islam (10) who reads in grade 5 and two elder sisters name Poni Akter (13) who is a brilliant student reading in grade 8. She always gets top in the class. Another sister is Juni Akter (17). She stopped studying due to financial crisis in our family. But she knows how to sew clothes. I love it when she does it for me. 
Unfortunately, I have lost my father on 14 April 2018 when I was 6 years old, he died of a heart attack. I miss him always. But I am happy that we have our mother. She is so caring and lovely. She manages our family with everything we need. We never expect much from her because we know how hard it is to earn and maintain everything alone for such a big family we have.
My mother is like everything to us. She is our teacher, life saviour, protector as well as our good friend. We share every secret and what we do, everything with her. I know the hard work she is doing to foster us proving the basic needs. My mother used to work in a plastics factory. She used to go to work in the morning and come back in the evening. She earns around 3500 TK (equivalent to 41.17 USD) every month doing her work in the factory. With this money, she bought food for us, pay fees for school, buy clothes and medicine for us. This money is not sufficient for our family but still, she managed. 
During this Covid19, our school got shut down in March and we were told to stay at home, wearing a mask, wash hands properly. So, most of the time, myself and my siblings we play together at our yard and followed the instructions given by our teacher. Everything was going so fine until the factory where my mother works got shut down, we felt very disappointing thinking that how will my mother manage our family? My mother couldn't make us feel that way. But I saw her providing food for us. Because of the financial crisis now, my mother sold our chickens and vegetables from our homestead garden and got some money from it. I and my brother decided to catch fish from the river and sell it to the market so that we can help our mother too with some cash. 
Luckily, World Vision stepped up to help us when we were passing a harsh time. My mother received 3000 Taka from World Vision's cash transfer program which helped us a lot to balance the expenses and live a comfortable life. We bought some food, clothes and other necessities.
 
We were doing good. Together, we tried hard to survive in this crucial situation. But we are never settled. It started raining from 3-4 days continuously and due to this incessant rain, the water level rises which causes flash flood in our locality. As we live in very close to the river, the floods hit us badly. The houses are partially submerged by the floodwaters. 
We can't play in the yard. My mother is not able to cook food for us because of the firewood we have submerged into water. It is now very difficult for us to go to the toilet as it is also flooded with water. We have lost our rest chickens. Our homestead garden is underwater and damaged. We don't have even safe drinking water for us.
"We have nothing now. We are confined in a small room waterlogged, eating dry food just to survive. We don't know how long we will live like this. Only Allah can save us now," says Johirul.
I saw my mother face, full of tenses and worrying about how she can do her best to feed us. She told us that we will borrow some money from others and repair the things which are already damaged. She wants support from other people so that she can manage things and stand again to fight in order to live. I know my mother can do that because she is so hard-working mother, does everything for us. 
Thousands of people like us in my areas who are living close by the river are suffering in this flood. They all are waterlogged and lost their assets by which they earned and lived their life. People are now crying for food and safe drinking water. 
World Vision recently supported people in these areas with cash transfer of 3000 takas to 491 families and hygiene kits to 90 families to slow the spread of coronavirus. Now due to this sudden flood, World Vision is working in the field, assessing the damage that occurred by the flood and counselling people how to best mitigate their loss. If the situation deteriorates and the Government declared emergency support, World Vision will act accordingly.