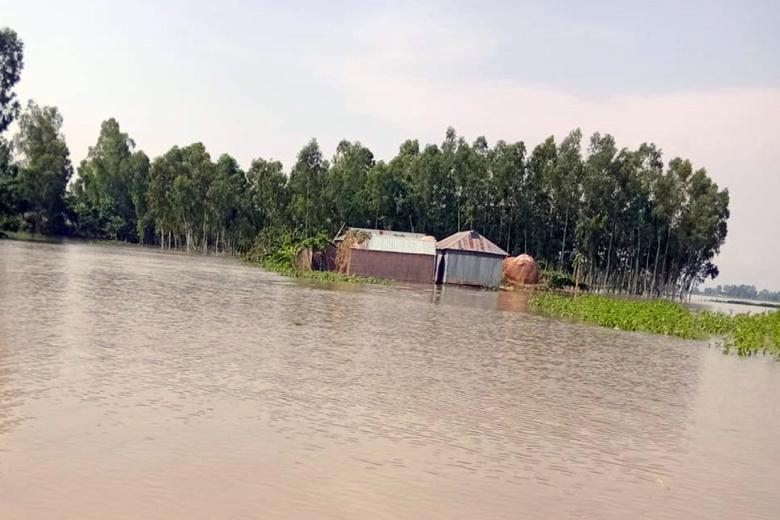 Start Fund, UK Aid award World Vision £100,000 grant to support flood-affected people in Bangladesh
Thursday, July 16, 2020
DHAKA, Bangladesh 20 July 2020 —  Start Fund and UK Aid have awarded World Vision a 100,000 GBP grant to address hygiene and livelihood needs of the children and families affected by monsoon flood in Jamalpur district.
Bangladesh is prone to annual floods that affect the most vulnerable populations across the country. As of 18 July 2020, a third of Bangladesh is underwater after the heaviest rains and it is predicted to be the worst flood in a decade. This year, more than 7 million people are exposed to the risk of monsoon flooding in the midst of the COVID-19 crisis, according to the Needs Assessment Working Group. While the country is already struggling to curb the impact of the COVID-19 pandemic the flood is putting on new challenges to deal with it. 
Start Fund and UK Aid have awarded World Vision a 100,000 GBP grant to address hygiene and livelihood needs of children and families affected by monsoon flood since June 27 and further at risk to be hit by higher flooding in Jamalpur district around July 18.
"We are happy with this grant as we shall focus on supporting children, particularly in the cyclone-affected area, who suffer more in any crisis. The short-term (45 days) project will be implemented in collaboration with Unnayan Sangha, our local partner," says Chandan Gomes-World Vision Bangladesh Interim National Director.
 "It is particularly hard for families in Jamalpur areas, who will have to deal with the impact of two emergencies- COVID 19 and the monsoon flood. Children are more vulnerable in crises as they are exposed to health challenges and increased chances of drowning," said Mr Gomes.
Instead of waiting for a massive flood to hit, it is important to stand beside vulnerable communities of Jamalpur who are already suffering. The priority needs arising from the ongoing floods amidst COVID-19 are vital to be addressed right now, according to Start Fund Bangladesh secretariat.
Targeted beneficiaries will receive cash grants, hygiene materials with hygiene information and shelter, search and rescue support during the implementation period.
According to the recent COVID-19 Rapid Impact Assessment Report of World Vision Bangladesh, the COVID-19 pandemic hit hard the livelihood of the people; 89.6% of households' income reduced due to the pandemic. This adverse impact dreadfully made the flood-affected people more vulnerable to survive during this crisis. 
Till now eight people have died. About 1.2 million people in the country are marooned or left their homes for higher ground as floods continue to worsen. The immense suffering of the flood-affected people is increasing every day as the flood left them with very minimum or no food, shelter, healthcare, etc.
END

For further information or to organise an interview, please contact:
Devashish Ranjan Sarker
Communications Specialist (Media), World Vision Bangladesh Mobile:+8801612800421
World Vision is a Christian humanitarian organisation dedicated to working with children, families and their communities in Bangladesh around 50 years to reach their full potential by tackling the root causes of poverty and injustice. World Vision serves all people, regardless of religion, race, ethnicity or gender.  For more information, please visit www.wvi.org/bangladesh.