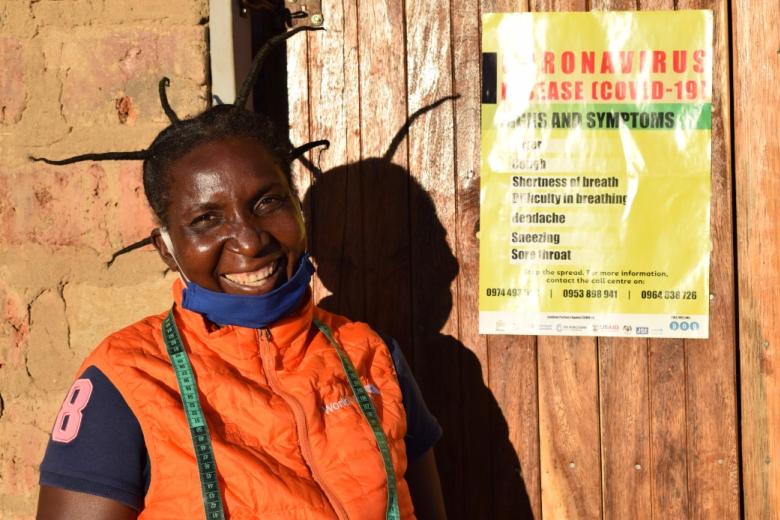 Village Banking Empowers Community Health Workers to Join the Fight Against COVID-19
Tuesday, December 22, 2020
By Mutinta Chiseko World Vision Zambia Donor Liaison Manager
After a long drive past several scattered mud brick huts with thatched roofs, we finally reached our destination, a neatly built house with an exceptionally clean surrounding. As we disembarked from our truck, we were greeted by noise that sounded like a chirping bird. To our surprise, it was not a bird but a sewing machine belonging to a 44-year-old Community Health Worker (CHW) named Mainer.
Mainer is a dedicated, happily married mother of six who lives in a remote village called Jamba in World Vision's Moyo Area Programme in Southern Zambia. While she loves being a mother and wife, Mainer has spent some of her time in the last 10 years volunteering as a frontline agent of change helping to reduce health disparities in her under-served community. She has provided health education, counselling and guidance on health behaviours as well as some direct services such as first aid and screening to more than 50 households. Then COVID-19 happened.
While the COVID-19 pandemic has impacted people from all walks of life, its toll has been particularly hard on health care providers who have been caring for people without protective clothing, like masks, to safeguard themselves.
"We were terrified when COVID-19 reached Zambia. Our work requires us to be among people every day and that would leave us very prone to infection," she says.
Even though Mainer and her colleagues were equipped to reach as many people as possible with COVID-19 messaging, most of them relented because they did not have access to personal protective equipment like masks. As the situation got dire, Mainer took action to make sure that she and her fellow health care givers got the masks they desperately needed.
"I decided to borrow some money from a village savings group where I am a member to buy a sewing machine, fabric and a pair of scissors to make face masks for myself and my friends. I love sewing so I knew it wouldn't be very difficult for me," she says. Mainer began making washable, reusable face masks.
"At first, I made about 35 masks which I distributed to my colleagues. I was very happy that I was able to make our work go forward especially now when we need to sensitise people about COVID-19," Mainer says.
"To pay back the loan I got from the savings group, I used some of the ideas from a financial literacy training I attended through World Vision, and made more masks this time for sale to community members who like us need them to prevent infection," she says.
Mainer made more than 120 masks, which she sold within days. Due to demand especially at gatherings like funerals, Mainer was encouraged to make 470 more masks, which she sold and paid off her loan in full.
"I am grateful to World Vision for introducing us to village banking. Through savings groups, we have been able to participate in the fight against COVID-19 and help our communities stay safe," she says.