Tigray, Ethiopia: 2.3 million children need your help amid conflict
Friday, March 26, 2021
"We were caught up in the crossfire of heavy shelling," says Yonas, a 12-year-old boy from Shiraro, a town in the far north of Ethiopia. "Because of the conflict, I travelled on foot with severe hunger." He walked nearly 100km (62 miles) to get to the next major town.
Since the conflict broke out in November 2020 in Tigray, northern Ethiopia, 2.2 million people, including children like Yonas, were initially forced to flee their homes.
Yonas became separated from his parents in the chaos of armed conflict. He was able to get a ride with a stranger to Mekelle, the regional capital, where he joined some 500 other displaced people in an abandoned school. These people fled with little or no belongings. They are huddling in a dilapidated building in urgent need of life-saving food, water, and adequate shelter.
"I have been experiencing severe thirst... there is no water, no food," Yonas says. Before the conflict, he played football and volleyball with his friends. He was also a grade three student.
The rundown school where he now sleeps on cold concrete is no place for learning. Fortunately, Yonas and his parents were reunited at the site informal settlement for internally displaced people.
As of mid-March, the United Nations estimates that nearly 1 million people in Tigray were already in need of humanitarian aid in the remote region before the conflict broke out late last year.
According to the UN, around 4.5 million people now need humanitarian assistance in Tigray, as many as 2.3 million of them are children.
Ten-year-old Roza, a grade four student, also had to flee on foot. She fled her beloved school and home in Humera, a town in northern Ethiopia.
"On our way to Mekelle several people died, including our neighbours. There was also heavy shelling and gunfire all the way... many people perished," she says. "There were many dead people on our way there."
The young girl and her parents took cover in a forest to escape the violence. "I was so very scared and shocked. When I think about it now, I feel sad and depressed." Roza eventually arrived at the same internal displaced people (IDP) site in Mekelle as Yonas and his father.
Roza's school was already closed due to COVID-19. The ongoing conflict in Tigray has closed them indefinitely. It's unclear when students like Roza and Yonas will be able to return to their homes or schools. Both of them dream of becoming doctors so they can alleviate the suffering of the sick, especially children, they say.
For many, there will be no home or belongings to return to. Yonas' family home was burned down during the fighting. Many others have experienced great loss as well.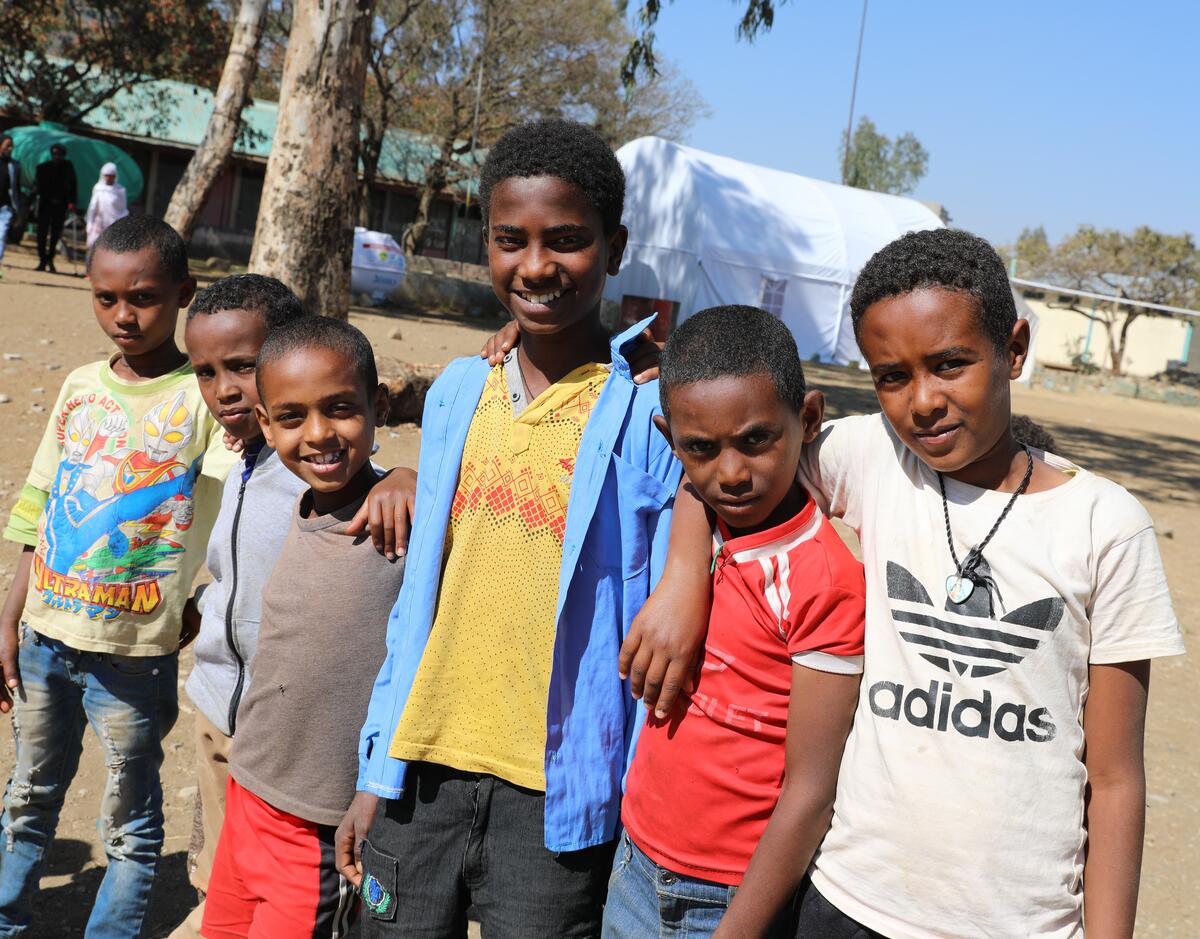 "All my properties have been demolished or looted," says Gergis Woldearegay who is also seeking shelter and safety at the IDP site in Mekelle. "I just left behind all my belongings, wandering here and there, and suffering. That is why I came to Mekelle."
Ayantu Icha, another woman sheltering in Mekelle, fled her home with "just a pair of trousers, a T-shirt, and [a bit of cloth]." She made the long journey largely on foot with her two-year-old on her back, her five-month-old on her hip and her five-year-old in tow.
"I didn't know the local language. I didn't have money. We had nothing. We had to beg for dirty water to drink," she says of her plight. "As the gunfire intensified, we were dispersed and got lost."
The young mother became separated from her husband, Yemane, for over a week, until they also reunited at the IDP site in Mekelle. Their future is unknown: their family business was looted. All their property was destroyed.
"As you can see, my child is malnourished and underweight. I, too, am malnourished and underweight," Ayantu says. The family needs food urgently.
World Vision is actively responding to the crisis. We're providing drinking water to around 100,000 people in Mekelle through water trucking and have given sanitary kits with soaps and other basic toiletries to more than 1,000 displaced families in the city. We've provided shelter and shelter kits for around 8,910 displaced people in the region.
The conflict has also severely affected hospitals and medical services in the region. The World Health Organization estimates that only 22 percent of health facilities in Tigray are functional and some 78 percent of the hospitals in the region are not accessible.
Looting has also been a challenge for the facilities. We're providing trauma kits, oxygen concentrators and other medical supplies to seven health facilities and six hospitals, including Alamata General, Wukro, Agereselam, Adigrat, Shire, Endabaguna Hospitals and the Alamata Health Centre in Tigray to facilitate primary and advanced care of some 405,000 people.
The UN reports that displaced people in northern Ethiopia are at-risk of cholera, sexual violence, and malnutrition.
People are waiting and praying for support. For now, Ayantu's husband, Yemane, is just thankful they escaped. "Thank God, we survived."
World Vision has been working in the Tigray region for more than 40 years. Learn more about how our teams are mobilising to meet the needs of the most vulnerable affected by this recent crisis.
To donate, please click here.