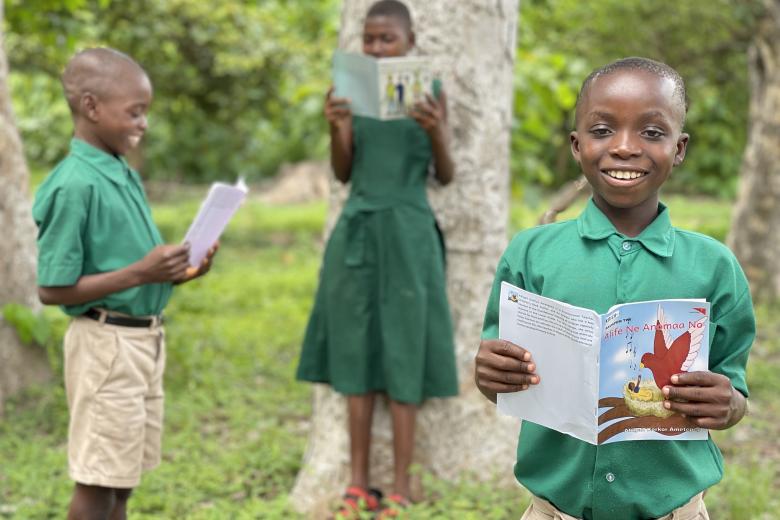 New books bring excitement to Gabriel and his friends
Tuesday, July 27, 2021
"Wow! We have new storybooks to read," says an excited Gabriel as he searches through a bundle of storybooks in the book bank at his reading camp.
Every year Gabriel, like many other children within World Vision's operational areas in Ghana, waits in anticipation for new storybooks with fun-filled and captivating stories to be provided to his reading camp and school. This excitement comes from the fact that hitherto, children within Afram Plains communities did not have access to storybooks to read at home and even at school. The only place they could get access to a book was the school –and even with that, not all children could access them because they were in very low quantities. And the available books were also strictly based on the curriculum with very little or no fun and interesting stories to pique children's interest.
Gabriel narrates, "The textbooks at school are not many and we struggle to have glimpses of what is in them. Because more than five pupils will be forced to share one book. Sometimes it is only the teachers that get to read the textbooks and we listen to them."
These storybooks sometimes become the only source of information to the children as they get to learn about life beyond their communities, and other interesting events that they have never witnessed before. "One of my favourite stories is the one about the airport. I have never seen an airplane before but the story helped me to appreciate what goes on at the airport. I want to be a pilot when I grow up," shares Gabriel when talking about one of his favourite stories.
With very little or no storybooks at school or at home for children to read, many children within World Vision's Afram Plains Area Programme (AP) coverage area are unable to break through literacy. The 2019 Early Grade Reading Assessment revealed that the majority of children (99%) in the AP could not read and this was partly attributed to the lack of access to storybooks for them to read at school and at home.
To help improve the situation, World Vision, as part of its Unlock Literacy project collaborates with parents and communities to develop stories and publish them in the local language. These stories are then distributed to schools and reading camps. 
Between 2019 and 2020, World Vision has printed and distributed over 25,000 grade-appropriate storybooks to schools and reading camps in Afram Plains.
Gabriel and his friends now have access to these books at school. They borrow these storybooks from their community book bank to read at home. Gabriel is very excited because "stories are very easy to read and they have many pictures that are beautiful."
Increasing children's access to storybooks will contribute to World Vision's efforts in improving the reading performance of children in Afram Plains.