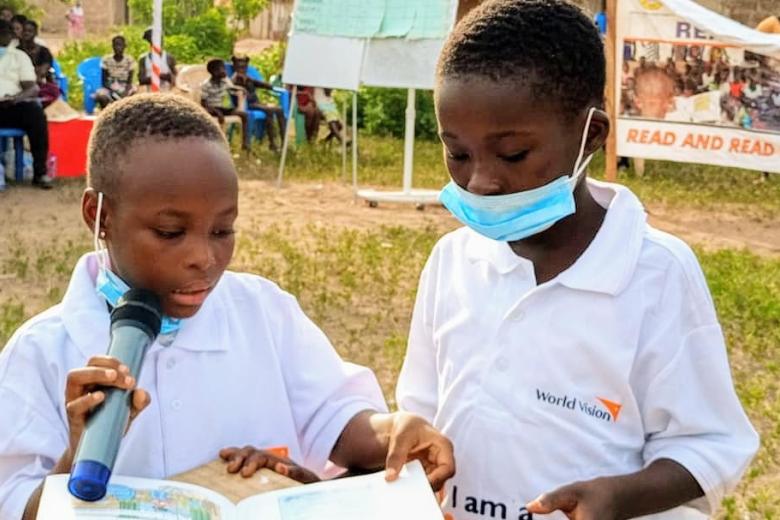 Nhyira overcomes learning difficulties to amaze audience at a reading festival
Monday, August 16, 2021
Eight-year-old Nhyira was initially identified by her class teacher, Madam Nora. She took interest in her because of her learning difficulties and absenteeism. Nhyira's mother used to assist her to read at home but had an accident during the time when she was trying to overcome her learning difficulties. Madam Nora adds, "further challenges faced by Nhyira was her inability to recognise individual sounds and work with them to create new words."
Challenged by her situation, Madam Nora gave Nhyira special attention to overcome her emotional challenges by visiting her at home regularly and supporting her to do her home assignments. In addition, Madam Nora introduced Nhyira to the Unlock Literacy After-School Reading Club in her community, where she had the opportunity to improve on her reading skills and transfer the knowledge into reading English.
The After-School Reading Club intervention is an integral component of the Unlock Literacy Programme for Early Grade children. The club provides a fun place where children can go after school and on weekends to build on the literacy skills they learn in schools. Age-appropriate reading books are available for beginners, readers, and advanced readers, especially in the local language and English under the supervision of trained community reading club facilitators. Facilitators lead children through songs, dance, and stories –all of which focus on building their literacy skills in the local language.
One of World Vision's key objectives is to educate children for life. This is possible through various programmes offered at birth and beyond adolescence. The Unlock literacy programme incorporates an integrated approach to physical, mental, social, and emotional well-being. For school-going children like Nhyira, the earliest years are a window of opportunity to support the emergence of literacy, numeracy, and life skills that will form the foundation of lifelong learning and fulfilment.
Another Programme model, Learning Roots, also includes an approach to developing strong social skill-sets, with activities which include playing corners, blocks and buildings, games, puzzles, books and pictures, with outside as well as indoor play along with other science activities.
Two years later, the magic of reading began to manifest in Nhyira. She could work with individual sounds, create new words and read simple sentences. Her reading camp facilitator, teacher Boafo says, "At the beginning it was difficult for her but with constant reading, she can now read fluently and confidently. In addition, she helps her friends to read at the reading club and read Bible in Church."
Nhyira's reading improvement was evidenced during a reading festival organised in World Vision's Krachi West Area Programme in the Oti Region of Ghana. She read fluently to inspire everyone who attended the event. The District Director of Education in Krachi West District, Madam Irene Jacquelinda Attabra, was motivated by Nhyira's reading performance. She used the platform to encourage parents, teachers, and children to take the Unlock Literacy programme seriously to help improve the reading performance of children in the District.
Mr. Odum, Nhyira's father, was so amazed about his daughter's performance and expressed his gratitude, saying, "Big thanks to World Vision, Madam Nora and teacher Boafo. They have been a blessing to my child. If my child can read and read fluently in public today, it is all by their efforts."
Her passion for reading has led Nhyira to join a Child Parliament in her community, where she serves as a Member of Parliament (MP) in pursuance of her dream of becoming a Member of Parliament in her constituency when she grows up.