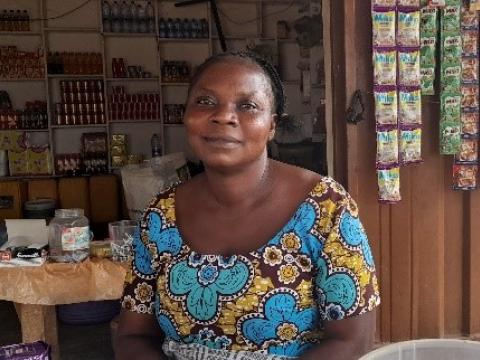 Savings group helps a mother realise her dream to see her son in university
Tuesday, March 23, 2021

With the undying dream of having her child go through to university seeming a long way away three years ago, Vivian Tseyi recounts her helplessness when her son completed Senior High School. "My son had passed his exams successfully and I could not afford to pay for the high tuition fees and living costs, even though he had gained admission into the university", Vivian says.

Vivian is 46 years old and a member of the Onua Do Savings for Transformation (S4T) group in Apemso, a Cocoa Life Programme beneficiary community located in Sekyere East District. She joined a World Vision-supported S4T group in 2016 and serves as a leader for the group. Through S4T, World Vision has designed an integrated and tailored pathway to help families out of extreme poverty. The programme is multifunctional, providing communities with an opportunity to build adequate and resilient livelihoods, income, and assets. By introducing S4T groups into communities, World Vision facilitates a sustainable platform for families to access savings and small loans. These groups are essential for establishing a sense of independence, trust, and empowerment within their communities.

It is for this reason that Vivian joined an S4T group. Vivian, who operates her store in the community speaks about her previous ordeal of losing money to external financial institutions through daily savings. "I saved with them for some time and they are nowhere to be found when I needed my money" she bemoans. Vivian indicates that her confidence in savings bounced back when she learned that the Cocoa Life S4T group would be owned by the members themselves. "I asked to keep the money box, because of my experience with losing money to outsiders", she says. Vivian expresses her eagerness to take loans from the S4T group to support her son's university tuition and living costs.

With rekindled hope, she took a loan of GHC 4, 500 (approximately USD 780) for this very purpose. "I was able to pay for my son's school fees and hostel fees at the University of Cape Coast; a feat I never imagined I could achieve as a woman", she delightfully says. Vivian recounts that an amount close to GHC 12,000 (approximately USD 2,085) has been invested into her son's university education from the first year to the third year, solely from the S4T group. She mentions her high hopes for her daughter who has recently completed Senior High School and wants to be a nurse. "I know I can do better for her dream to come true because I have access to financial resources from the S4T group", Vivian indicates.

Vivian has influenced four other women to join other S4T groups that have been formed in the Apemso community.