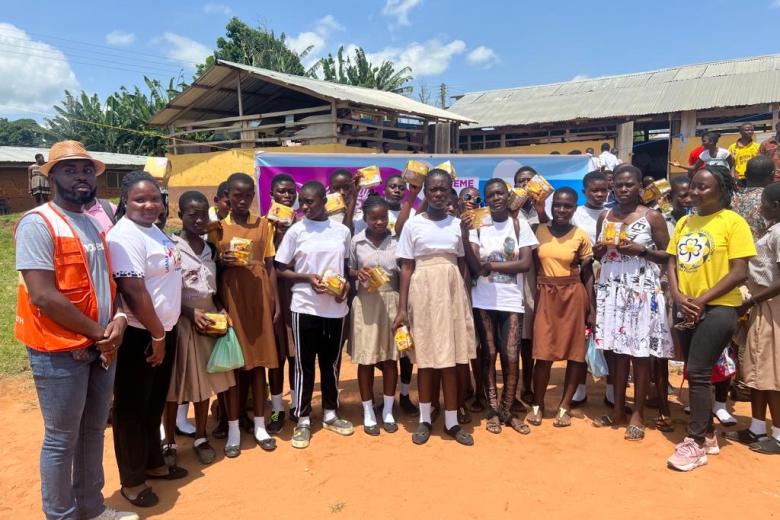 World Vision Addresses Menstrual Period Stigma in Fanteakwa Area Programme
Saturday, March 18, 2023
In rural communities in the Fanteakwa South and North Districts of Ghana, many girls stay out of school during their menstrual flow period to avoid the stigma associated with it. This affects their academic performance and their education in general. "I suffered humiliation from friends when I had my menses while teaching and learning were ongoing. It took me a lot of courage to return to school afterwards", said Hannah, 16.
Hannah and other girls from low-income families frequently use improvised pads. Inaccessibility and the expensive cost of pads in Ghana hinder girls from using them and push them to improvise during menstrual flow, which frequently results in infections and forces them out of school. 
As an organisation dedicated to improving children's and women's lives, World Vision Ghana celebrated the 2022 Menstrual Day by distributing more than 2000 pads to help 790 girls in five communities in the Fanteakwa South and North District in Ghana.  
Another component was comprehensive menstrual health education for girls, their families, and entire communities. This initiative was intended to do away with the stigma surrounding menstruation and allow girls to attend class while menstruating.
Adolescent girls are exposed to health issues, stigma, and mockery in rural communities like Fanteakwa, where menstrual pads are quite expensive and hard to come by. Negative perceptions and myths about menstruation influence negative attitudes towards young girls.
Quality menstrual information, hygiene, and health will be a barrier without support and advocacy. This, in turn affects girls' health, education, and social and emotional development. "I want to thank World Vision for providing comprehensive menstrual education to my community. I don't have to feel ashamed about it any longer", said Hannah.
According to Mr. Mark Gmarjom, the coordinator of Akokoa's School Health Education Project (SHEP), adolescent girls' school attendance has changed significantly. "Adolescent girls at our school now attend class considerably more. The rate of attendance was relatively low among them prior to menstrual pad supplies and menstrual health education. This makes it possible for them to take part in educational activities at school "he said.
 World Vision continues to work with girls and boys and the communities to ensure all children have a chance at life in all its fullness.