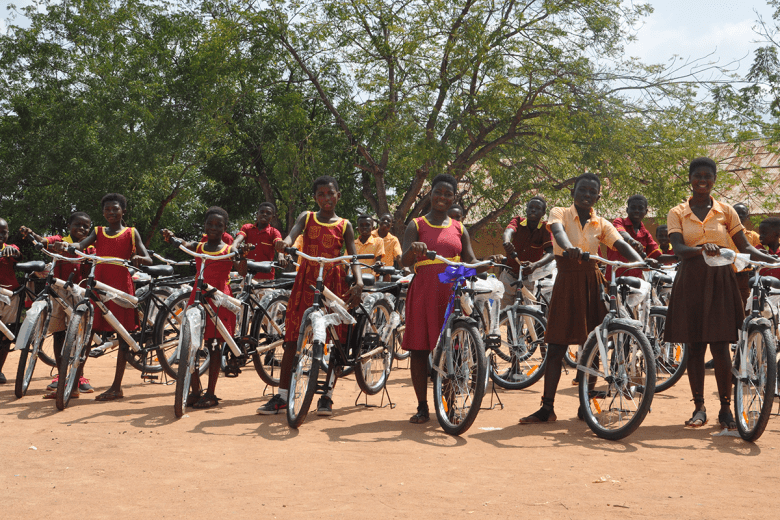 World Vision breaks the cycle of absenteeism with a gift donation of 100 bicycles
Thursday, December 31, 2020
Wednesday 16th December, 2020 - In Sekyere East District, in a remote village located in the Ashanti region of Ghana, 100 school-going students receive a life-changing gift of mobility. The students who are clad in brown and mustard uniforms gather excitedly within the grounds of Nyamfa Salvation Army School to participate in the community's first bicycle distribution ceremony. The farming community is traditionally a cocoa-growing area with a mixture of hamlets and hard-to-reach villages. The students who met the criteria for the donation all faced the challenge of walking long-distances, between 5-10 kilometres in order to reach their school. As a result they suffer from absenteeism, compromised grades and an inability to reach their full potential.
Doris, a 14-year old Grade 8 student sponsored by World Vision, is one of the beneficiaries of a bicycle. She tells World Vision that her day starts as early as 4:30am, when she sweeps the compound at her home, fetches three buckets of water 2km from home, does the washing, and then commences a gruelling 6.5 kilometre walk to get to school. She narrates: "it takes me four and half hours to walk and I miss the first and second lessons. Sometimes I even arrive after first break. When it rains I do not even come to school at all. I also come across snakes and scorpions along the way and I'm afraid of them. Now that I have a bicycle it will help me to come to school early. I'm so happy that World Vision has brought me a bicycle."
The Bicycle Education Empowerment Program (BEEP) is World Vision's global response to the most vulnerable children who face the challenge of access to an education, intergenerational poverty and also a means to reduce travel time in order to improve on educational outcomes. This particular donation is a partnership between World Vision and the philanthropic foundation CAIO ROBI foundation. The foundation, which is based in Italy and named after biker Roberto Silva who lost his life a few years ago, is expected to transform the lives of hundreds more school-going children in Ghana.
In a speech at the ceremony via Zoom, Roberto Silva's wife Silvia Maestrelli and the donor for the 100 bicycles spoke about the impact that the foundation seeks to make in its participation in BEEP. "The birth of our association is to promote commitment, protection, determination and values, supporting underprivileged students to guarantee them access to studies, sport and job training. We will guarantee you a humane and dignified future by giving you a bicycle to reach your school. Today our thoughts are filled with love for you and your future. The bicycle is not just an object but rather access to an education for a better life and a better condition of life ", she said.
Under the BEEP programme, 70% of beneficiaries are girls, as it tends to tremendously improve their school performance and attendance levels. Once a community is selected to receive bicycles, a supervisory committee made up of school officials, students, PTA members and traditional leaders set the criteria on which beneficiaries will be eligible to receive a bicycle. The bicycles are distributed on a three-year service to own contract, where beneficiaries pledge to stay in school, maintain their bicycles and pass them on to the next needy student.
Andrew Ofosu-Dankyi, World Vision's Technical Programme Manager for Education, affirms that the BEEP programme has been especially beneficial for girls in ensuring that they remain in school: "The bicycle is an enabler to support children to access school in a way that children will optimise learning. For most of these children, especially girls, these bicycles should empower them to greater heights."
World Vision aims to create an enabling environment for children, improved access to learning, and quality education. Our work targets the most vulnerable children, especially girls, and one of the indicators is long distance travel to school. Kwabena Fosu is the Integrated Development Facilitator for World Vision's Sekyere East Area Programme (AP) in Ghana. He explains that many of the students he works with are demotivated by the sheer distance to get to class and that school attendance is poor as a result: "Many of the students we have identified travel over 5 kilometres to get to school. On average in Ghana, there are 68 days in one term. However, some of these children will only attend 35-40 days in a term."
Also in attendance at the ceremony was Nana Akwantey Baffour, local chief for Okaikrom Sekyere East district, Ashanti region. He has first-hand knowledge of the many challenges that school-going children face in their commute to school. He also noted that out of the 45 cocoa-growing villages, many of the children travel long-distances and are regularly tardy or simply absent from school. As a chief, he says he is grateful to donors for assisting children in his community to succeed in their education: "We are very pleased with the donation. There are 45 communities and in each community three to four children do not have access to a school close by, so it takes them up to two hours or more to get school. School starts at 8 o' clock but many do not make it till 10am, so we are pleased to have these bicycles as a contribution. We need more of these programmes to benefit the community."
The BEEP programme has proved to be successful and provided thousands of school-going children in rural communities with a reliable and sustainable mode of transportation. As a result of this programme, there is reduced absenteeism, reduced commute time, increased punctuality and improved grades. The CAIO ROBI foundation will continue in its collaboration with World Vision Ghana on the BEEP programme for the next five years.
                                                                ________________________
The BEEP project is implemented in collaboration with World Vision's Italy Office and World Bicycle Relief, USA. BEEP in Ghana started in Kasena Nankana District in the Upper East region with a cumulative distribution of 5,450 bicycles. The project has been scaled to four districts across Ghana: Nkwanata South, Sekyere East, Ahafo Ano and Bia West districts.