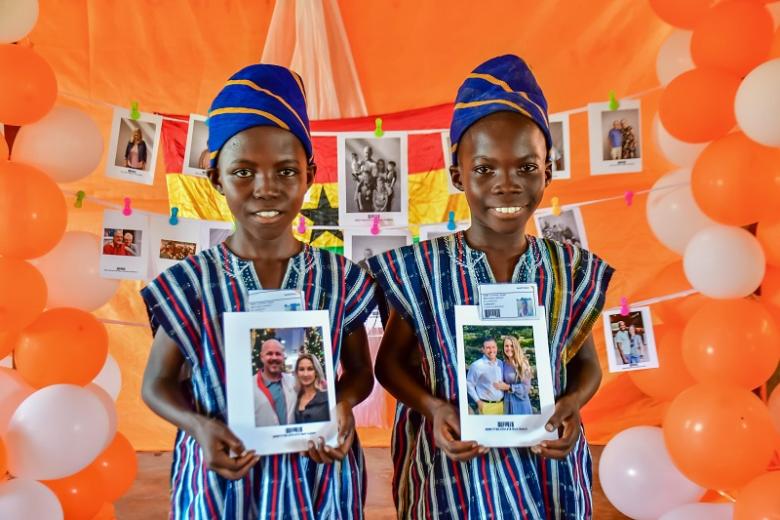 World Vision hosts first "mega" Chosen™ event in Ghana
Thursday, October 21, 2021
World Vision launched Chosen™  as a new Child Sponsorship initiative where children now have the power to choose their own sponsors.
The Ghana Office was privileged to collaborate with Northview Church in the United States (US) to give 2,001 children in World Vision's Agotime and East Gonja Area Programmes (APs), and an additional 657 children for East Gonja, the opportunity to choose a sponsor.
In July 2021, World Vision's US Office informed World Vision's Ghana Office that Northview Church would like to sponsor a "mega Chosen™ event". Mega Chosen™ events consist of 800 – 1,000 children participating. The Church requested for a lasting sponsorship relationship with the East Gonja and Agotime APs, which means that more children will have the opportunity to be sponsored by church members.
A virtual call was subsequently arranged in late July, with the Leadership of Northview Church, and World Vision's US Office to share firsthand how children benefit from sponsorship through Chosen™ events.
A Mega Chosen™ Event was subsequently scheduled and implemented concurrently in the week of 11th – 15th October, 2021, in the two Area Programmes. A total of 2,001 children were registered as sponsored children (1,024 for East Gonja and 977 for Agotime).
When asked why he chose his particular sponsor, Kwame, a sponsored child, said, "When I looked through the pictures, I saw that the family were hugging each other and smiling. I wanted to be part of their happy family"
Another child's mother also expressed her joy, saying "I am happy that my child chose her sponsor by herself. I know God directed her to take that picture. My child is also very happy!"
Thanks to the support of World Vision's US Office, Northview Church and the staff at World Vision in Ghana, the lives of over 2,000 children and the communities they live in will be transformed.