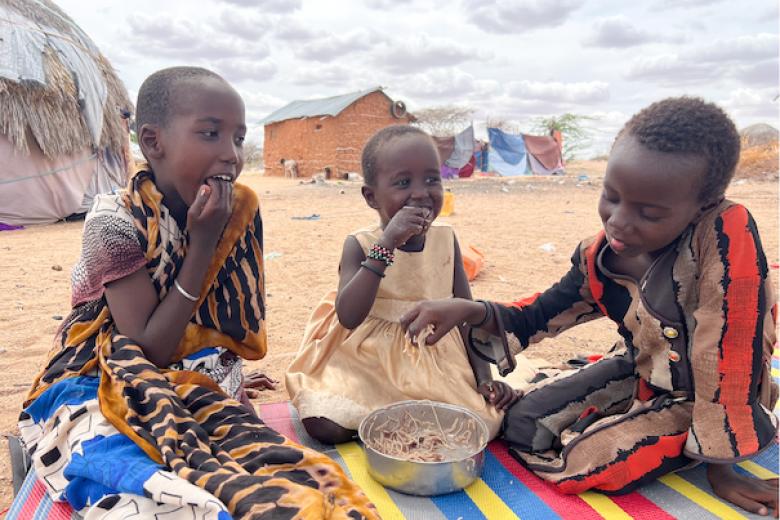 Livestock Offtake Programme Brings Relief to Food Insecure Families in Tana River County
Monday, May 15, 2023
By Martin Muluka, Emergency Communications Specialist, World Vision Kenya.
Tana River County, located in the north-eastern part of Kenya, has been facing a prolonged drought, which has resulted in severe vegetation deficit and the death of numerous animals. Families in the area, who rely on livestock for their livelihood, have been adversely affected.
The drought has led to a decrease in recharge levels of most open water sources, making water scarce. Children less than five years of age are at risk of malnutrition.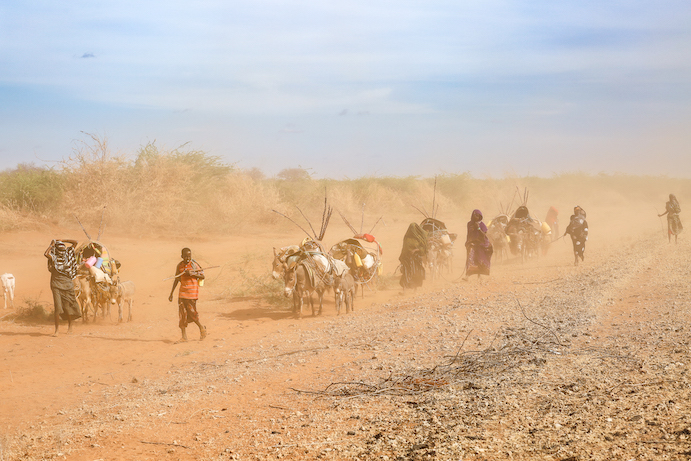 Hassan, a resident of Tana River County, was once a proud owner of over 50 goats, but most of them have died due to the prolonged drought. Without fodder for animals, his only option is to sell them.
"We used to preserve some sections of land with grass for feeding animals during the dry seasons, but many families moved to our village from areas that are worse off, and now there is no grass for our animals," he says.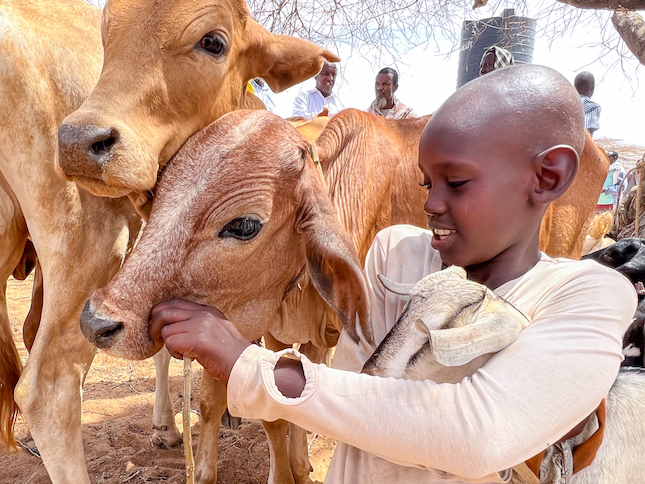 However, Hassan found a glimmer of hope in World Vision's Livestock Offtake Programme that is being implemented in partnership with the government.
This has been made possible as a result of the organisation's Kenya Integrated Emergency Response Project funded by the USAID through the Bureau for Humanitarian Assistance (BHA).The initiative has provided relief to affected communities by stimulating the local economy and increasing households' purchasing power.
Through the programme, weak livestock – emaciated by the drought – are bought from farmers by the County government through the support of World Vision.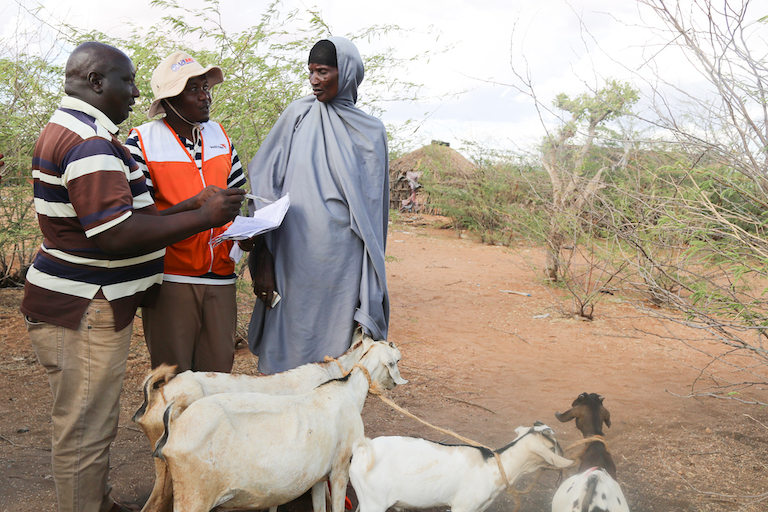 This provides a ready market for families grappling with drought challenges and enables them to sell their cattle before they incur losses caused by livestock deaths during drought seasons.
The cash they get is used to purchase food items and to meet other basic needs as the drought prevails.
On the other hand, World Vision and the county government use the animals bought from the farmers to get meat that is distributed to vulnerable families with high poverty levels who are severely malnourished. Priority is given to households with children below five years, as well as lactating and pregnant women.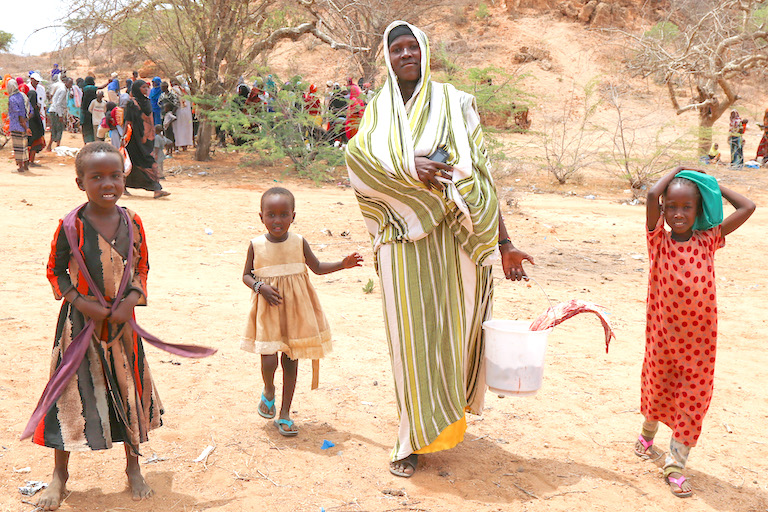 "The programme targets households with herds that are healthy but with deteriorated body conditions. If a farmer has 10 animals, for example, they are advised to destock at least two of them," says Dennis Kipkorir, a World Vision livelihoods and resilience officer in Tana River County.
He adds, "For a household that has offloaded an animal and still gets the distributed meat, they now have money to buy other nutritious meals for their family. The price of a mid-sized goat can get them 50 kilogrammes of maize which is a staple food for the community."
The Livestock Offtake Programme has not only provided immediate assistance to affected households but has also helped them to protect smaller, more productive herds that can be supported by the existing land and vegetation cover.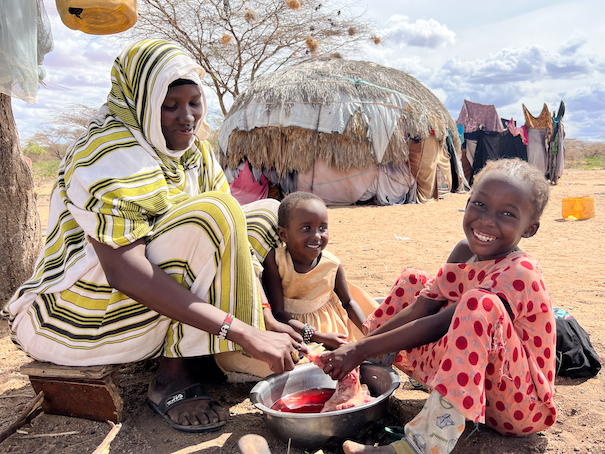 Most importantly, the distribution of the meat has increased food security in households by boosting the nutrition status of children and lactating mothers, so as to protect them from the long-term effects of malnutrition.
"We work with partners such as the Ministry of Health and Agriculture in testing the animals and the meat before clearing it for human consumption," notes Dennis.
Khadija, one of the many residents from Tana River that have benefitted from meat distributed through the Livestock Offtake Programme, has every reason to smile as she prepares a meal for her three children – Amida, Fatuma and Nasra - at home. Her other child Farhan, is just a month old and the breastmilk he relies on cannot be produced in sufficient quantities if the mother is malnourished.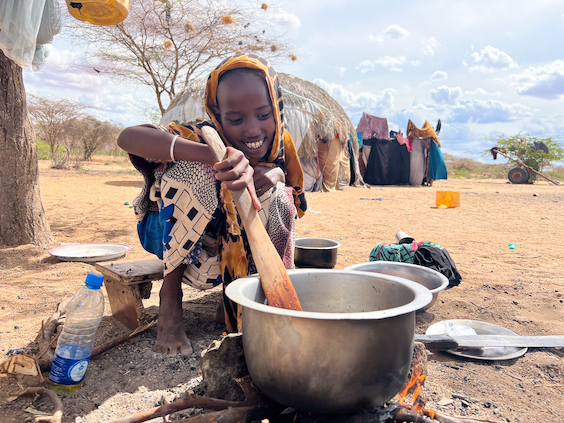 "I am grateful that we have something nice to eat today. Life has been difficult because we depend on animals for survival. Most of my livestock died due to the drought and the remaining ones don't give enough milk. This is by far the worst drought in the recent past. Before the drought, I used to get enough milk for sale but now I can barely get enough for home use," she says.
Most families like Khadija's in Tana River County cannot afford meat yet they are pastoralists and livestock are their main source of livelihood. Apart from providing milk, meat and income, the animals are also kept for sentimental value.
Consequently, families find it hard to slaughter livestock even in times of drought for fear of losing their only source of wealth. I cannot slaughter my animals for food unless there is a cultural function or a celebration. What if I slaughter one today and it rains tomorrow? I have to keep them, hoping for a better tomorrow," notes Khadija.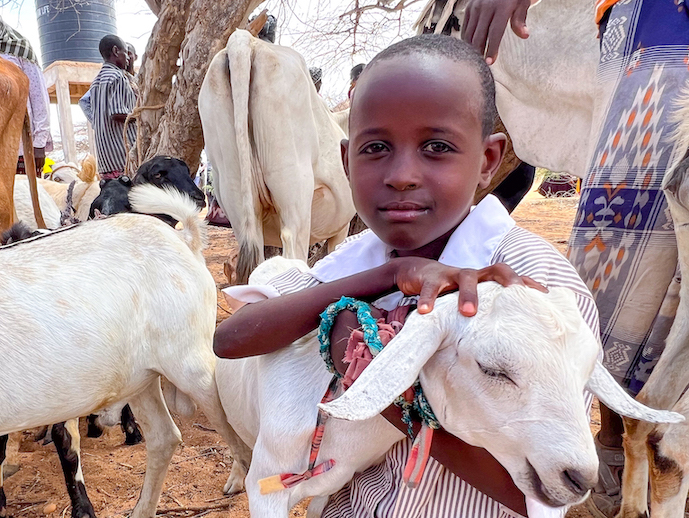 Through sensitisation and public awareness campaigns, World Vision has been empowering communities to embrace alternative approaches to livestock management. Instead of holding on to the animals until the drought kills most of them, people are encouraged to sell them early enough and save the money.
The cash can be used to purchase food among other basic needs during drought seasons and to buy more livestock once the drought ends.
World Vision's multiple interventions in Tana River County are changing lives by bringing relief to affected households and increasing their chances of a better tomorrow.