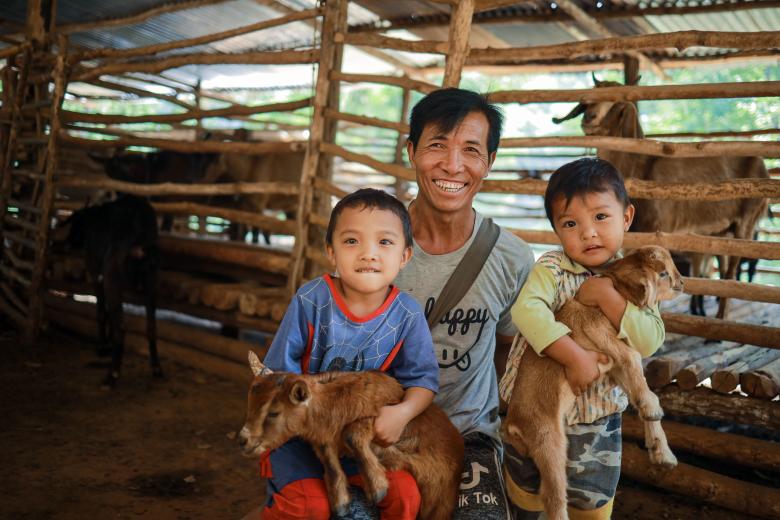 Goats bring joy and a secure livelihood
Tuesday, June 28, 2022
"I wanted to raise cattle and goats but couldn't afford it because it required a lot of money," says 62-year-orld Ngwar Tar, whose family had to leave their hometown 20 years ago due to frequent armed conflicts and military recruitment to move to Kaung Wain village.
Ngwar Tar's family of ten used to rely on a small upland paddy and maize field as their main source of livelihood. Besides traditional farming, the adults in the family – Ngwar Tar, his wife, two sons, a daughter, and a daughter-in-law – had to do all sorts of menial jobs to eke out a living and provide for the little ones. In order to support the family, Ngwar Tar's daughter decided to look for jobs away from home, and she is currently living near the border of Thailand-Myanmar.
In 2017, World Vision's Hseni Area Programme conducted a baseline survey on health, education, and livelihood conditions in 30 target villages and three wards in Hseni Township, and found that none of the families in these communities was raising goats as a livelihood despite the many benefits of goat-raising (such as less space and less feed are required compared to cow-raising).
Under the three-year Livestock Project funded by World Vision US, Hseni AP provided buffalos, chickens, dairy cows, pigs, and goats to 616 vulnerable families who were interested in raising livestock and in need of capital. The project aimed to improve the productivity of livestock through the provision of locally bred animals and husbandry skills to help families increase their incomes and provide well for their children.
"We received four does and one buck from World Vision in December 2020. We were able to raise four more does and three more bucks over the following year, giving us a total of 12 goats," says Ngwar Tar. "We were also given training in basic animal husbandry, animal nutrition, and infectious disease control, all of which were helpful in our livestock production."
Ngwar Tar was also able to use the manure from his goat farm as a natural fertiliser in his upland paddy fields.
"I'll continue to rear more goats so that I may sell more than 10 at a time and invest the earnings in our grandchildren's education, health, and nutrition," Ngwar Tar says.
Yan Ma Lay, Ngwar Tar's 64-year-old wife, says she is thankful for the goats that keep growing healthy and reproduce. "I am really glad to feed the goats in our small goat farm with my husband every day. It's really a blessing that a new doe was born today while World Vision staff were here.  A goat is currently sold for approximately 200,000 Myanmar kyats (about 108 US dollars) in the market. We are really happy that this small farm will become a reliable source of income for our family."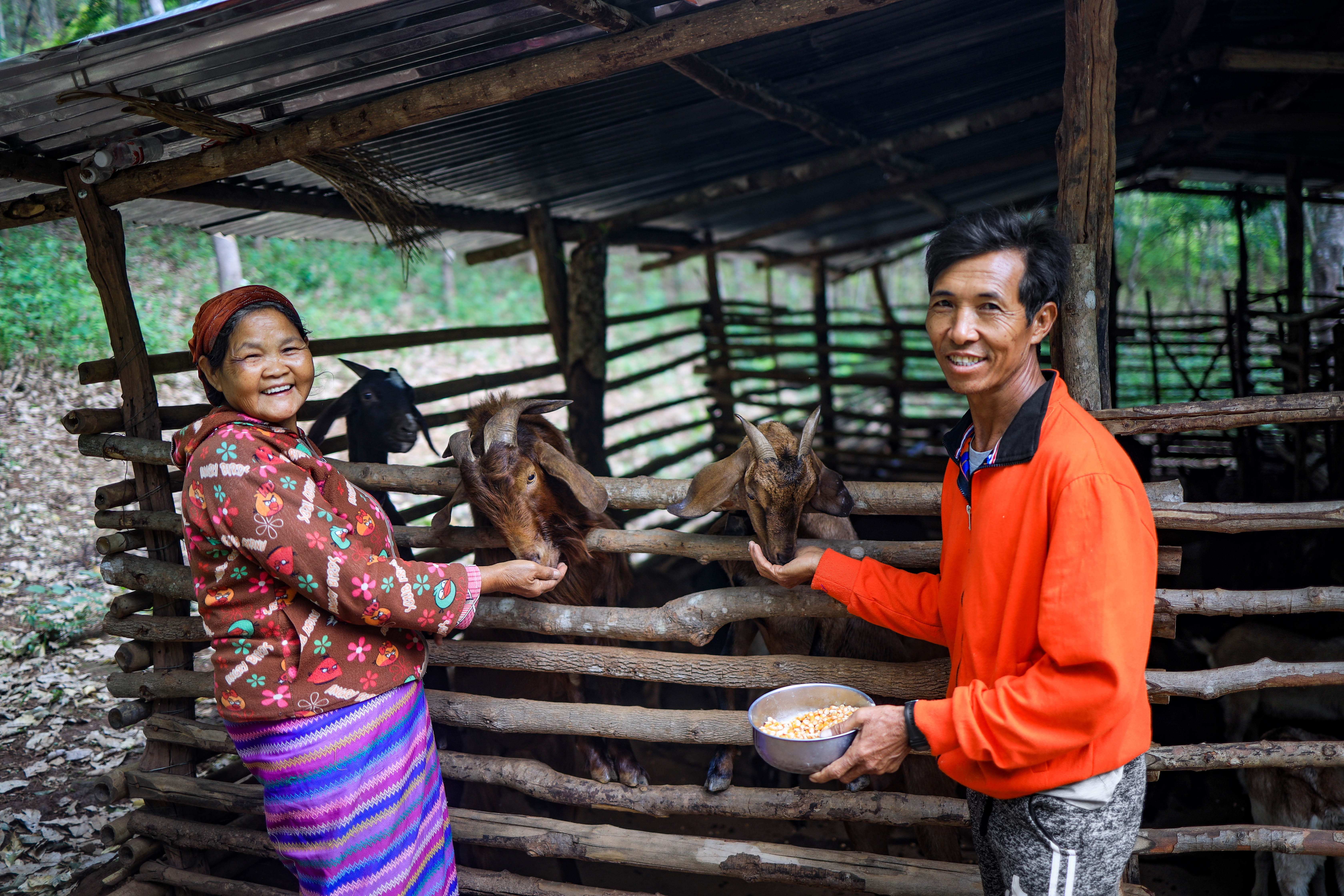 Ngwar Tar's grandchildren are happy for a different reason: they can play with baby goats.
"Every day we wait for our grandfather to go to the goat farm, and then we accompany him. When we arrive, we cuddle and feed the baby goats. We really like playing with them. They are not afraid of us. They love us," five-year-old Ngwar Lay, Ngwar Tar's grandson, shares.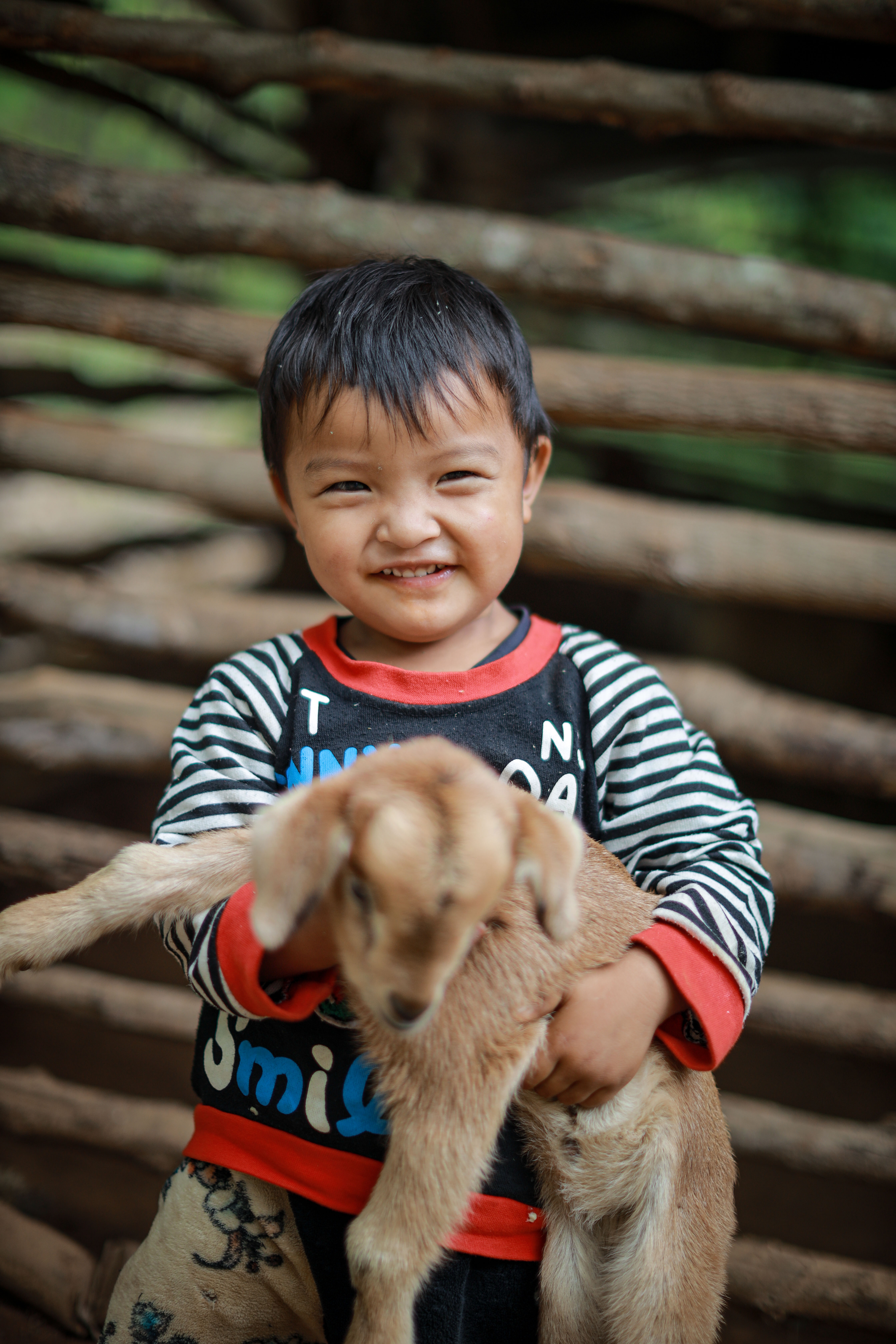 Ngwar Mee, Ngwar Tar's eight-year-old granddaughter, adds, "On days when schools are closed, my brothers and I go to the goat farm with our grandpa. It brings me great joy to feed the goats and play with the baby goats. I used to be afraid of animals and couldn't go close to them. But our goats are very adorable and we have formed a bond with them."
As a grandpa, Ngwar Tar enjoys seeing his grandchildren smile while playing with the baby goats in his small goat farm.
"My aim is to expand our goat farm so that I can provide for my family, especially my grandchildren, and give them a better life. Therefore, I am working hard," says Ngwar Tar.
"In the midst of the COVID-19 pandemic and the socio-economic instability, we have a small goat farm as a secure livelihood for our family. It's a great blessing for us. We thank God and World Vision for supporting our family especially in difficult times like this," Ngwar Tar adds.
---
Story and photos by Saw Moo Kale