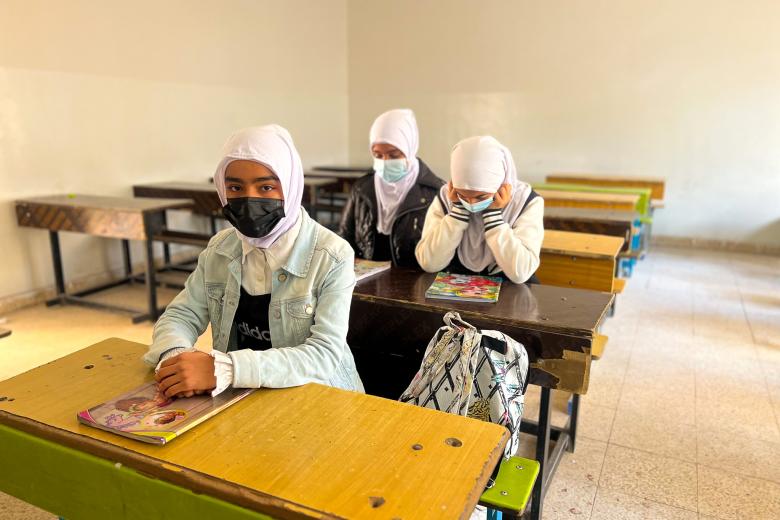 Breaking the Cycle
Monday, January 23, 2023
Jalila* reminiscences a decision she had taken two years ago with regret when she asked her daughter Nada* to drop out of school.
As an illiterate woman, Jalila realises the gravity of not having an education and thus being deprived of dreaming from early childhood very well. Today she is a single parent and is unable to provide her children with basic necessities as she does not have enough skills to land a job. She mostly relies on her brother in law to provide for them․ Jalila admits she is unable to help her children with school homework as well.
Jalila has five child children; the eldest is nineteen and the youngest is ten. They live in Tooz, a district in Salah al-Din governorate that is 242.6 kilometers away from Mosul.
Due to their difficult living circumstances, her eldest son had to drop out of school as he couldn't manage to prepare and pass school exams while he was working to bring an income to the family at the same time. As the eldest of all siblings, he had to carry out the responsibility to be the bread winner.
Nada is seventeen years  old. Two years ago, Jalila's youngest son, who was eight years of age at that time, had to undergo six surgical operations for his leg.  During this time, Jalila could not manage to handle all duties on her own.  Of all her children Nada showed the least desire to continue education. Jalila asked Nada if she would not mind to drop out of school to help her and Nada agreed.
When Nada dropped out of school and began helping her bedridden brother and mother with home chores, she began to forget about school and many things she learned there.
However, not realising it, the new responsibilities on Nada and her separation from friends affected her very much. Jalila recalls, "She (Nada) was angry. When I would talk to her and ask her for things, she wouldn't help." Jalila continues, "I regretted I asked her not to go to school and stay at home. I was very sad. I could see her friends going to school and building their future."
Soon after, Nada started to feel bored by her homestay. She realised she stopped dreaming of a future. She shared, "I was annoyed very much that my friends were going to school and they could achieve their dreams. And I wouldn't have dreams and I couldn't study anymore."
As her little brother's health improved overtime and he started to rely on himself and walked with a stick, Nada started to think more and more of school, her friends and her dream of becoming a doctor one day.
Once she was sitting alone with her mother in their humble home, she opened up to her. Nada recalled, "I told my mother that I wanted to return to school. My mother said that she was afraid I wouldn't be able to continue. She promised though that we could go to school and ask about it."
The school accepted Nada. She was very excited to meet with her friends again. She remembered that she met her friends again at the school yard.
World Vision Iraq offered  fourteen sessions for adolescent girls to help empower them during one of the most important stages of their life - adolescence. These are the most sensitive years of one's life and shouldn't be neglected. 
The programme aims at building self-confidence, hope, and resilience among girls. Jalila noted that Nada benefited a lot from these sessions, "now with the involvement of World Vision Iraq, she started to change. Before getting dropped out of school, she would not care much for studies or about the school. Now her feelings are changed a lot. After these sessions she became calmer, more confident, outspoken and someone who would listen to others."
Nada also noticed the changes that she underwent, "I gained self-confidence, avoid comparing myself with the others. I also learned to respect my parents and never bully. I learned to talk in a low voice and avoid arguing. I started to apply in my daily life all I learned. Before, when we would have discussions at home, and anyone would raise the voice, I would raise mine too. But with these sessions, I started to learn to talk in low voice and everyone in return started to talk or respond to me in low voice. They started to respect me and I respect them also."
Jalila, despite all she went through, still dreams and she is a source of empowerment for her children. She values education. She said for Nada, "I want her to go to school so that she relies on herself. She doesn't have a father, and I am not there for her forever. It is the best that she can rely on herself.  May be in the future her husband will not be good to her. So her income and self-reliance are very important when she is married.  I don't want them my children to rely on anyone and I want them to be able to achieve in life."
According to UNICEF, 3.2 million children in Iraq are out of school. After the conflict in 2014, the situation of children is especially worrying. UNICEF states that in Salah al-Din governorate and Diyala, more than 90% of children don't get education.  World Vision Iraq, in partnership with Visser Family Foundation, launched a project to help empower adolescent girls. The project helped empower ninety-two adolescent girls like Nada in three schools in Tooz to value education and have a goal in life.
* Names are changed to protect identityhttps://www.unicef.org/iraq/what-we-do/education