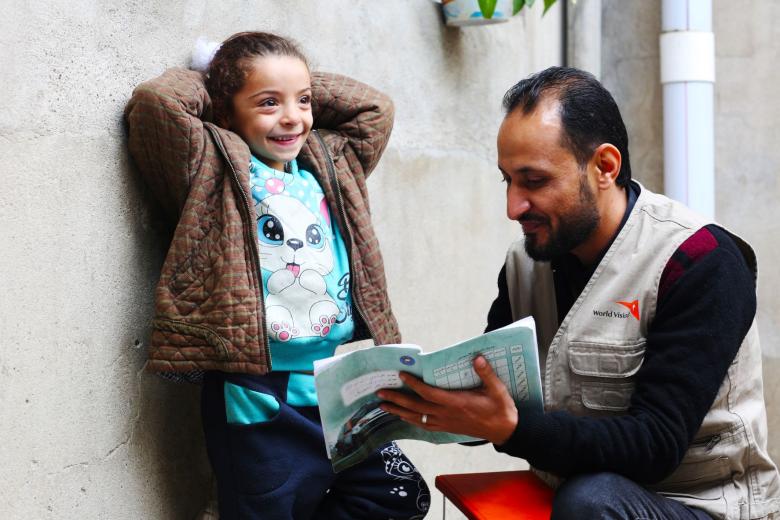 Children in West Mosul get back to School
Friday, January 21, 2022
Five years after the end of the fighting in Mosul, Iraq, the devastating effects of war are still visible and intensely felt. The conflict from 2014 to 2017 destroyed nearly 65 percent of the city.  Many people are still displaced or are returning. Psychological trauma remains untreated, especially for the children who have experienced many difficulties. Many public services, including schools, have been slow to resume. 
Since 2018, World Vision Iraq, in partnership with World Vision Japan, has helped thousands of children in West Mosul get back to school and receive the psychosocial support they need with funding from the Japan Platform. To date, World Vision has rehabilitated eight schools, with three more on the way. More than 4,000 children have been taught about the risks of mines and hygiene practices. The project established a child protection committee that advocates on behalf of children to the government. The project also employs caseworkers who reach out to the most vulnerable children to assist them with challenges preventing them from getting an education. These caseworkers have been incredibly effective in ensuring World Vision can reach the children in most need.
Six-year-old Hajer, (pictured above), was referred to a World Vision caseworker. Her parents, who are going through a difficult separation, had not registered her. The caseworker registered Hajer in school and signed her up to get needed support. Hajer tells us she is delighted to go to school and have the caseworker support her.
Another World Vision caseworker was told about Dunya, 12, who needed surgery for her eyes as she could not see the chalkboard and was failing classes despite being very clever. Dunya's mother had been told that Dunya needed the surgery immediately or she would lose her eyesight. It was the worst news. "We come from a very poor family. We couldn't afford to do the operation despite the urgency of it," she says.
The caseworker assisting Dunya coordinated the surgery and ensured Dunya's glasses would be paid for through the project. Dunya is excited to go back to school and start anew.  Now she can see. "I could not see well before," she says. "I am (now) comfortable with my glasses. (Before) I could not see the teacher's board, but now I can."
On this International Education Day, World Vision Iraq would like to extend its appreciation to Japan Platform and World Vision Japan for this meaningful and impactful partnership. Together we are helping thousands of children like Hajer and Dunya in Mosul find hope for a brighter future through education.
World Vision Iraq is committed to assisting 550,000 children in Iraq regain and rebuild their childhoods from 2020 to 2022. Education and protection will be vital to achieving this goal, and to this end, World Vision estimates that it will have assisted 120,000 children in accessing education and protection through our program  in Iraq.