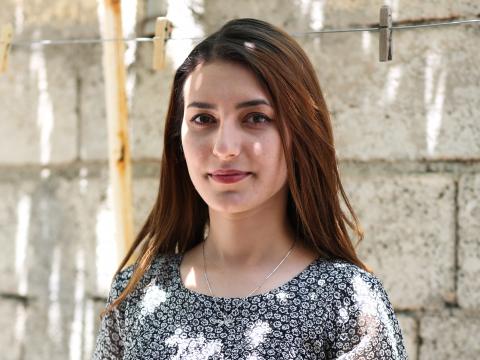 The start of new beginnings
Tuesday, June 8, 2021
Only a few weeks away from her 20th birthday, and one day before the Islamic Eid al Fitr feast, Ziney was spending time with her family in her home in their settled camp in Erbil. It was like any other day but this evening, her phone rang.  It was an unrecognizable foreign number.  She picked up the phone.  At first, hesitant to talk, she didn't utter a word, neither did the caller. She shut down the phone. The phone rang a second time.  This time the caller talked.  It was a man who said he was calling from Rome, Italy. She was told that she won a prize in photography for a competition she participated in few months before.  She felt a burst of happiness. She can honestly say this was one of the most surprising things that she has done – somehow she had won the first prize in one of the categories of the competition. But it marks a new beginning with so many possibilities in front of her.
The last time Ziney had a new beginning was seven years ago. At six in the morning of a hot summer day she embarked with her family on a journey for the unknown, towards a new country.  Everyone's bag was packed and ready.  Her older cousin was there to assist her mother with carrying her luggage throughout the journey.  Only thirteen then, throughout the journey walking to reach the border, she was carrying her little sister of three and a half years of age. Her other sister was carrying water, and everyone else was carrying their luggage.  The family walked for an hour and a half to reach the bridge where Syria and Iraq met.  
Reaching the border, they were not allowed to pass through Iraq.  In the mid of that, news traveled fast that there were explosions in their home town, Derik.  Then, her family and many others were finally let go at the borders to save their lives. 
Ziney was young then but today she can't forget the details of that journey that changed her life forever.  Reaching Iraq and seeing her father waiting for them in a car welcoming them before reaching the camp, filled Ziney and her family with much joy. It was a year since she last seen her father. When the war started in Syria and the economic situation deteriorated in Derik and unemployment spiked, her father had no choice but to look for a better life somewhere else that would allow him to make a living for his family and possibly find a way to bring them with him as well.
Ziney remembers her initial reaction to living in a camp. "The most difficult part was seeing the tent small and like this. We had to lower ourselves to get in. I asked myself, how could we live here like this? That was the most difficult thing. And then studying! We didn't know if we would (continue to) study.  And the language! We didn't understand them (the people)."
However, as the saying goes, "time heals everything" so it was for Ziney. That and her parents' support.   Her parents have always stressed the value and importance education to their children.  As soon schools were opened in the camp, Ziney and her siblings were enrolled. Life went on quietly in the camp with lessons and a new way of living. 
Ziney suffered a disappointment when she reached her last stage of high-school and was preparing for her final exams. At that time her family's financial situation was not good. Her older brother was studying in the institute and their father could only find work sometimes.  To help her family make ends meet, she had started to work in a factory nearby but as a result her grades suffered. She couldn't obtain good marks to get admitted to her desired college.
Ziney had been dreaming of studying engineering since she was young. As she did not want to ask her parents to take on the cost of private tuition to catch up where she needed to be, she repeated the academic year and this time she got a mark that enabled her to get into the business school. Somehow she still did not want to burden her family with the additional costs for this so she applied for a Spark Scholarship that would also give her the option to go a private Institute instead of college and covering all her expenses.  She decided to go to the Institute instead of a university chose to study IT.  Now, Ziney is only two exams away from graduating and does not regret the path she has taken to get here.
Earlier this year, Ziney applied to participate in the EMPACT project, a project World Vision Iraq implements in partnership with World Food Program.  The program helps host, refugee and internally displaced youth get access to English language and IT courses.  It also gives cash assistance.  Ziney shared "We benefited a lot from EMPACT. I learned a lot of things.  During the first year COVID-19 meant we did not get to the classroom much but EMPACT provided us with the internet and laptops and it was very good. There was one teacher who I loved her a lot who helped me a lot."
During the EMPACT training, Ziney had the opportunity to participate in a story telling course and was asked at the end to apply for a story telling photography contest on food.  She shared on that "I first said I would participate.  They gave us a ten-day deadline. Sometimes I would forget about the contest, but my mom would remind me and would ask me why wouldn't you participate? I would tell her that I needed to get some ideas first."
She finally got the idea, which was about a scene of a gathering around a meal.  She added on that, "The most important thing for me is sitting around the table together. I love this so much. Every family has to be around the table during the meal time." Indeed, her award winning photograph is called Family.
It was only few hours before the deadline that she managed to submit her photos.  Ziney shared that she never thought she would win, she thought that her photos were not that impressive compared to what she would normally see on Instagram or on Facebook. Little did she know then, that she would be the first prize winner of the Pink Lady category of WFP Story Teller Food Photo Award Contest.
Today, what she is most grateful for is her parents. For Ziney, all major events in her life have come about because her parents supported and encouraged her. First her father with her education, and then her mother with the photography contest.
On World Refugee Day, Ziney shares a message with the world, "Many (refugee) people don't accept the reality and lock themselves inside saying it is not my hometown.  Being a refugee is not the end but the beginning of a new journey. It is a start of a new beginning. To start with a journey whether work or education and your ambition to the end. Even if it is not the country you wished, you must accept the reality.  You settled here and you will stay here, you care for yourself. Everyone must complete their journey, even if not your desired place. Refuge is not the end but the beginning of a new life."