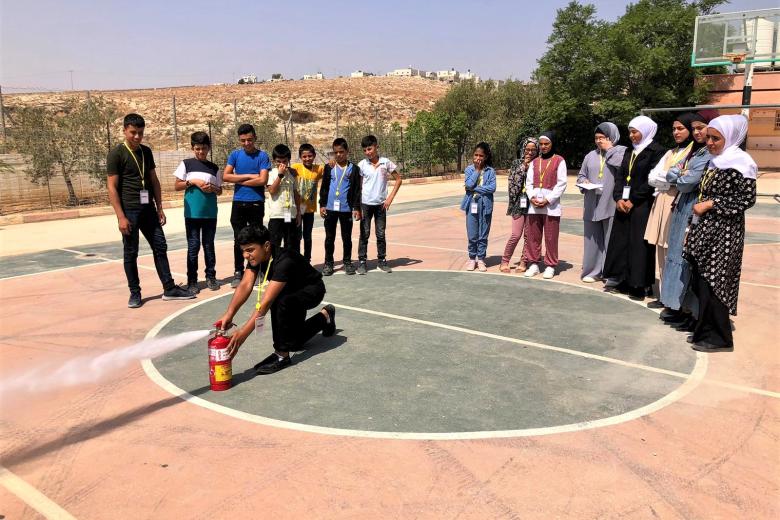 Fostering the Preparedness of Palestinian Children to Disasters Through Fun Summer Camps
Wednesday, August 30, 2023
Over the past few years, from the COVID-19 pandemic to the escalation of violence in the West Bank and the multiplication of extreme weather events due to climate change, disasters have increasingly become part of the daily lives of Palestinian children. In response, it has become more important to ensure that they are well-informed and trained on how to protect themselves in their schools and communities.
To this end, over the summer 2023, more than 800 children, aged 13 to 16, and 87 teachers took part in 50 summer camps focusing on disaster risk reduction and public safety. Over three days, the summer camps welcomed the members of the School Health Committees from 50 schools in the Area C of the West Bank in the governorates of Bethlehem, Hebron, Jenin, Jericho, Nablus, Salfit and Tubas. These committees are composed of elected students from different grades and teachers acting as coordinators directly involved in disaster risk reduction (DRR) and water, sanitation and hygiene (WASH) activities.
A key objective of the summer camps was to ensure that the members of the committees learn and practice, through fun and physical activities, critical skills that will help them to work as a team in preventing and responding to disaster in their schools. "The training aimed to develop essential life skills such as communication, teamwork, active listening, effective public speaking and leadership qualities among the participants . The training used a Learning Through Play methodology, which was very successful at engaging the students in the activities," said Raghda, one of the trainers.
Khaled, a 13-year-old boy student confirmed: "I enjoyed the training a lot. I learned how to develop new skills such as how to be more confident, the importance of self-esteem, active listening and respect for my other colleagues' opinions. I will use these skills in my role on the School Health Committee and in implementing the WASH and DRR activities in my school. "
The students  and teachers also reviewed and revised together their school's safety plans and the school's safety guide developed by the Ministry of Education to strengthen their understanding of their role in terms of preparedness and response to disasters in their schools. Several activities were also organised to raise awareness on public safety in schools. "While we were discussing risks, I noticed that the students lacked awareness related to road safety, so I invited the Police to join the summer camps to talk about it. We also invited the Civil Defense." said Raghda.
These summer camps were part of the "Building resilience and ensuring protective hygiene in WASH and Disaster Risk Reduction (DRR) systems at the school level in Area C" project implemented by World Vision and the Palestinian Hydrology Group, with the financial support of the German Federal Ministry for Economic Cooperation and Development (BMZ). Since 2021, in partnership with the Ministry of Education, 383 sanitary units in 50 schools have been rehabilitated through the project, 16 of which were made accessible for children with disabilities. Furthermore, the project supported the rehabilitation or construction of 111 taps in 15 schools, along with the installation of water tanks in 60 schools. As a result, over 13,000 students and 1,000 teachers now have access to improved and more hygienic water and sanitation facilities.
Notes
 About World Vision
World Vision International is a Christian relief, development and advocacy organisation dedicated to working with children, families and communities to overcome poverty and injustice. The organisation started to work in the West Bank and Gaza in 1975. Since then, World Vision JWG has developed one of the largest community-based presence of any organisation operating in the West Bank with 91 dedicated staff and a total annual budget of US$11 million. In 2022, our programming on Education in Emergencies, early childhood development, child protection and child resilience benefited directly more than 233,000 people, including 169,000 children in 150 villages in eight governorates of the West Bank.
About the project
The project Building Resilience and Ensuring Protective Hygiene in WASH and DRR Systems at School-Level in Area C - West Bank will be implemented from August 2021 to March 2024 for a budget of 2 million Euros. The project aims to improve students access to enhanced Water, Hygiene and Sanitation (WASH) facilities, promote hygiene practices, and increasing the readiness of students and schools to respond to disasters. In addition, the project's interventions directly benefit the schools through the development of the school safety plans, the training for school health committees and teachers, awareness and capacity building activities at school and community levels, WASH infrastructure work and the development of Disaster Risk Reduction (DRR) tools.
 About the Palestinian Hydrology Group for Water and Environmental Resources Development
Founded in 1987, the Palestinian Hydrology Group – Palestine (PHG) is a nongovernmental organization and an independent specialized institution dedicated to developing and protecting the water and environmental resources; to insure more public accessibility to adequate water supply sources and sanitary conditions; and to develop a proper information systems and technologies including GIS.