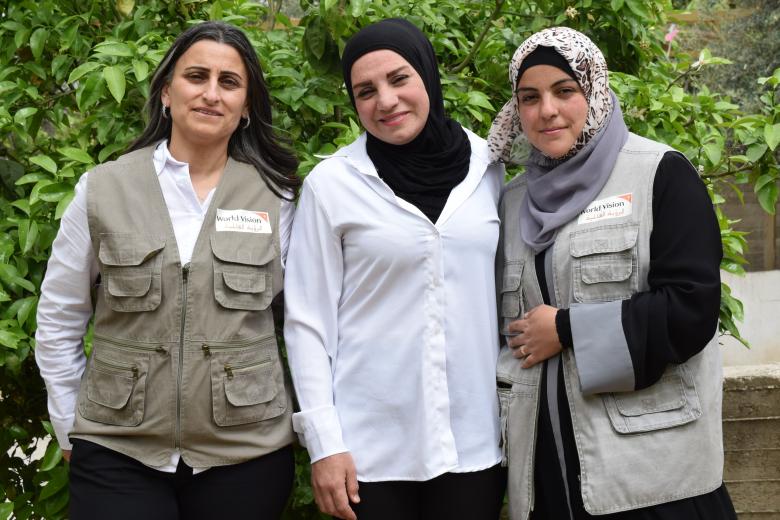 How a small change in a woman's life can transform a whole family and community
Tuesday, March 7, 2023
Faten (first from the right on the picture), 33 years old, was born in a small village of the West Bank and grew up in a conservative community. While she holds a degree in Business from a well-known Palestinian university, she had always given the priority to raising her four children, and by 2015, her career was on hold. Fast forward a few years and Faten is now a trained Community Health worker, a community leader and an elected member of the municipal council of Jenin.
What triggered this dramatic transformation?
It all started with a small step. In 2015, willing to do more for young women in her neighborhood, she joined World Vision as a Community Health Worker as part of a programme supported by World Vision Korea. After receiving a training, she started supporting pregnant women and young mothers in her community, providing essential health care and supporting them with advices and tips about the development of their babies. And, step by step, by helping others, she also transformed her life and the life of her family. "After I joined World Vision, my husband and I were able to save money to build our own house. I was even able to help him to open a private business".
Through his work with women in the community, Faten also became a role model, encouraging girls to believe in themselves and to follow their dreams. Over the years, young girls would come to her when they needed to convince their family to support them to continue their education. Every time, Faten would not hesitate. She would call or visit the families and plead for the young girls who had sought her help.  
Her tireless efforts in her community did not go unnoticed. One day, she received a call from the previous mayor of Jenin who was impressed by her work with women in the city. "I respect what you are doing in your community, I wish I had got married and had a powerful daughter like you", he told her, before encouraging her to run for the elections to become a municipal member. Faten was interested and she discussed this idea with her husband. "My husband is a very supportive person, he had encouraged me to get a driving license and, when I mentioned the possibility to run for elections, he was very supportive again. His continuous support played an important role in my success".
Reflecting back on her journey, Faten is proud of the decisions she made. "Becoming a Community Health Worker allowed me to provide financially for my family, to build a house, to help my husband, and to be a stronger person able to support emotionally my family". "I would like to say to all women this year: you can become stronger and use this strength to achieve your dreams. No matter the obstacles you are facing, you can do it. You can all transform your family and your community, and it starts with a small change in your life".