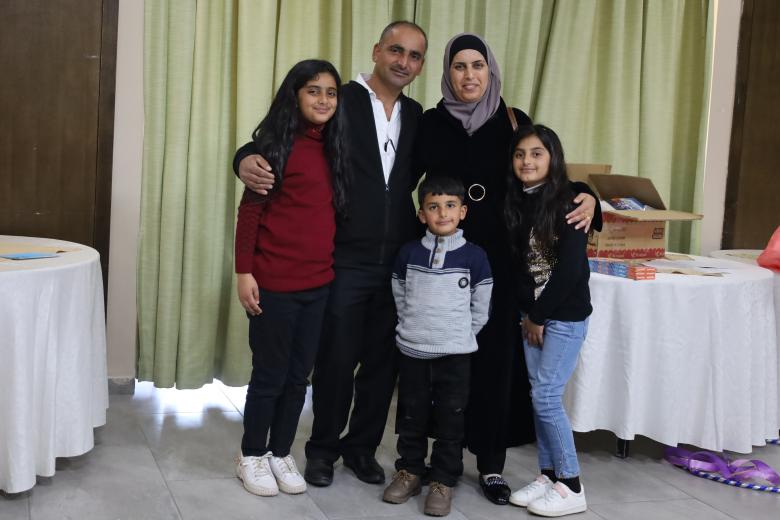 A Palestinian family finds a new path to happiness through better communication
Wednesday, December 14, 2022
As a dynamic and ambitious 38-year-old mother of six sponsored children from the West Bank, Falsteen was always looking to learn new skills to give the best future to her children. She first started to attend the Positive Discipline sessions implemented by World Vision, convinced it would help her to become a better mother. When she learned about Celebrating Families, a programme that supports families to develop positive and loving relationships and to have hope and vision for the future, she knew it was something that could help her. "I knew my husband loved me and loved my children but he did not show his feelings, he did not listen to us, neither spent time with us," said Falasteen.
She soon became very passionate about Celebrating Families. She started thinking about becoming a facilitator, but she was worried about her husband's reaction. A conservative man, Ahmad believed that women should not work and that men should be the only decision makers in their families. Flasteen was torn. "Is raising children the only thing I am supposed to do with my life? Is that it? Am I not allowed to dream bigger for me and my family?" she wondered. So she started to hide things from her husband, telling him that she was going to mother sessions while she trained as facilitator for Celebrating Families and started to lead sessions for other families.
One day, conflicted about the fact she was hiding her work with Celebrating Families from her husband, she opened up to Mrs. Ayat Abahra, World Vision's Project Manager for Celebrating Families in the West Bank. Ayat encouraged her to have a discussion with him and suggested he could attend the next workshops to better understand what she was doing.
To Falsteen's surprise, her husband not only agreed to join a workshop the very next day, he also actively participated during the session about relationships and communication between spouses. This experience had a great impact on the family. "I was very surprised; I did not know my wife can do that," he said after the workshop. "Celebrating Families changed the way Ahmad sees me!" Falastin confirmed.
Over the coming months, they continued together to attend Celebrating Families, her as a facilitator, him as a participant. Step by step, through this experience, they developed a new relationship that transformed their family. Ahmad started cutting the time he was spending at the coffee shop with his friends and spent more time with the children. "Now we have a family council at home where we can all express our opinions and share our dreams, and we make decisions together!" said Kareem, their 12-years-old son. Ahmad also started to post a checklist on the fridge with what was expected from each family member, with space for children to add their views, even for simple things such as asking for more hugs, expressing their gratitude and celebrating the new loving relationships. The couple has since decided together to move out of the extended family's home (as they were living with Ahmad's parents and siblings) and build their own house, a new adventure for the healed family.
Research by World Vision in the Middle East, Eastern Europe, Empowered Women, Empowered Children, found that the children of women who are free from gender-based discriminatory attitudes were more willing to learn and pursue their education and had higher-level functional literacy. Furthermore, mothers who accept gender-based violence (GBV) and have discriminatory attitudes are more likely to have children exposed to inadequate nutrition, violence, and poor mental health. Celebrating Family is supported by World Vision United States.