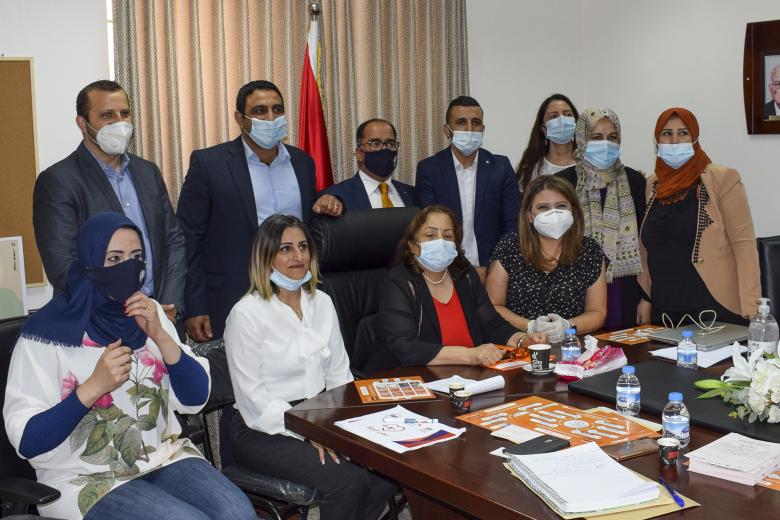 Presenting "Pulse of Life" App and Deciding Next Steps
Wednesday, August 26, 2020
A team from World Vision Organization, Haseeb Al Sabbagh Center at the Arab American University and specialists from the Ministry of Health met with the Minister of Health, Dr. Mai Kaileh, in order to present the "Nabd AlHaya (Pulse of Life)" application in its trial version. It is an application developed by a joint effort of the Palestinian Ministry of Health, World Vision and the Arab American University - Haseeb Al Sabbagh Center.
This application is concerned with the health of mothers and children, as it provides mothers with access to educational written, video and audio material, to enhance their health knowledge. The application aims to give mothers and the public users information about the physical and psychological health of mothers, in addition to specific information about the care and nutrition of children during the first year of their life.

The application is designed to provide messages to users according to their status upon registration, for example if the user registers that she is a six-month-pregnant woman, the messages she receives are intended to give information related to mothers in their sixth month of pregnancy, and so on. The application is also designed to be flexible, so that messages are sent specifically for emergencies, as happened during the COVID-19 pandemic.

The idea of ​​the application progressed from the success of the Maternal, Child Health and Early Childhood Development project, which was implemented by World Vision and the Palestinian Ministry of Health for many years, which showed positive results on the health of the mother and her child by changing the lifestyle and behaviors of mothers for the better. "Nabd AlHaya" application was developed with local Palestinian expertise to support this success and reach the largest possible number of beneficiaries.

A trial period of "Nabd Al Hayat" application was conducted for a period of six months for its evaluation, in which 970 mothers from different governorates of the West Bank participated. These mothers were in different stages of pregnancy or have children of different ages. 853 of these mothers indicated that the application is easy to use, 958 of them confirmed that the messages in the application are clear and easily understood, and 866 of them confirmed that notifications arrive in a timely manner.

During the meeting, the Minister expressed her admiration for the application, and stressed the need for it to be available for use during the next few weeks, given its importance for the health of mothers and children.