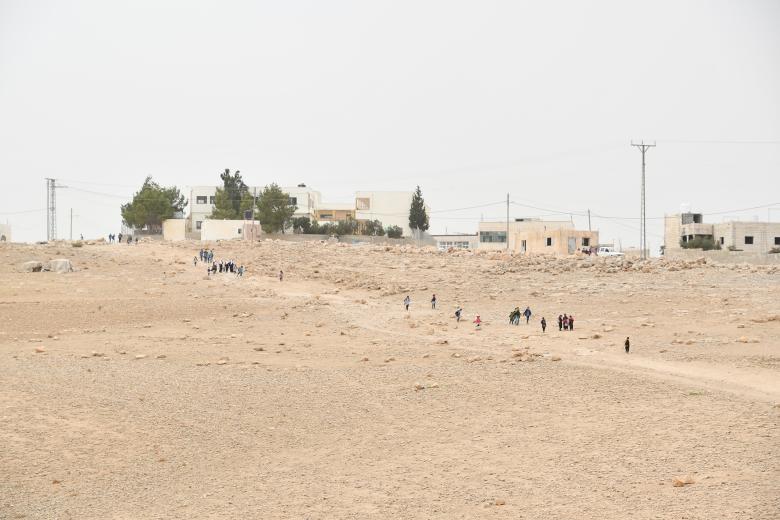 The Restore of Hope in The Drought Earth
Wednesday, April 21, 2021
Mother Earth Day is an annual event celebrated on April 22 throughout the world, to demonstrate support for environmental protection. Typically, Earth Day is assigned a different theme or area of focus each year; this year's theme is "Restore Our Earth".

Global warming is agreed by the majority to be altering the world's climate. Its impact is felt in all sectors of society through changes in temperatures and precipitation, as well as through changes in the frequency and intensity of climatic extreme events. Despite the fact that climate change is not the most urgent issue for people in the Occupied Palestinian Territories (oPt), the climate risks are significant and will accumulate current and future development challenges.

The oPt is characterized by both a high bio-physical and socioeconomic vulnerability to climate change, combined with limited capacity to respond to projected and current effects of climate change. Recent and projected climate trends indicate that temperatures in the area will keep rising, the overall amount of precipitation will decrease, and more high precipitation events will occur. This will result in increased water shortages, flooding and challenges in food security. The capacity of the Palestinian people to cope with and adapt to these challenges is constrained due to their limited control over and access to the natural resources in the area, especially land and water, as a result of the restrictions imposed by the Israel government.

The climate of the oPt is traditionally described as 'Mediterranean', which is characterized by winter rain and summer drought. The most important environmental effects of climate change in the oPt are likely to be a decrease in precipitation with significant seasonal variation and significant increase in temperatures. In the last few years, there has been a marked increase in the number of droughts in the oPt. Consequently, drought increases the vulnerability of rural communities, such as rain-fed farmers and livestock herders, whose coping strategies are already exhausted due to the deterioration of economic situation and high food prices. Drought is expected to become more frequent, more intense and less predictable because of climate change. Communities located in Area C of the West Bank experience the magnified impact of climate change due to high social and economic vulnerability, taking into consideration the limitations imposed by the Israeli occupation. In Area C, there is limited access to basic services, such as water, electricity and health.

Az-Zuweidin Kha'abneh (Um Al Daraj), is a Palestinian Bedouin village located in Area C in the West Bank. The village is known for its traditional farming methods, such as rain-fed field crops, olives and the rearing of sheep and goats. In rural areas like Az-Zuweidin, which depends on rain-fed agricultural for a large part of their local food supply, the changes in the amount and timing of rainfall and the increase in weather variability are likely to aggravate the potential collapse of the local food system. The impact of such climate change on agriculture is especially high in Area C due to already existing water scarcity in the region and the dependency of the Palestinian agricultural on rainfall. The level of drought in Az-Zuweidin is already affecting the herders who cannot rely anymore on pastures, which are already dry and with very limited grazing capacity as a result of drought in that area.

Desertification is another challenge facing this village, since it is exposed to over-grazing, and where temperatures are high and rainfall amounts are low making the area susceptible to climatic change. "My community was able to solely rely on herding to meet our basic needs. We are no longer able to do that because there is insufficient vegetation cover and grazing areas due to the increase of drought. Today, we feed our sheep fodder, which is very expensive. Herders in my community are unable to maintain their sheep and are forced to abandon some of their traditions," says Yousef Al Basayta, a village council member in Az-Zuweidin.

Through its interventions in collaboration with its donors and partners, World Vision tries to consider earth friendly practices in its work with the Palestinian communities. Through its 'Promoting Environmental Friendly Practices and Green Schools in Palestine' project, World Vision and BMZ implement green and friendly environmental activities and intervention at schools and communities' levels. When it comes to restoring land, schools have been setting up and running school gardens to reconnect students with nature. Such implementations teach students, from an early age, to be considerate of their source of food and learn the valuable gardening and agriculture concepts and skills, as well as increase their awareness about the environment and climate change.

In Az-Zuweidin Secondary School, one of the 37 schools targeted by the Green Schools project, an eco-club of 20 students was formulated. World Vision equipped members of the club with the knowledge and training they need to implement environmentally friendly actions at both their school and community levels. Students, teachers and community members started working together to run the school's garden to grow food. Az-Zuweidin Secondary School started to reuse grey water for agriculture purposes. The project raises awareness and spreads knowledge among students, teachers and local community about green energy, water and energy conservation, 3Rs (Reduce, Recycle and Reuse), and how we can protect our environment. The project provided all 37 schools with tools, materials and equipment needed to apply the 3Rs and the 'green school' concept. "Working in the schools garden helps us increase the vegetation cover in our village," says Ibrahim Attallah from ninth grade at Az-Zuweidin Secondary School. "Planting trees and gardening makes our school look more beautiful," says Abul Razeq Nayef from the same class. "We benefit from the garden's produce, we learn how to plant, we learn about corps and we gain environmental skills," says Moutaz Abdallah from eighth grade in Az-Zuweidin Secondary School. "The school's students started to transfer this gained knowledge to their own household, many of them started to plant some trees at home. Moreover, our schools also have amazing gardening class now, where students can play and do good things for our environment," says Mr. Al Basayta. 
As part of the 'Promoting Environmental Friendly Practices and Green Schools in Palestine' project activities, World Vision started to switch 22 out of the 37 schools it works with to renewable energy, to combat greenhouse gas emissions and global warming. The project also presents a great teaching opportunity that can enrich the classroom content with real-world examples of the benefits of renewable energy. In Az-Zuweidin Secondary School, and in a village of Az-Zuweidin, which suffers from access to main services such as electricity and water, the project applied energy-saving techniques to reduce CO2 emission. This was done through installing an 8 kW solar energy system that generates clean energy of around 1700 kWh per year and reduces 9,520 kg of CO2 per year. The environmental activities under this project can make lasting differences in the lives of children and their communities. The lessons taught through these outdoor gardens will influence the green practices of children, their families and communities for years to come. 
Together, we can prevent the coming disasters of climate change and environmental destruction. Together, we can Restore Our Earth.