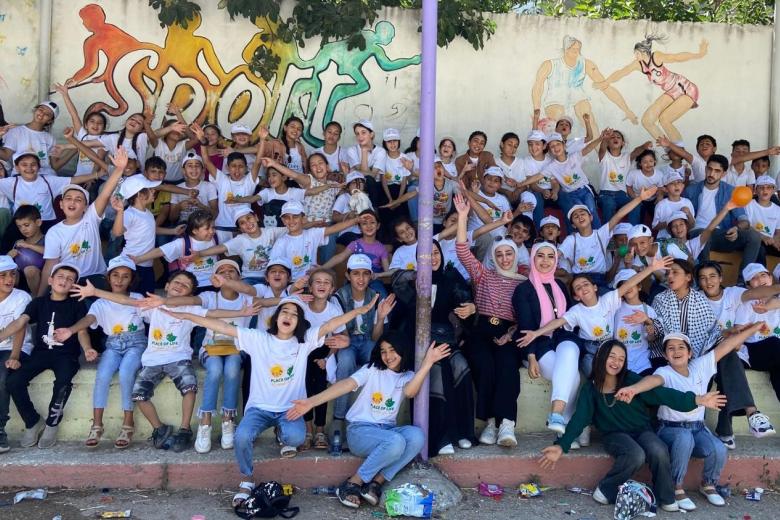 A Troubled Child Finds Peace
Monday, May 22, 2023
On a warm afternoon in September 2022, a group of children is gathered in front of the local school in a village in central West Bank. They greet each other loudly, exchange laughs, and share news about their lives. Maram and Rawan, two local facilitators, gently guide them inside the classroom to start their fifth session of the local Makani Club. As the children enter, eagerly anticipating the day's activities, the facilitators cannot help but feel proud of how far they have gone since the club's first session four months ago. The positive changes in the behaviours of the children has even become a regular subject of discussions with the local school teachers and some parents.
Of the 292 children attending the clubs, no one exemplified the benefits of attending the Makani Club better than Danial, a six-year-old child. "Danial was always angry towards his siblings and peers," explains Asma, his 30-year-old mother. "He used to be very stubborn and would frequently get into fights at school. His behavior was very concerning, and I didn't know how to help him," she adds.
One day, Asma saw an announcement for the Makani Club in their village, and it seemed like it could be beneficial for her child. She spoke to Maram, one of the Makani Club facilitators, to learn more about the club's objectives, curriculum, and activities offered. She discovered that the club, one of 150 in 138 villages in the West Bank, focused on self-awareness, decision-making, social awareness, self-management, and relationship skills. The club welcomed children aged 6 to 14, offering safe play activities, including games and sports, to foster the personal growth of the attending children. "It seemed like a great opportunity for children to grow and learn, and I wanted my child to be part of it," said Asma. After registering him, she ensured that Danial attended every session by accompanying him or having his older sister take him to the club's center, hoping that he would develop social connections with his peers and reduce his violent behavior.
During the initial club sessions, Maram and Rawan noticed problematic behavior in Danial. "He was very introverted and would not collaborate with the groups he was assigned to during the club's sessions. He preferred to work alone or observe the group's work. He rarely shared his thoughts, opinions, or feelings with the group," explained Maram. The facilitators also observed his struggles with conflict management and his tendency to be aggressive. "He would get angry at any kid who interacted with him and disliked sharing his belongings. Sometimes, he would even attempt to start fights with other kids," added Rawan.
Step by step, the facilitators worked with Danial to address these issues. "We made extra efforts to encourage his participation and understand the reasons behind his behavior," said Maram. "It took a lot of encouragement from us as facilitators, his mom, and the group of kids to get him involved in the group activities. But eventually, we succeeded, and now he even leads some of the group activities," she added.
Gradually, people surrounding him get to meet a Danial they did not know, happy and at peace. "After attending the club for four months, we started to notice changes in his behavior. He began interacting more with me and his siblings. When he returned from the club, he would talk about the activities he participated in and how happy he was to be there," shared Asma. And she wasn't the only one who noticed the shift in his behavior. "He is much more focused in class and very cooperative. This change in his behavior has contributed to improved grades, and he is doing much better," acknowledged Danial's teachers.