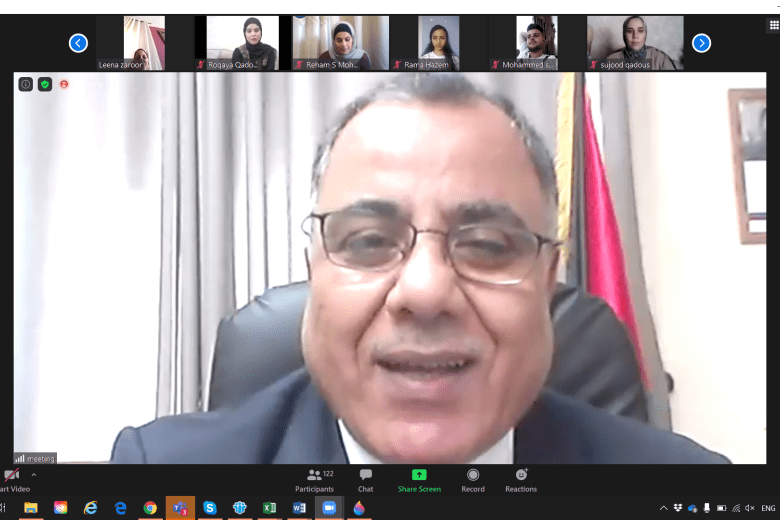 World Vision JWG and IMPACT Clubs meet with Ibrahim Melhem
Wednesday, July 15, 2020
World Vision Jerusalem - West Bank - Gaza and 28 IMPACT Clubs from the governorates of Jenin, Nablus, Salfit, Ramallah, Bethlehem and Hebron organized a meeting with Dr. Ibrahim Melhem, spokesman for the Palestinian government, through Zoom application, with the participation of 138 members of these clubs.

At the beginning of the meeting, Melhem thanked the club members and World Vision for hosting him. During the meeting, Melhem talked about his life experience, the educational and professional stages he went through, and how he succeeded in reaching high job positions. Melhem gave his advice to the children, and told them that feeling hopeful and optimist is the key to good work and performance. He also told them about the importance of self-confidence, good relations, good dialogue, and the importance of feeling cheerful despite the difficult circumstances we are going through. He also focused on the importance of reading, which helps to develop writing and refine the human personality. Melhem considered the youth and children the future of Palestine and are playing an important role in this society, inviting them to always show determination.

During the meeting, the children presented a set of questions to Melhem centered on his life, the future of education in the country, and the role of children and youth in developing society, especially during these difficult circumstances that Palestine and the world are going through due to COVID-19 pandemic and its implications.

The participating children expressed great happiness about this meeting, especially through the messages of hope presented by Melhem. "I was very honored to meet Dr. Melhem. His talk was wonderful and uplifting. The meeting was beneficial and successful. It is very nice to know the story of an influential person in the country," says Tasbih Ismail from IMPACT Club of Naqoura. "The meeting left an excellent impression on me, and I benefited from it through knowing how to reach my goals and not be affected by problems and obstacles I face, and to give my opinion constructively not destructively," says Hadi Najjar from IMPACT Club of Burin. "I love hearing success stories from people who started from scratch, and Dr. Ibrahim Melhem is a truly influential figure. I advise all students of my generation to follow his example," expressed Rakia Qadous from IMPACT Club of Burin. "I met a lively and personal success story that represents persistence," said Islam Douglas from IMPACT Club of Barqa. "During our meeting with Dr. Melhem, we learned the most important lessons that will help us face our fears while following our dreams and reach what we were aspiring to. We learned that the root of success is passion, good will and perseverance. We also learned that everything is possible and the word (impossible) should disappear from our dictionary,"said Nagham Douglas from IMPACT Club of Burqa.

At the end of the meeting, Melhem promised to give away his book as a gift to all participants in the meeting. The students thanked Melhem for his presence and emphasized that his words are a source of hope and reassurance, and they wished him more progress and success.

It is noteworthy that this meeting comes within World Vision JWG's strategy for the IMPACT Clubs, which includes hosting influential figures in society to learn about their experiences and successes. This strategy also includes communicating the voice of children, their concerns and aspirations to decision makers, as well as enhancing the community role of children towards a participating generation capable of change to reach a better future.