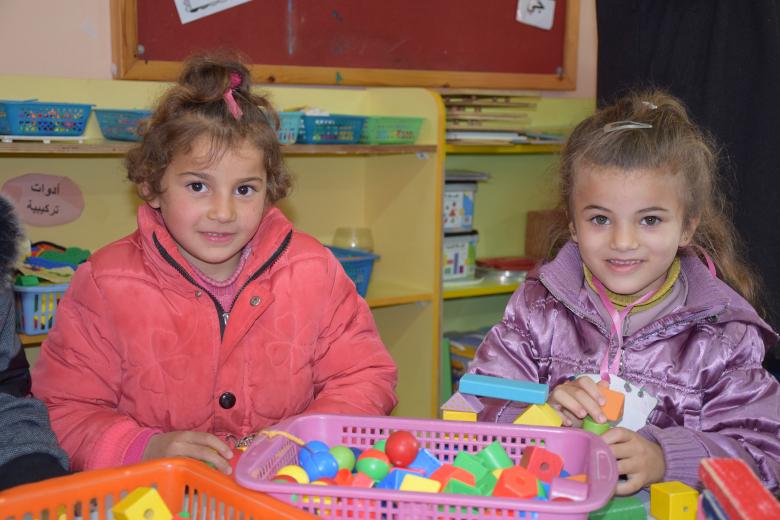 World Vision JWG Taking Part in the Protection of Child Education
Wednesday, September 9, 2020
The first three years of someone's life are the most important for a long-term learning, health and development, because brain growth is at its highest and fastest levels during this period.

World Vision Jerusalem – West Bank – Gaza (JWG) initiates early interactions with parents and caregivers to explain them the importance of giving their children a healthy, nurture, loving, stable, low-stress and safe environment, play a critical role in determining the capacity of baby's brain development and learning. The "Go Baby Go (GBG)" model of World Vision JWG realizes that positive experiences lay a foundation for a baby's future as a healthy and productive adult, while negative experiences, such as abuse, neglect, or having a non-responsive caregiver limit the child's development. The GBG model considers that the role of baby's primary caregivers in creating a positive environment for baby's growth and development is extremely important.

In the core of the GBG theory of change, in response to the international education objectives and to the WVi "Our Promise 2030", lays the goal to increase in primary school children who can read and increase in adolescents' education and life skills.

The integration of all aspects of the GBG model will create a positive environment for an effective early childhood development where the highest impact on child well-being and developmental outcomes is born out of synergy between health, nutrition, education, protection and psychosocial support.

After that, during the child's 3-6 years, World Vision JWG intervene through the "Learning Roots" model, which helps prepare children for school, ensures their success in future learning and promotes positive behaviour through its focus on relationship building and social emotional learning. In its belief in the child's right to education, the Learning Roots model is seen as a window of opportunity to form a strong foundation for the emergence of literacy, numeracy and the development of foundation skills. The project model's main components are integrated to enhance the overall well-being of children and ensure their right to education is advocated for, through strengthening parent's capacity and raising their awareness towards the importance of enrolling their children in KGs. The project model also works on strengthening the systems that support children, their families and communities.

World Vision JWG has so far helped enhance the Early Childhood Development environment for more than 100 Kindergartens, worked with 100 teachers and established 36 KGs classrooms.

Through Student Parliaments and IMPACT Clubs, which targets older children and youth, World Vision focuses on building the capacities and skills of children and youth around active citizenship, leadership, employment and community interactions. Through these projects, our youth and children gain the skills necessary to identify the needs of their communities and respond to them through the implementation of educational projects through community service.

#International_Day_to_Protect_Education