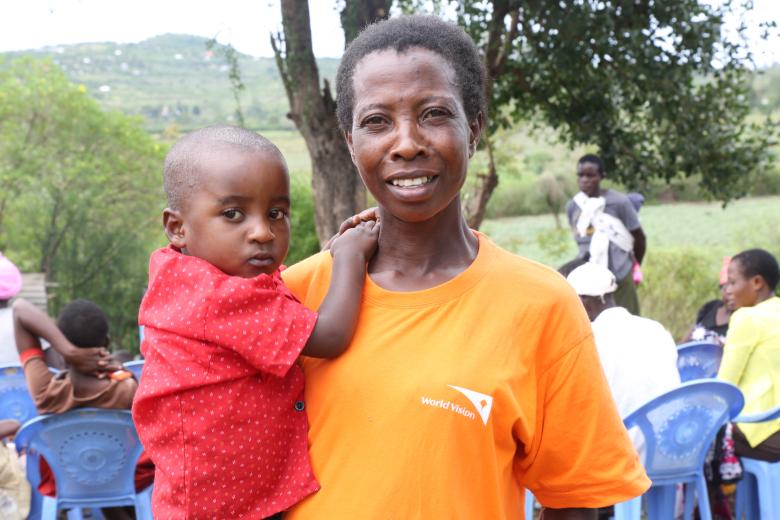 Churches Bring Hope and Love to People Living with HIV
Tuesday, May 21, 2019
By Hellen Owuor, Communications Specialist, World Vision Kenya
At Ramula in Kenya's Homabay County, Roseline Auma is seated under a tree shade, playing with her two-year-old son. She has an infectious wide smile on her face, which seems to make people around her happy too.
However, life has not always been full of joy for Roseline. In 2017, upon being diagnosed with HIV, she felt like the world had ended for her.
"I was scared and didn't want anyone to know about my status because I feared they would reject me. I was even scared of going to the hospital to get drugs, " states Roseline.
This experience is not unique to her. Many people diagnosed with HIV/AIDS in Homabay sometimes choose to suffer in silence - with some dying at home without medication  - so as to avoid being stigmatised by the community.
Through its Miya Ngima (Give Me Health) project in the County, World Vision has been empowering communities to end the stigma.
Among the approaches being used to achieve the goal, is a model known as Channels of Hope, which aims at engaging and empowering faith leaders to become change agents for HIV prevention and care.
"Faith leaders have a great influence in this community. So we have sensitised them on HIV/AIDS matters including ways of managing and preventing the disease.  With this knowledge, they are able to relay positive messages to the community," said Dorothy Ochieng', the Health Project Officer of World Vision Kenya (Magunga Area Programme).
Their messages of love and acceptance have helped to reduce the stigma associated with the disease. This has enabled people living with HIV like Roseline to have hope and feel loved by the community.
"At the moment, things are different. I can openly talk about my status after being counselled and encouraged in my church. I also got the opportunity of joining a support group that helped me a lot. Because of getting the required treatment, my son was born HIV free."
The Miya Ngima project is funded by the Positive Action for Children Fund (PACF) which is an integral part of ViiV Healthcare's commitment to communities affected by HIV and AIDS.