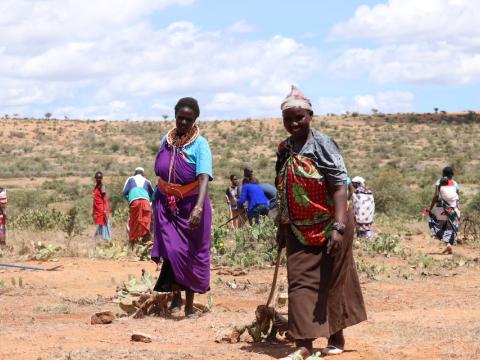 Communities Replant Grass to Tackle Menacing Shrub Affecting Livestock
Sunday, August 25, 2019
By Wesley Koskei, World Vision Communications Officer, Kenya
Selina Kisio and her community in Kenya's Laikipia County are working together to reclaim rangelands from an invasive shrub, known as the Opuntia.
The plant, which was first introduced as an ornament in the area, is now a menace to her community in Makurian, Laikipia North. It is undermining the productivity and beauty of rangelands.
A vast landscape, once covered by pastures is now blanketed by the thorn-scaled, thick-stemmed Opuntia species of the Cactus family.
Over the years, the shrub has negatively affected the livelihoods of pastoralists and communities living in Laikipia.
"We've had to take our cattle far away to look for feeds because opuntia wiped away all the nearby pasture. Also, we don't want our animals to eat the succulent fruits of opuntia as they cause wounds in the mouth and can destroy the eyes of livestock," Selina narrates.
She has witnessed the proliferation of the plant and has seen how it deteriorates the productivity of the environment and the fertility of the soil.
"When we were young girls, the whole of this area was covered by long grass.  We used to play hide-and-seek in it. Sadly, our children cannot enjoy such fun due to the invasive plant," says Salina.
With the support of the County Government and World Vision's IMARA programme, affected communities in Makurian have identified seven model sites where the invasive species can be mechanically extracted.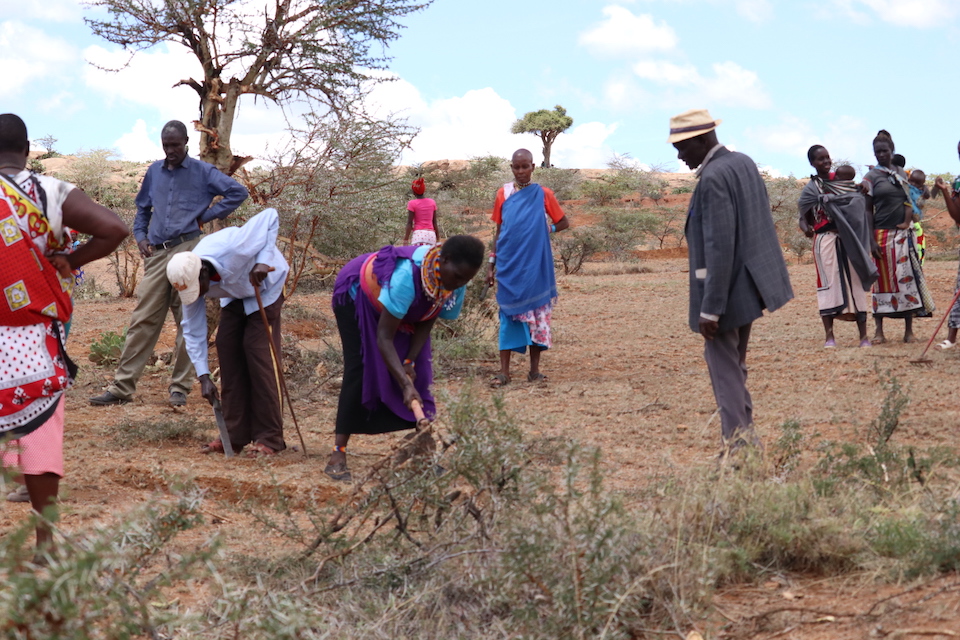 As part of the bigger plan to replenish the rangelands with pastures, World Vision is supporting communities in reseeding. This initiative is promoting the growth of grass in areas previously infested by the destructive opuntia plant.
"In our first phase, we have procured and distributed over 600 bags of grass seeds to be grown in cleared sites," says Margaret Makui, the Natural Resource Management Technical Specialist for IMARA at World Vision in Kenya,
She adds:  "We have also reseeded another 90 acres for fodder production, as part of the expansion plan in diversifying livelihoods in this area."
Selina, who is actively involved in the reseeding activities notes that the feedlot aid that the community receives for their livestock hasn't always been enough. "But with the reseeding, we can have control over the fodder for our animals," she says.
The community group in Makurian is targeting to rehabilitate and restore pastures in model sites covering 50 acres of land, before expanding to other areas of the sub-county.
World Vision is keen to support these community-led efforts aimed at restoring rangelands for the benefit of current and future generations.