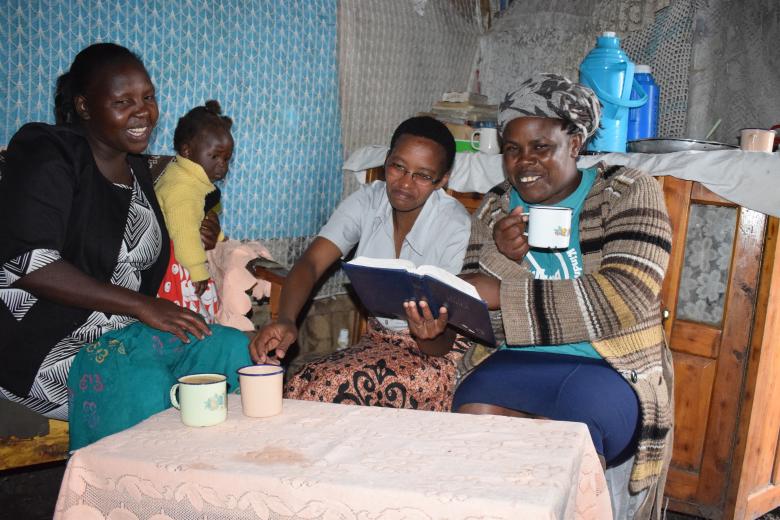 Crawling from the Deep Hole of Depression and Mental Illness
Wednesday, October 23, 2019
By Sarah Ooko, Senior Communications & Media Officer, World Vision in Kenya
Mary's life was a nightmare. Years of enduring an abusive and violent husband had taken a toll on her. With a swollen face and red puffy eyes, she made a decision to part ways with the spouse and start a new life with her two children. She made the decision in 2013. Her children were 14 and 16 years old at the time.
But starting over on her own proved to be an uphill task. No matter how hard she tried, Mary felt a deep sense of sadness and hopelessness that robbed her of the will to live and adequately take care of her children.
"I would spend most days in bed or in the house doing nothing and just idling around. I knew I had to work, but I didn't have the energy for that." 
A light in the darkness
Just when she thought she could not take it anymore, Mary was approached by Rahab - a Community Health Volunteer (CHV) in 2018 - who made her realise that she was suffering from depression, a result of the trauma caused by the abusive marriage and subsequent divorce. She then equipped her with coping tactics to manage the condition.
Rehab is among the more than 1,500 CHVs in Kenya that World Vision, in partnership with the Ministry of Health, has trained on a World Health Organisation's (WHO) low-cost model for managing mental health conditions, known as Problem Management Plus (PM+).
Through this new approach, CHVs help people to self-manage common mental health problems, such as depression, anxiety, stress or grief.
They do this by training them on basic strategies that help affected people learn how to deal with stress, solve life's problems and adopt behaviours that shield them from mental health challenges in the future.
Community Health Volunteers, an important resource
Studies show that 1 out of every 4 Kenyans suffer from a mental health condition. Yet there is an acute shortage of professional mental health specialists - such as psychologists and psychiatrists - in the country.
The trained CHVs are bridging this gap and enhancing access to mental health services to Kenyans in different areas, including communities in remote and rural regions.
Mary notes that through the help of Rehab, she began having positive thoughts and hope for the future.
Learning to live again
"I used to lock myself indoors, not willing to talk to anyone. But [Rehab] encouraged me to go out more, make friends and meet people in women or church groups so as to beat the loneliness."
By learning to open up and share her problems with Rehab and later with trusted friends, Mary notes that she felt lighter and less stressed by thoughts that previously bothered her.
"When you share, you realise that others are also going through similar challenges. So you don't feel alone. They can also help you find a solution to the problem," Mary explains.
Rehab also taught Mary how to perform deep breathing exercises that relieve the body of stress.
"I do that every morning and I have also taught my daughter. I find it so relaxing and a good way to start my day," says Mary.
Another new start
According to Mary, these stress management techniques saved her life and have prevented her from relapsing or becoming depressed again. She is now able to concentrate on her farm business and take good care of her children.
Since 2013, World Vision has been rolling out the PM+ intervention in four Kenyan counties: Nairobi, Nakuru, Nyamira and Nyeri.
This has been done through funding from Grand Challenges Canada, the Canadian government, the World Bank and Well Springs Advisors.
Over 6,000 Kenyans have benefitted from the intervention. After seeing the program's success, the Ministry of Health now plans to scale it up, so it can benefit many more Kenyans.