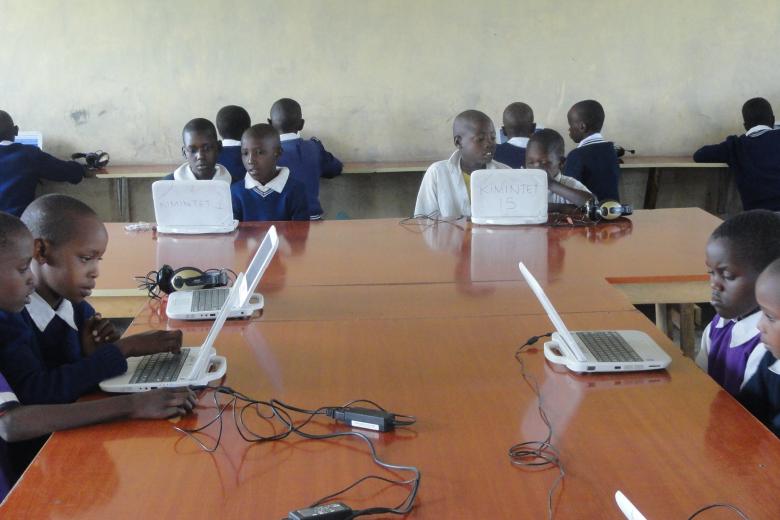 E-learning boosts literacy in Narok County
Monday, May 20, 2019
By Sarah Ooko, World Vision Senior Communications and Media Officer, Kenya
Inside a classroom at Kimintent Primary School in Narok County, children are happily punching buttons on their computer keyboards as they prepare for the day's lesson.
These pupils, just as a majority in the area, are interacting with computers for the first time, thanks to a donation by World Vision.
The computers are equipped with a software know as the Learning Tool Kit (LTK), provided by Concordia University through World Vision Canada.  It is helping to boost literacy levels of children in the County.
According to the 2016 Uwezo Report, literacy levels in Narok County are at a low of 13 percent against the recommended 80 percent.
Anne Waichinga, the Director of Education and Child Protection at World Vision Kenya states that through the LTK, they hope to address these challenges and boost literacy levels and school performance in the county.
"The computer class is my best class. I love maths. So, I like coming here to play the numbers game," says ten-year-old Naserian, a grade four pupil at the school.
Her English is fluent and rich in vocabulary unlike her age mates or pupils in higher classes who have not been exposed to computers.
Naomie, Naserian's computer teacher attributes this feat to the LTK which allows children to not only learn new words but also their correct pronunciations through sounds.
A series of electronic books  (e-books) installed in the computer also enable Naserian and fellow pupils to get access to an array of textbooks that help with revision. Previously, such books were hard to come by, as most parents could not afford them.
According to Naomie, the interactive digital learning platform encompasses texts, sounds, images and videos that make learning interesting, hence enabling the children to grasp new information fast.
"There's just something with these computers.  It's enabling children to grasp information much faster than they normally would with oral lessons solely."