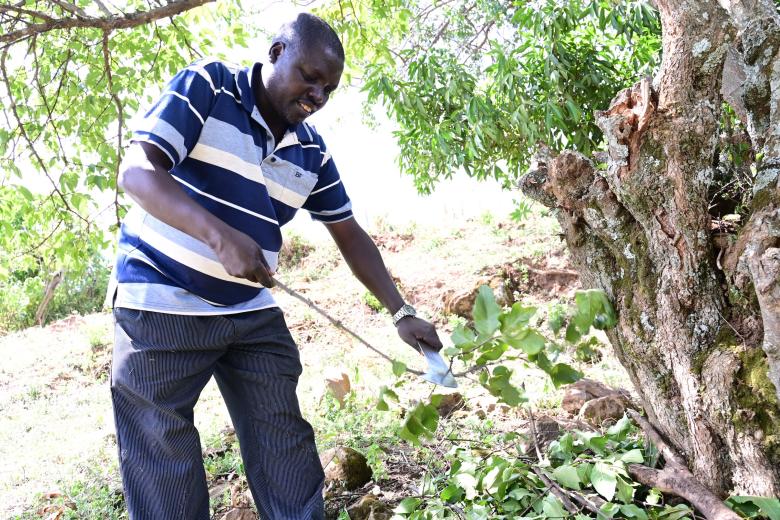 Low-cost tree regeneration approach brings great gains for family in Elgeyo Marakwet, Kenya
Thursday, March 9, 2023
By Hellen Owuor, Communications Specialist (CRIFSUP), World Vision Kenya
The trees in Lazarus' compound shield you from the intensity of the blazing mid-day sun that shines relentlessly on one's forehead. A soothing breeze under the shade that his family and neighbours relish is thanks to them practicing the Farmer Managed Natural Regeneration (FMNR) approach, which is implemented by World Vision.
"This land had no trees.  It was unbearable to stand outside because of the scorching sun. Thanks to World Vision training us on FMNR, we have now nurtured regenerated trees that provide shade for my family and livestock, even during the dry season. At times, my neighbours request to host ceremonies in this compound because of the shade," Lazarus states.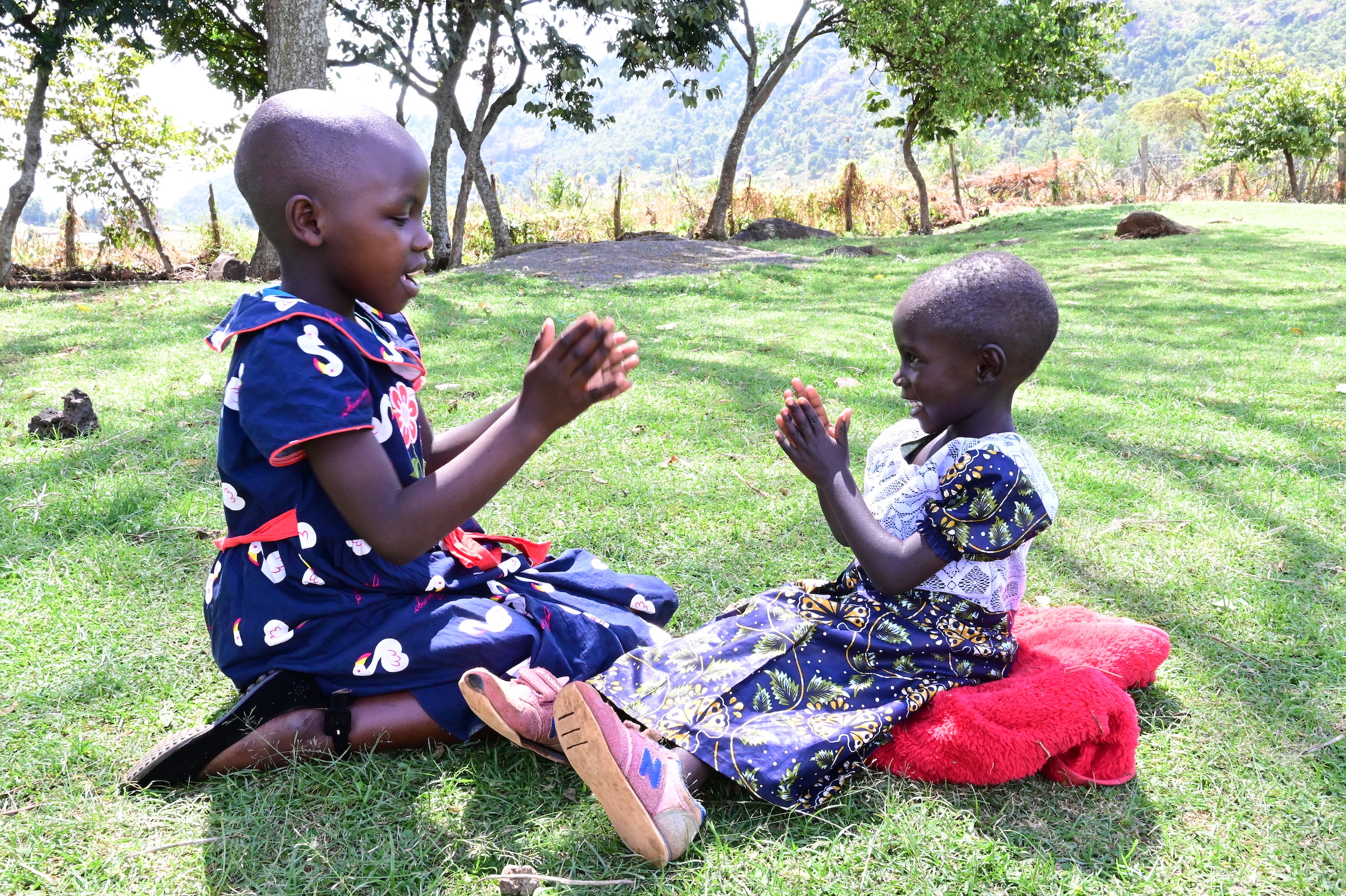 Lazarus hails from Elgeyo Marakwet, one of the 29 Arid and Semi-Arid Land (ASAL) counties in Kenya that frequently experience prolonged drought as a result of the damning effects of climate change. Due to such environmental conditions, farmers are subjected to unhealthy and low crop yield that does not meet the consumption demands of their families and livestock, thereby affecting their livelihoods. More areas are gradually becoming characterised by the drying up of water sources, dwindling farm produce, disappearance of some important indigenous species due to their over-exploitation, as well as unpredictable weather patterns.
In an effort to mitigate these impacts, farmers like Lazarus have adopted the easy and low-cost FMNR approach that has built their resilience to climate change and food insecurity caused by global warming. In 2018, after receiving training on the FMNR approach and other complementary components through the World Vision's Central Rift Farmer Managed Natural Regeneration Scale-Up Project (CRIFSUP), Lazarus enclosed one acre of his farmland to allow indigenous trees to regenerate and protect them from damage by livestock.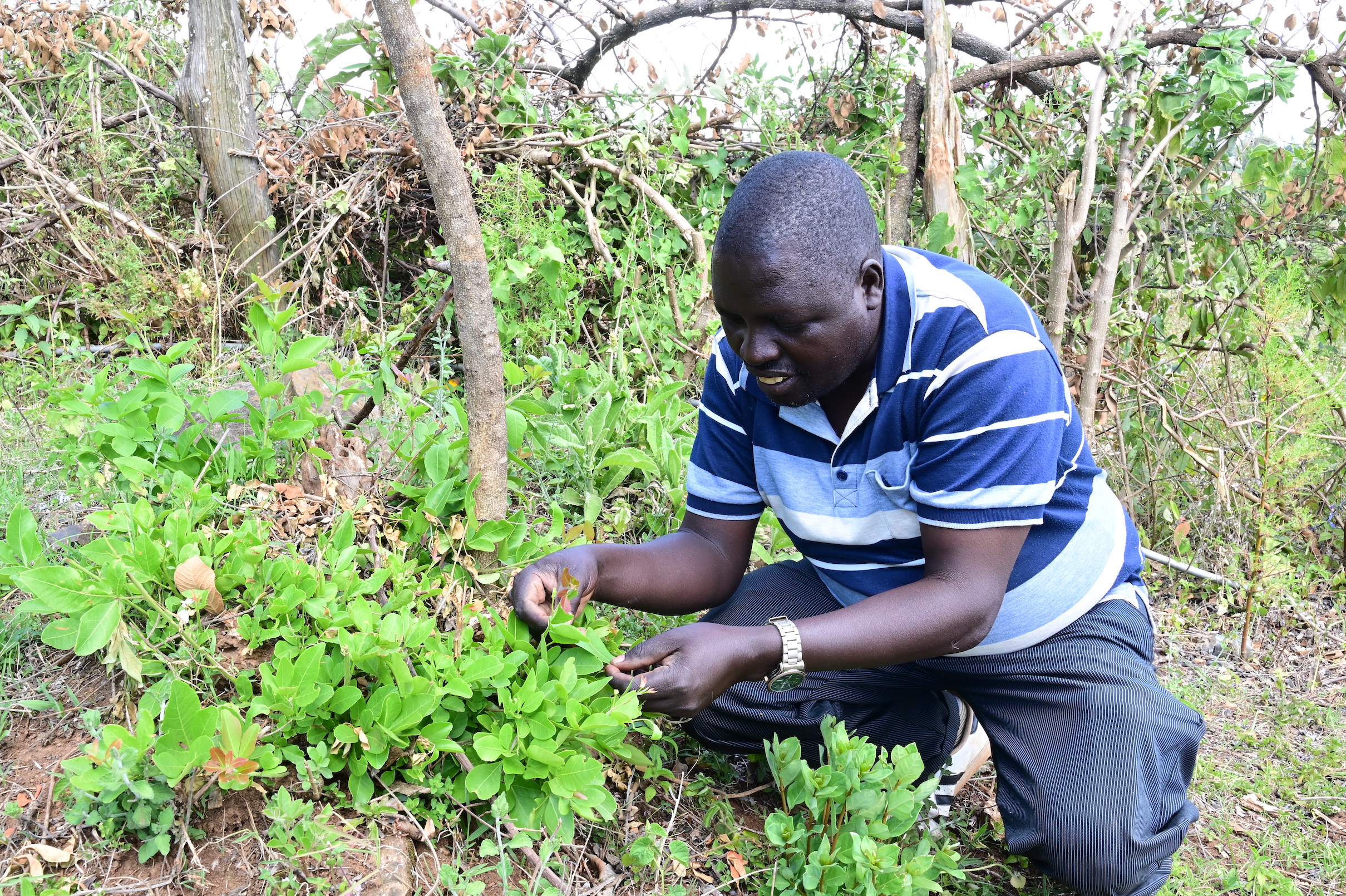 For a man who was accustomed to unsustainable farming practices such as the slash-and-burn method to prepare his land for the planting season, Lazarus now talks of increased soil fertility and higher yields after practicing the FMNR approach.
"My cows are healthier and produce more milk since they no longer have to travel far to get pasture. The pasture yields in my farm have increased and I get enough to feed my livestock all year round. I get at least ten litres of milk a day. I usually sell five litres and the rest is consumed at home," he says.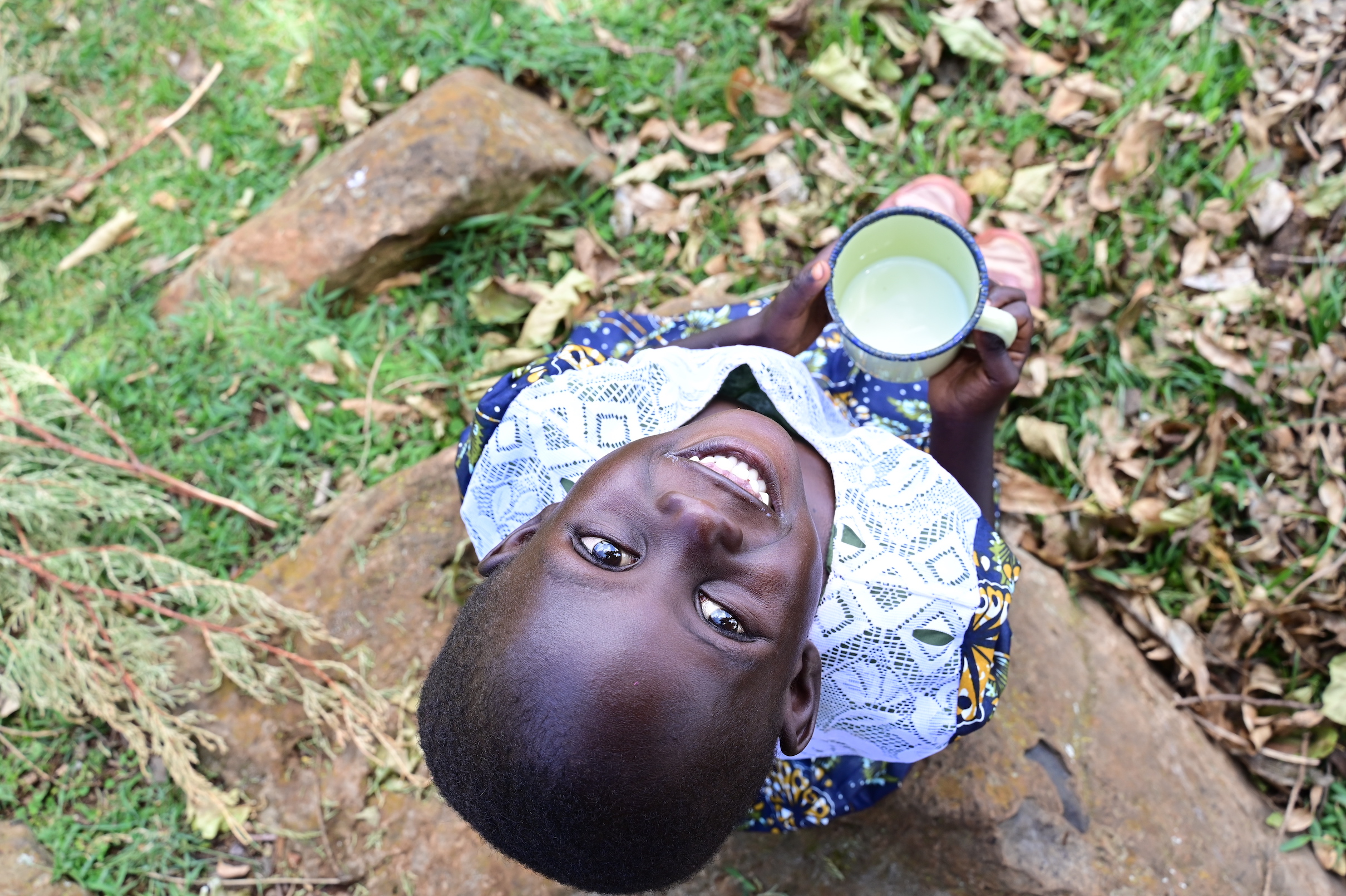 In 2022, when the county experienced drought, Lazarus recalls that some of his neighbours resorted to selling their livestock at a throwaway price before they became emaciated due to lack of pasture. However, he had enough to feed his livestock as they awaited the rains.
Lazarus boasts of a myriad of benefits from the regenerated trees in his FMNR farmland. He says that the trees provide fodder for livestock, firewood, herbal medicine for treating coughs and wild berries that the family eats to supplement some of their nutritional needs.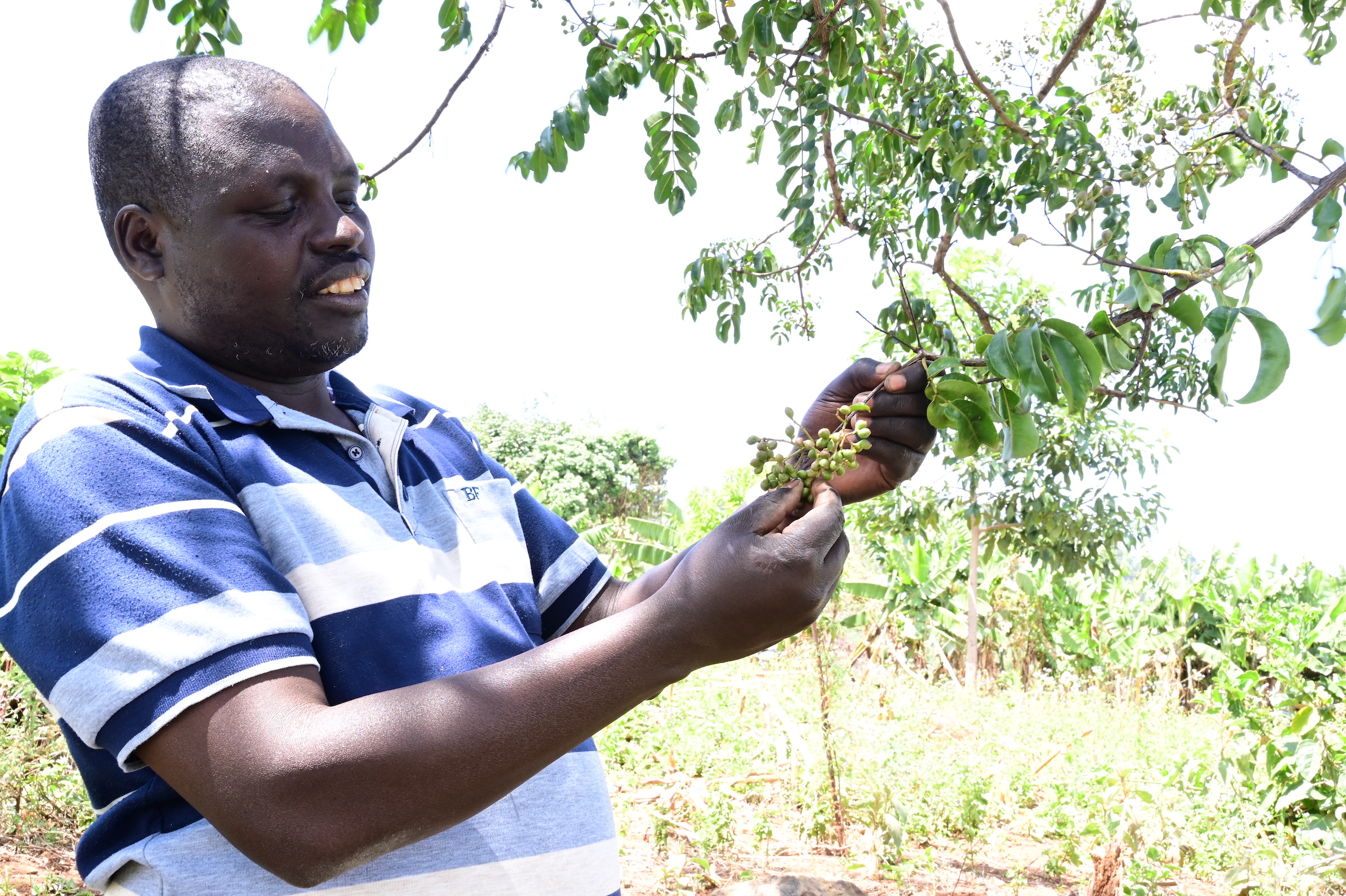 To complement the benefits that he is reaping as a result of the FMNR approach, Lazarus has also grown tree tomatoes, avocados, bananas and other drought resistant crops such as sorghum, sweet potatoes and cassava that are healthy foods, which provide necessary nutrients for his family.
At times, he uses leaves from the banana and avocado trees to feed his livestock.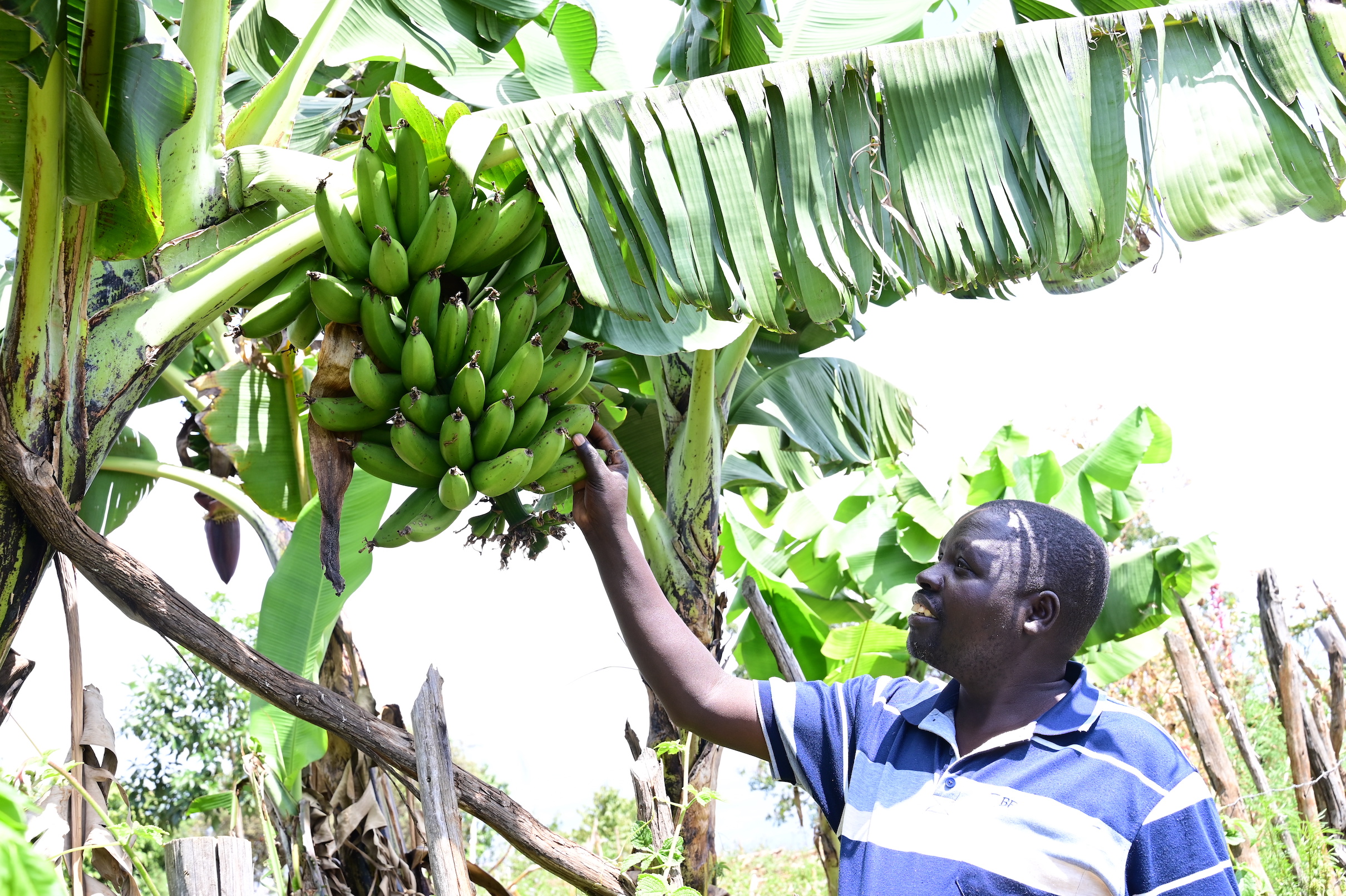 "The FMNR approach on its own has economic, social and environmental benefits. However, in our programming, we encourage communities to implement complementary components in order to boost the gains achieved from FMNR. Some of these components include the use of energy-saving technologies and planting fruit tree seedlings as Lazarus has done," says Geoffrey Rerimoi, the CRIFSUP Agroforestry Officer for World Vision in Elgeyo Marakwet County, Kenya.
"We trained our farmers on the use of energy-saving cookstoves that reduce the pressure put on trees since they consume minimal firewood. Compared to the traditional cookstoves, the current one produces less smoke thus reducing the risks of respiratory illnesses," Geoffrey adds.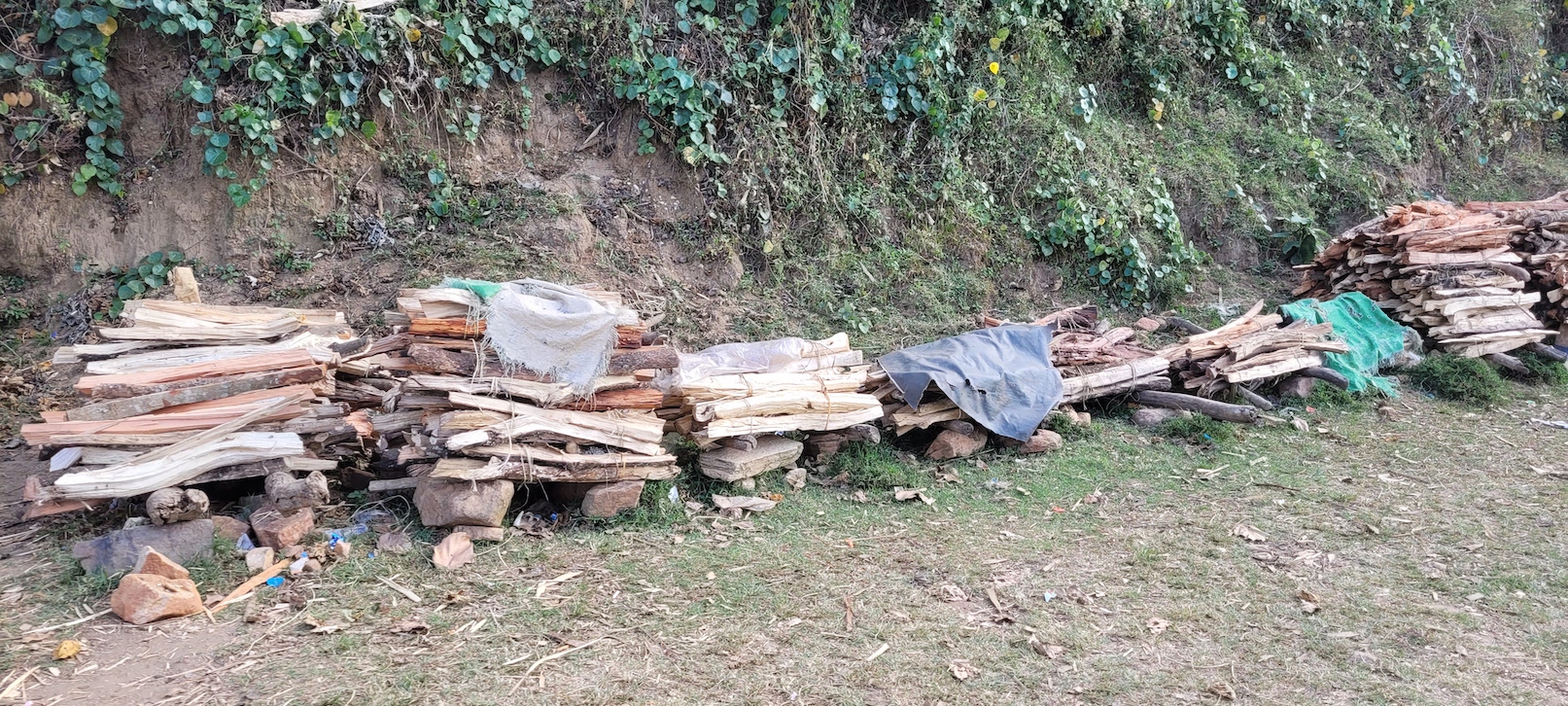 Lazarus' family would previously spend 150 Kenyan Shillings (USD 1.21) on a bunch of firewood that lasted for only two days. They are now able to save that money as well as sell firewood to gain more income for household use. Additionally, they have more time to spend as a family because firewood is readily available and it takes a short time to prepare food with the energy-saving cookstove.
"I am grateful to World Vision for imparting me with the knowledge on FMNR. I hope that it can be extended to more farmers out there. To me, FMNR means a lot. But most importantly, it means having enough firewood, milk and shade," Lazarus says.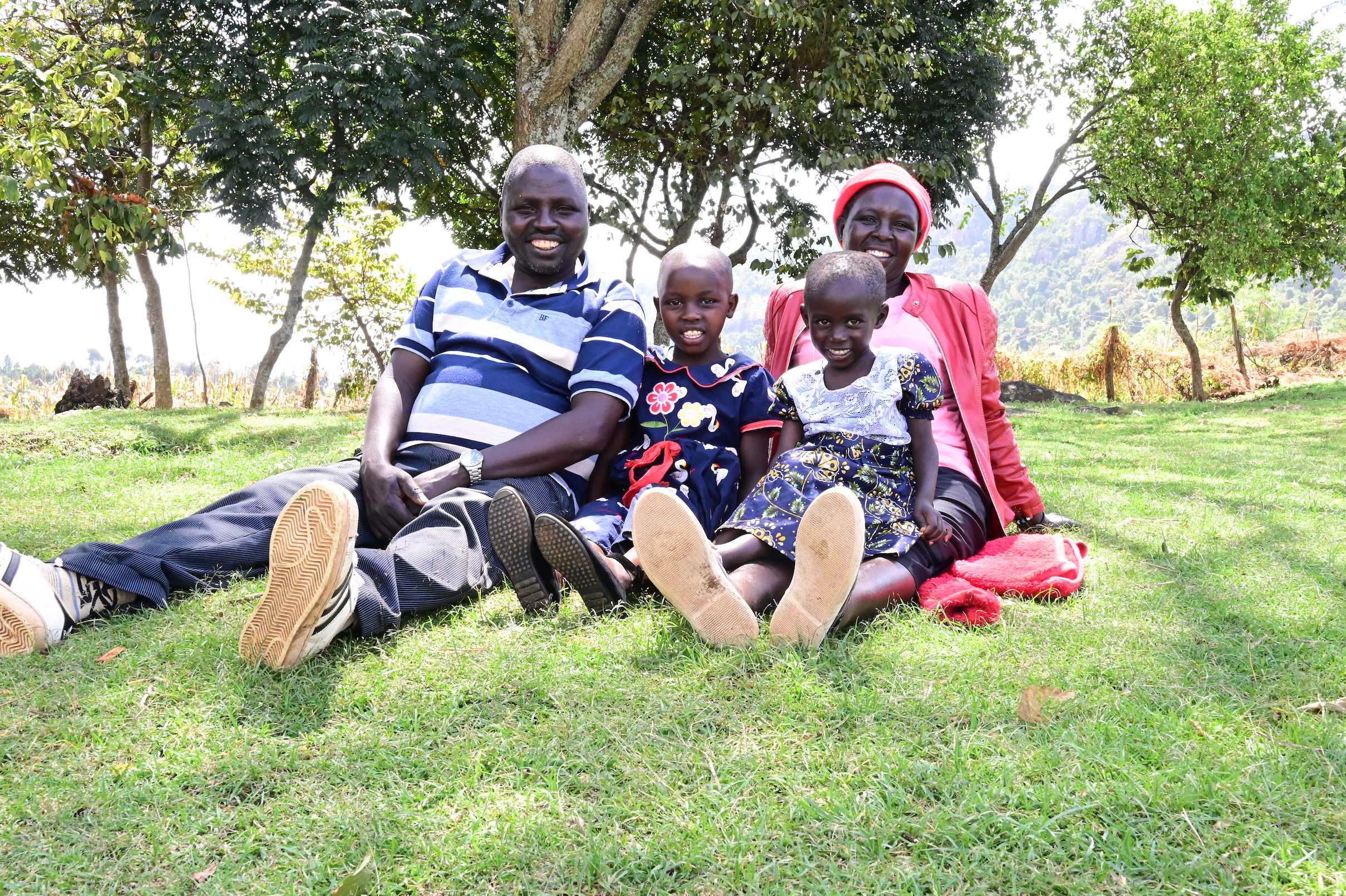 Through the FMNR practice and by leveraging on the benefits of indigenous trees, farmers like Lazarus can meet their household needs, despite the economic challenges caused by climate change.
The Central Rift Farmer Managed Natural Regeneration Scale-Up Project (CRIFSUP) is funded by the Australian Department of Foreign Affairs and Trade (DFAT), through the Australian NGO Cooperation Program (ANCP).